How About Those Super Bowl Ads?
Rotary hears from national authority on Super Bowl Ads
February 9, 2016 Leave a Comment
By: Stephen Kent
rotary/breezeslogo.gif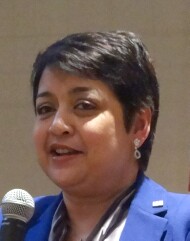 Rama Yelkur
You don't think about Bay City being home to an authority on Super Bowl ads. But in fact,
Rama Yelkur
, Dean and Professor of Marketing at SVSU, has made this subject her specialty for over 20 years. Today she consults to companies nationally and is a leading resource for ad executives who want to get the most bang for their (very large) bucks.
With the
Super Bowl
just a few days behind us, the recent wave of ads, costing a cool $5 million for 30 seconds, were fresh on everyone's minds. Yelkur talked about the cost of ads, which have grossed over $2.5 billion for the networks since 2000, and the question "Is it worth it?".
The answer, in most cases, is yes. Consumers' are more likely to recall Super Bowl ads better than ads placed in conventional programming. Viewers also watch Super Bowl ads more attentively than those aired during normal prime time shows. And viewership is very high. It's been shown that 6% of workers call in sick the day after the Super Bowl.
Yelkur compared and contrasted ads from the earlier days of the Super Bowl to those we see today. She talked about what makes an ad likeable. In 1967, one second of air time cost $1,333. This year that same one second cost $160,000.
Among the factors that ad execs want to hit include things like humor, animals and kids. It been shown that celebrities, who are very expensive, don't show that bit an ROI, but they continue to feature prominently. Likewise, it doesn't pay to mention the product by name. Interesting ads, with a subtle name mention, are much better.
Sex has to be treated carefully. The famous Go Daddy ads which featured female eye candy always ranked well down the list. This year Go Daddy didn't even run an ad. Despite ranking low historically, Go Daddy did benefit from enhanced name recognition.
Of interest, Anheuser-Busch decided a few years ago that they want to be the exclusive beer of the Super Bowl. They paid an extra $10 million for that privilege.
Yelkur ran copies of the top ads from this year and past years, showing the change in approach and what worked and what didn't. This year's top ad was for
Hyundai's "First date"
ad where the dad followed his daughter on her date. Among the worst ad was the infamous
"PuppyMonkeyBaby"
spot. "It had all the right elements, but it was just weird!" On the other hand, the weird ad generated a lot of talk in the days that followed, even if people didn't remember what the ad was for.... Mountain Dew in case you forgot.
---
CLUB NEWS and ANNOUNCEMENTS
The board meets this week
February 16 at 11:00 before the regular meeting.
Everyone is welcomed.