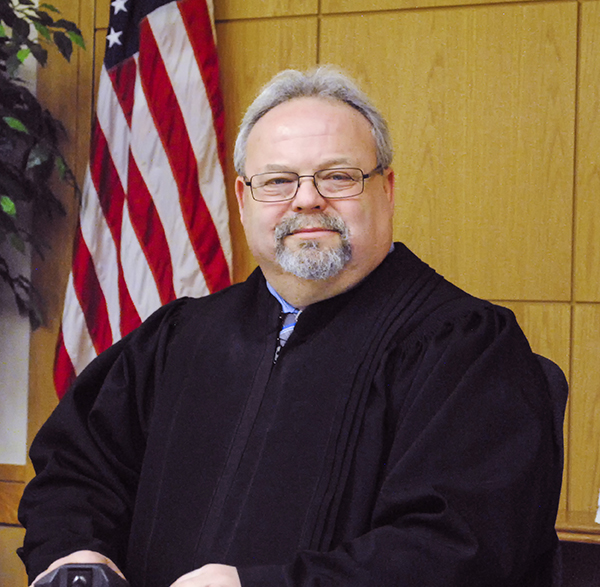 Probate Court Judge John Keuvelaar announces that he is seeking another term.
(MyBayCity Photo by John Keuvelaar)
---
Probate Judge John Keuvelaar Announces He Will Seek Another Term
February 18, 2016 Leave a Comment
By: O. J. Cunningham
(Bay City) Bay County Probate Judge, John C. Keuvelaar today announced his intention to continue to serve as Bay County Probate Judge. Judge John will appear on the 2016 ballot.
He is running to continue fulfilling retired Judge, Karen Tighe's Probate Judicial Term. In March of 2015, Judge Keuvelaar was appointed to fill Judge Tighe's position following her retirement.
"It has been an honor to develop and support the many programs Judge Tighe has created to benefit the children and families of Bay County," stated Judge Keuvelaar. "I continue to work on strengthening these programs and developing new programs to address the ever expanding needs of our area children and families."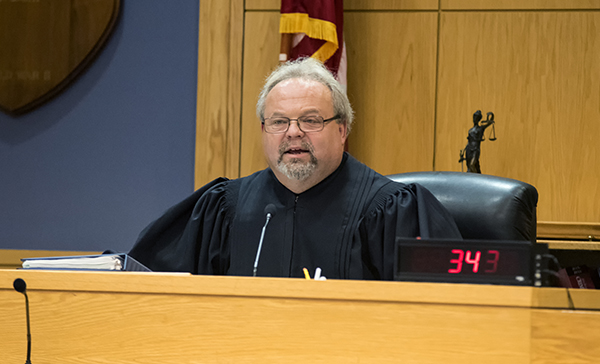 Judge Keuvelaar delivers a decision from the bench.
(MyBayCity Photo by John Keuvelaar)
Judge Keuvelaar/s career has made him uniquely qualified to be Bay County's Probate Judge. He joined the bench after serving nearly 30 years as an assistant prosecuting attorney. Over the last 17 years, he has practiced in probate court, handling all aspects of child protective cases including abused and neglected children as well as juvenile delinquency, mental health, guardianships, and conservatorships.
Since taking over as judge, Keuvelaar implemented the CASA program in October. This is a Court Assigned Specialty Advocate specifically assigned to children giving them weekly contacts by a trained volunteer to ensure their needs are being met.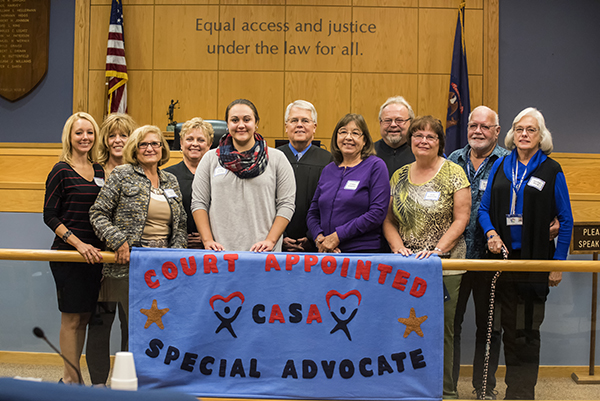 Judge John Keuvelaar is joined by the CASA Team.
(MyBayCity Photo by John Keuvelaar)
He is also working with the two specialty programs, the girls' GREAT program and the Day Treatment to strengthen the already strong programs implementing community involvement and experiences.
"There are so many opportunities to help make positive changes in young peoples' lives," Keuvelaar says. "The program presenters are very excited about the challenge."
Judge Keuvelaar also has goals for future programs. "Truancy has always been an important issue for me. But addressing truancy only when children turn 12 or older is like putting the toothpaste back in the tube. We need to tackle this issue at the elementary school level before it becomes a problem. With this in mind, I have partnered with DHHS, the Bay County Health Department and Bay-Arenac Mental Health to eliminate barriers and create solutions. We are currently meeting with school principals and superintendents to help address these needs."
He also singled out Domestic Violence as an area of concern. "Too many times I've seen violence perpetrated by our young people that have its roots the family. I am starting a program to better assess each situation to more effectively address and stop domestic violence before a new cycle of violence begins."
Judge Keuvelaar also participated in the Heroin Summit panel bringing awareness of the epidemic and its toll on not only the user but their families and children.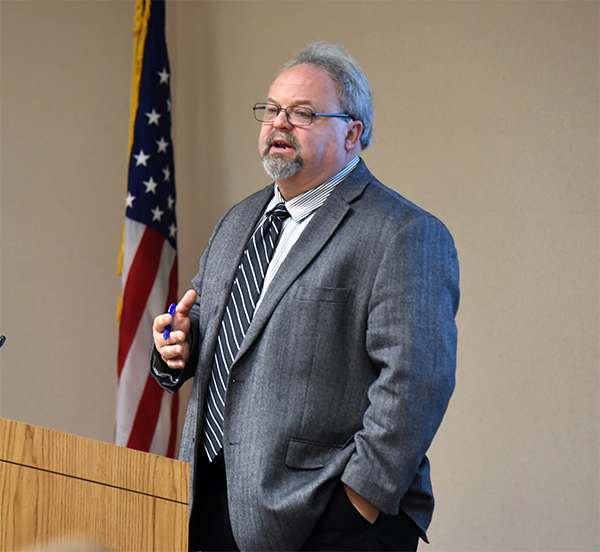 Judge John Keuvelaar informs the audience on the heroine epidemic.
(MyBayCity Photo by John Keuvelaar)
Bringing effective change is a hallmark of Judge Keuvelaar's career. In 2008, he was one of the founding board members of the Bay County Family Treatment Court: a substance abuse program for parents of abuse and neglect cases. Alongside Judge Tighe, the Juvenile Drug Treatment Court was established to address youths with substance abuse problems in juvenile delinquency cases.
As an assistant prosecutor, John Keuvelaar was assigned to the Family Support Division and helped in the development of the Friend of the Court computer system that is now in use across the state. In 2011-2013, he developed and wrote the Bay County Child Abuse Protocol and is a founding member of Safe Haven: a Visitation Center for parents and children. Through the years, he also developed and implemented a training program for the Bay County DHS and later for the Bay County Animal Control.
Judge Keuvelaar has also been a trainer for Sexual Assault Nurses Examiner Training (SANE), Protective Services Child Abuse Training Program, DHS Family to Family Kickoff Community Presentation, Private Agency Supervisor Training.
He has also spoken at local high schools on the legal requirements and ramifications of Criminal Sexual Conduct and Sexual Offenders Reporting implications. Statewide, he presented at the Child Welfare Conference put on by the Michigan Judicial Institute and the Governor's Task Force On Child Abuse and Neglect.
Judge Keuvelaar's love of working with families and children has extended well beyond the courtroom. He has been an active participant of youth sports having coached 52 teams in various sports and levels as well as being a board member of the Essexville-Hampton Little League. He was the head coach of the 2004 Girls Major All-Star team that went to the Little League Softball World Series in Portland, Oregon. "That was such a great and memorable experience for all of us. After winning States, through fundraisers and the generosity of the community, we rented a bus so all the families could travel to Joplin, Missouri and watch their girls play. Then after winning the Central Region there, the parents all flew to Portland to experience it all with their kids. We saw a lot of Oregon. It was an experience we will never forget."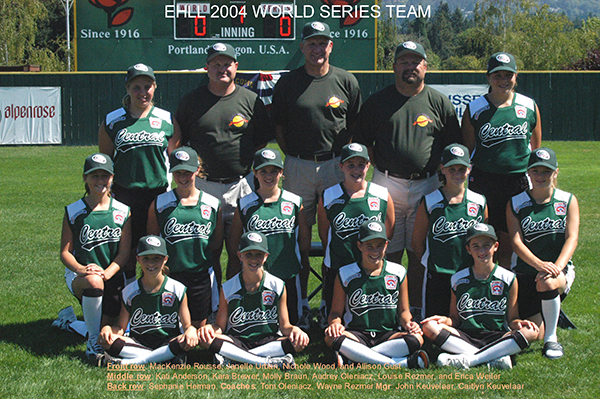 Keuvelaar has always given back to the youth of this community.
(MyBayCity Photo by John Keuvelaar)
John Keuvelaar has been married to his wife, Amy for 30 years. He has two children, John who is a photographer and owner of Koovs Photography, (a family business) and Caitlyn who just graduated from Madonna University in Livonia with her Bachelors of Science in Nursing.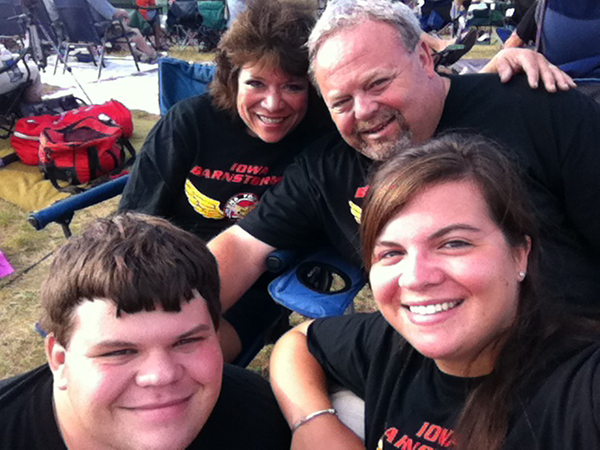 Judge John Keuvelaar and Family.
(MyBayCity Photo by John Keuvelaar)
Visit Judge Keuvelaar's campaign website by going to www.judgejohnk.com for more information.
---
---

O. J. Cunningham




O. J. Cunningham is the Publisher of MyBayCity.com. Cunningham previously published Sports Page & Bay City Enterprise. He is the President/CEO of OJ Advertising, Inc.

More from O. J. Cunningham
---
Send This Story to a Friend!
Letter to the editor
Link to this Story
Printer-Friendly Story View
---
--- Advertisments ---