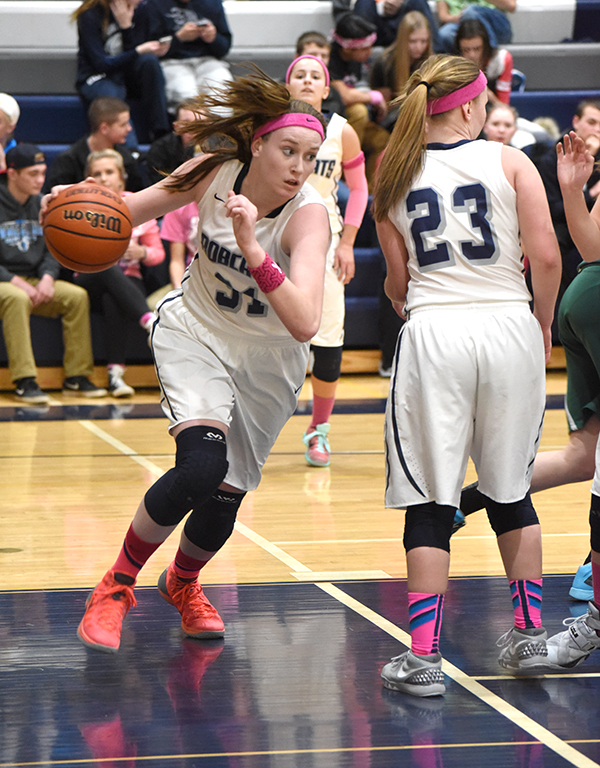 Cassidy Boensch leads the charge for the Lady Bobcats.
(MyBayCity Photo by John Keuvelaar)
---
John Glenn Girls Basketball Is 'Must See BB'
This is a team worthy of all the hype.
February 22, 2016 Leave a Comment
By: John Keuvelaar
All winter we've been hearing of not only John Glenn girls basketball team's number one State ranking, but especially the national ranking as well. We've seen the incredible lopsided scores like 65-12 and wondered, is this team really that good or do they just have a solid team that plays good defense and runs up the score. After watching them play Pinconning, a solid team in their own right, I've concluded they ARE that good and worthy of the hype. Oh and yes, they do play good defense and in my opinion, they did not run up the score.
Having coached some very successful teams as well as seen many others, it takes some standout players but more importantly, it takes good solid talent around those players to make it a great Team. Walking into the gym, you immediately see one of the reasons this team is so dominating in 6 foot 4 inch Cassidy Boensch. Not just tall, Ms. Boensch has the movement of a true athlete who can handle her height. The other players around her seem to give off that calm confidence as well.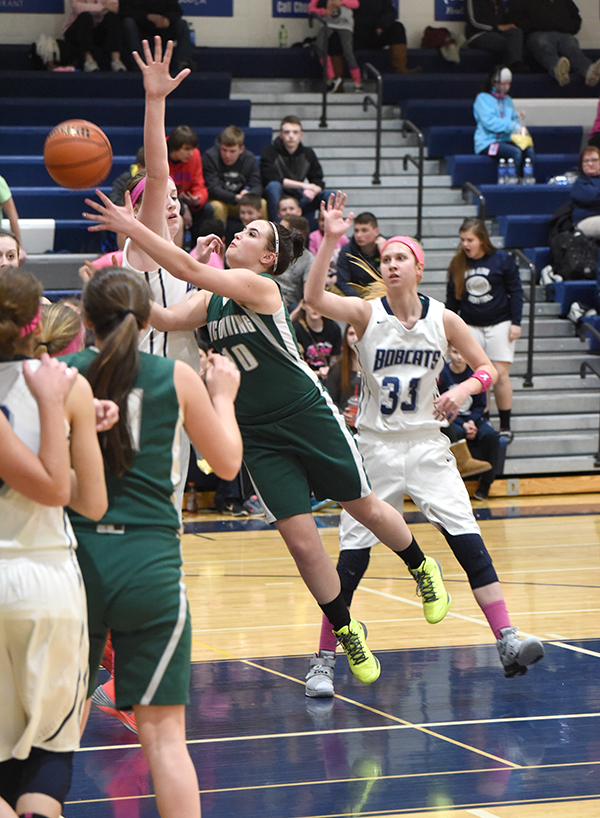 Pinconning's Brianna Herner takes a shot while being closely guarded by the Bobcats.
(MyBayCity Photo by John Keuvelaar)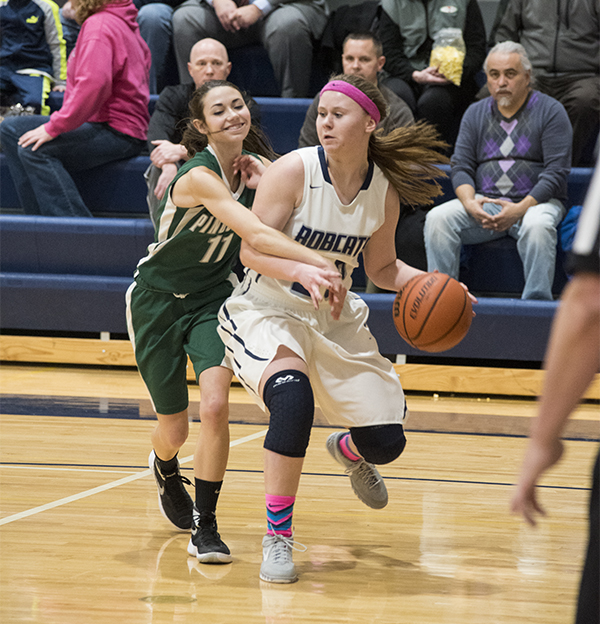 John Glenn's Kennedy Clyde presses for the basket while fending off Spartan defenseman Lakyn Schumann.
(MyBayCity Photo by John Keuvelaar)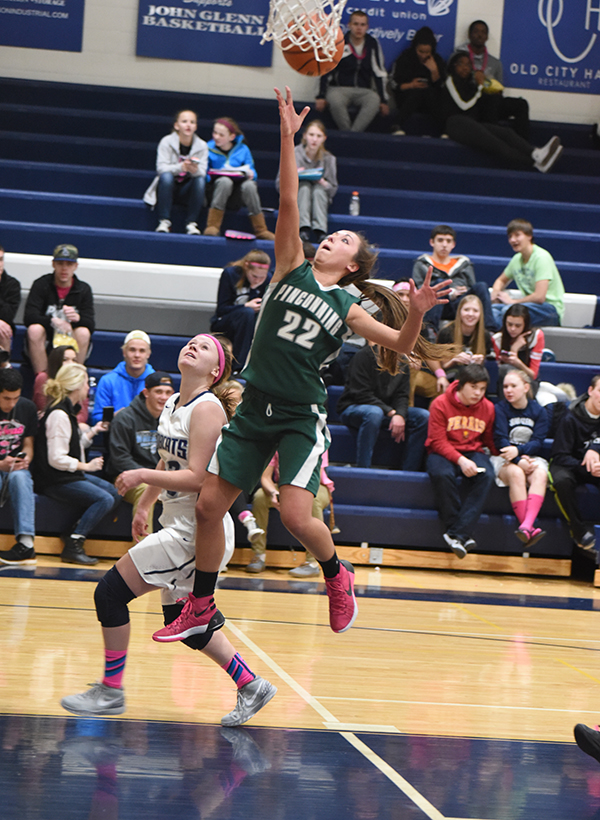 Spartan #22 Emily Yanoski drives for a layup shot.
(MyBayCity Photo by John Keuvelaar)
From the opening tip, the Lady Bobcats controlled the ball. They ran their offense with great precision creating solid ball movement and making sure all five of the starters handled the ball and were involved in the offense. Each player got a shot off in the first couple minutes but inspired defense by Pinconning helped for a bit of cold shooting by John Glenn. Senior Meriya Fletcher of Pinconning matched up in height and determination with Boensch but the sense was it was just a matter of time before Boensch would get on track.
Meanwhile, the Lady Bobcats played a solid defense contesting all shots and with their rebounding, held the Lady Spartans to only four first quarter points. After Boesnsch worked a bucket and a couple free throws in, senior point guard, Jenai Laporte caught fire. Whether it was driving the lane for two, dishing it out or pulling it up for three point shots, she drained 12 first quarter points to go with Cassidy Boensch's 6 for an 18-4 lead at the end of the first quarter.
By the end of the first quarter, you could see what makes this team so special. Unquestionably, Ms. Boensch is the complete package. She attacks the basket with such authority which they could do all day. But she also is out setting picks, looking for the open player, playing tough defense and can handle the ball. She also has some real talent around her that can dominate the game while she is not on the court.
Jenai Laporte and Kalle Martinez are big time talents in their own right. They run the show and interchange without a hitch. This creates matchup problems because you can't shut one down and have it affect the offense, the other just takes over. Their quick reactions and ball handling skills make them unbeatable. Kennedy Clyde and Jamie Brisson round out the starting five and both have star qualities as well. They do a lot of the little things that are necessary to make a good team great and sure could be a featured star on most any team in the area. What impressed most was the willingness of everyone to share the ball and play as a team and not be concerned about their own stats. Undoubtedly a characteristic of both the quality of athlete John Glenn has and the philosophy of Coach Cory Snider and his staff.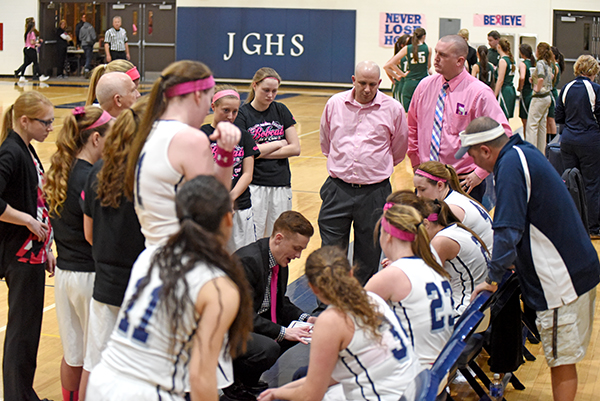 John Glenn players listen to Head Coach Cory Snider.
(MyBayCity Photo by John Keuvelaar)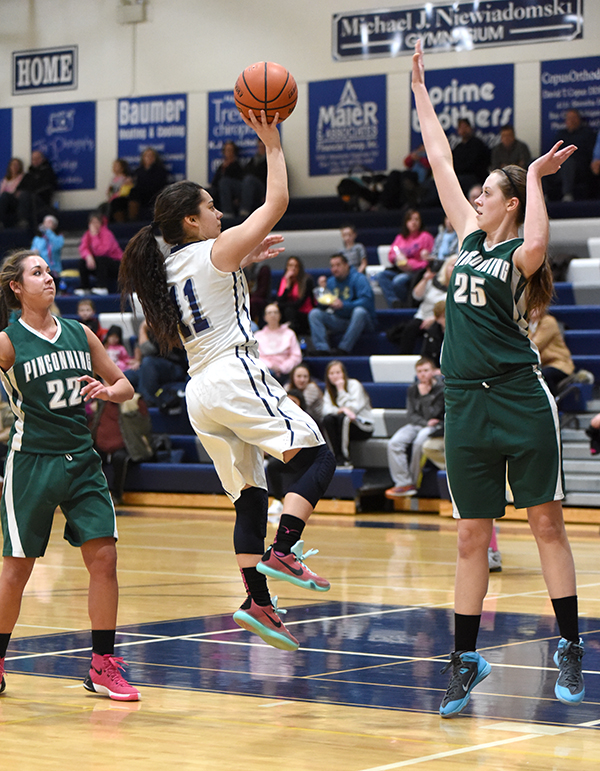 John Glenn's Kalle Martinez fires a jumpshot while guarded by Pinconning's Meriya Fletcher.
(MyBayCity Photo by John Keuvelaar)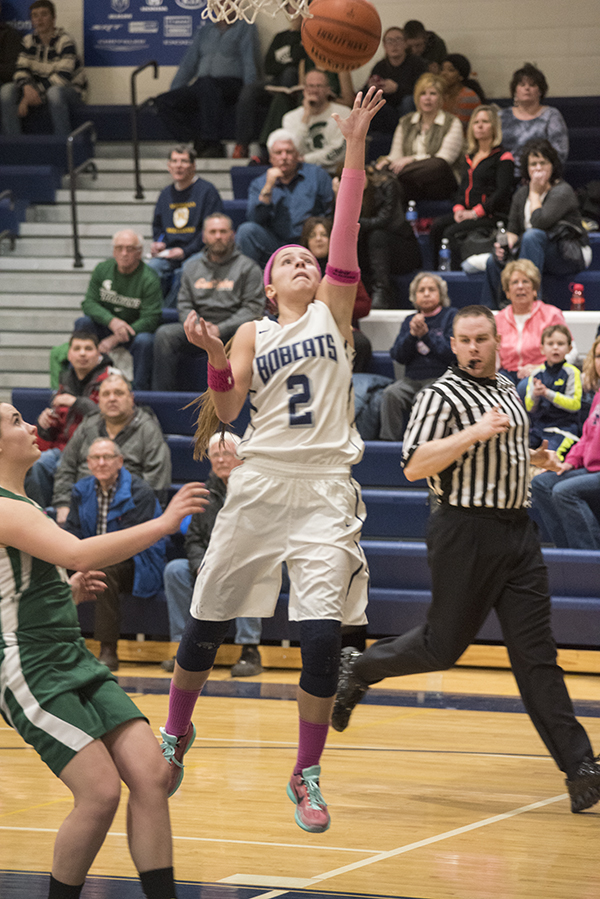 John Glenn's #2 Jenai Laporte charges in for a layup.
(MyBayCity Photo by John Keuvelaar)
The second quarter started with the starters on the bench except for Ms. Laporte. The team didn't seem to miss much of a beat as they continued to play lights out defense while spreading out the scoring with the other players. The blowout wins during the season has allowed for more court time for the second unit and this showed. It's not just court time but quality court time allowing them to mesh with the starting unit. This depth will allow them to step in for a starter if needed in crunch time. As Laporte took a breather, Kalle Martinez took over running the team and scoring. The junior ball handler knocked down 7 points before Cassidy Boensch returning with 3 minutes remaining in the quarter. The senior went right to work as they immediately went low to her twice for quick rolls to the basket. She then grabbed an offensive rebound and put it back for two, scoring six quick points in less than two minutes for a 38-15 halftime lead.
John Glenn came out in third determined to put the game miles out of reach. Creating a wall at the half court line, the Bobcat defense kept Pinconning from being able to get to the basket holding Pinconning to 3 third period points. Meanwhile, the trio put on a dominating performance as Boensch drove in 10 points with Laporte hitting two threes and Martinez adding seven more points while building a 61-18 lead.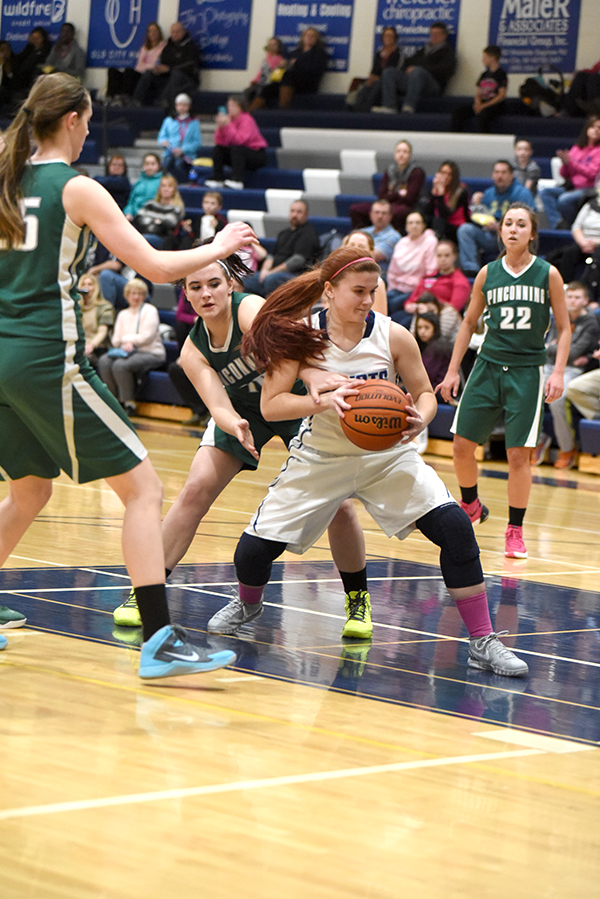 John Glenn's Savannah Solomon fights to keep possession of the ball.
(MyBayCity Photo by John Keuvelaar)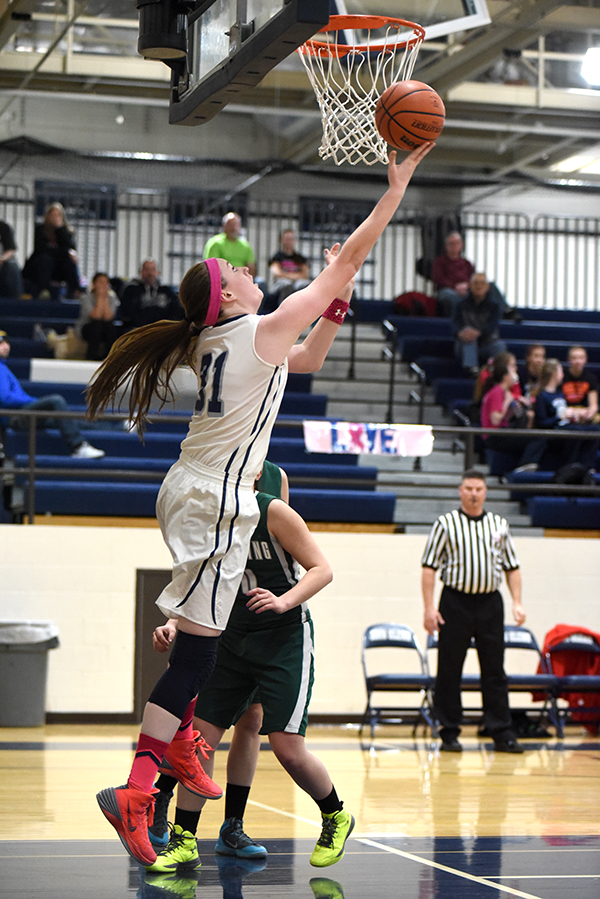 Cassidy Boensch reaches from underneath the basket for a big time layup.
(MyBayCity Photo by John Keuvelaar)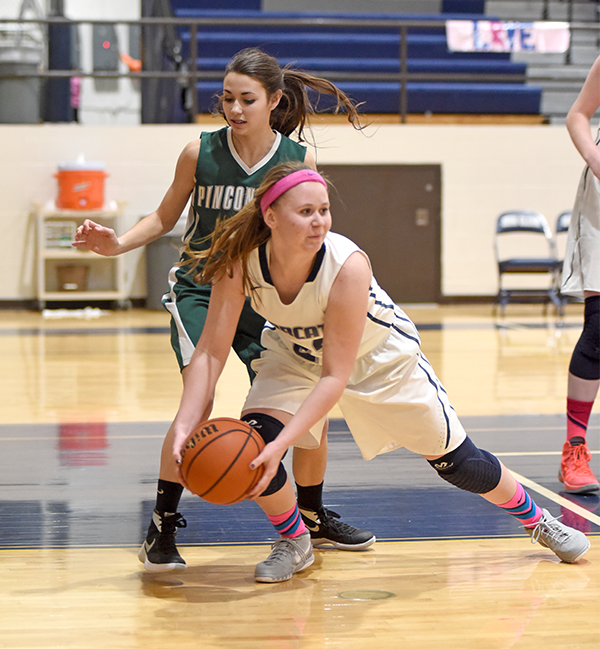 Glenn's Kennedy Clyde keeps the ball from Pinconning.
(MyBayCity Photo by John Keuvelaar)
The starters took a seat for the final quarter as Coach Snider emptied his bench. A running clock and still tough defense shutout the Spartans in the final quarter as John Glenn rolled to a 69-18 win. Typical of most quality high school athletes and teams, Pinconning showed a lot of fight and heart throughout the contest. There was no quit in this team as they battled to the end but ultimately, this Lady Bobcat team is just that good and worthy of our attention.
Impressive too was the balancing of playing time Coach Snider did with this team. You have to give your main players solid minutes to keep sharp and develop all the while giving quality time to the other players to help them develop and grow. While this still may result in lopsided scores, he has to continue to execute his team with the eye for bigger games down the road, insuring they are ready. At least for this game, he seemed to handle this very well. He demonstrated a true sportsmanship quality.
A true test will surely come during the State playoffs. This is a once in a lifetime team that deserves not only our attention and respect but our support. If you haven't done so already, it's time to jump on the bandwagon and enjoy the music and ride.
---
---

John Keuvelaar




John Keuvelaar is a college student at Midwest Photography Workshops and Delta College.

More from John Keuvelaar
---
Send This Story to a Friend!
Letter to the editor
Link to this Story
Printer-Friendly Story View
---
--- Advertisments ---