Abramoff Ready to Drop the Other Shoe As Political Fates Hinge on Scandal
Corrupt Days of Michigan Politics in the 1930s and 1940s Recalled
January 31, 2006 Leave a Comment
By: Dave Rogers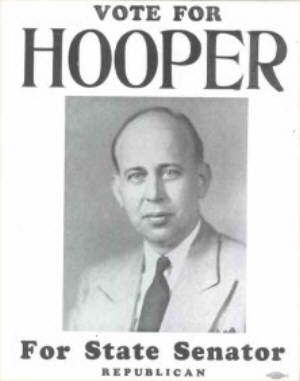 Copies of Sen. Hooper's campaign literature were found in his car with his body after the 1945 slaying.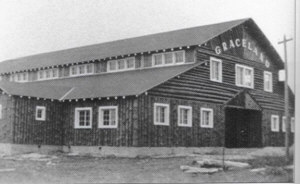 Graceland Ballroom in Lupton, Purple Gang northern hideaway, burned down not too long ago.
"Almost every official of the state had his price."
That comment by a journalist about the 1940s in Michigan may be applied nationwide today by some sage scrivener.
The sins of Washington super lobbyist Jack Abramoff are casting a doleful shadow over the nation, extending even to mid-Michigan and the Bay City area.
Saginaw Chippewa Tribal Chief Fred Cantu Jr. recently responded to the guilty plea of lobbyist Jack Abramoff to federal charges of conspiracy, tax evasion and mail fraud, according to a report in the Tribal Observer.
"Our Tribe is relieved to see that Jack Abramoff and his partner, Michael Scanlon, are now under judgement for their illegal activities," stated Chief Cantu. "Our government remains committed to working with other governments on Tribal, federal, state and local levels and we will make sure these partnerships are done in a mutually beneficial way."
Abramoff was an official of the Washington lobbying firm of Greenberg Traurig,that previously represented the Saginaw Chippewa Indian Tribe.
Text of charges in the United States of America v. Jack Abramoff as filed in U.S. District Court for the District of Columbia may be accessed at sagchip.org.
The scenario recalls the days when grand juries in Michigan tossed out indictments like ticker tape at Broadway parade.
One Man Grand Juror Homer Ferguson cleaned up Detroit in 1939, at least temporarily, by indicting 360 persons, 150 of whom went to jail.
Bay City was not immune: State Sen. Jerry T. Logie went from his drugstore on Center Avenue to prison for two years for bribery in 1940. I remember buying ice cream from the gentle old soul, never knowing his shady history.
Soapy Williams, Jim Blanchard, George Romney and Bill Milliken set bipartisan examples of honesty in Michigan politics. Gov. Jennifer Granholm is a former government attorney and no hint of scandal emanates from Lansing these days.
Washington may be another story. The big question is: Are those days of payoffs returning? Will the stain of scandal sweep over Michigan again like old times?
Now under indictment and spilling his guts about every payoff he ever made, Abramoff's shenanigans may cause ripples, or maybe tidal waves, in the next national elections. Lots more dirt will come out as the campaign starts and cameras grind at hearings.
The word on the street is that Abramoff set up Native Americans to go around prospecting for new casinos so he could kill the ideas and look good to his clients, the Saginaw Chippewa Tribe, running a cash cow Soaring Eagle at Mt. Pleasant.
Politicians all over the country, including the President, are scrambling to give back the donations they got as a result of Abramoff contacts.
Even good guys like Congressmen Dave Camp, R-Midland, and Dale Kildee, D-Flint, honestly trying to do the job for their Native American constituents, got caught in the donation web. Becauseof the money, however little, their roles are questioned even though they may have had nothing to do with Abramoff's schemes.
Chief Cantu, in his first "state of the tribe" message Jan. 29, said: "The heart of our Native people can be found inour outreach to others. Let this be this clear today … the Saginaw Chippewa Indian Tribe has been and will continue to be a positive force on federal, state, local and tribal levels.
"Our Tribe must and will continue to actively assert its sovereignty and to protect its legitimate interests by continuing to take an active role on national issues affecting our Tribe. We have all heard of the unethical and illegal conduct of former Washington lobbyists.
"While this conduct is reprehensible, the Falcon Administration (former Chief Audrey Falcon) secured an agreement to return the money that was wrongfully taken from our Tribe and now is the time to move forward with a positive agenda.
"Our Administration will take a positive agenda to Washington and will assert and protect our rights as a sovereign Nation on national issues affecting Native Tribes. We appreciate our friends like Congressman Dale Kildee and others of the Native American Caucus, who work with our Tribe to further issues that protect our right of sovereignty and other concerns close to our Native way of life."
Corruption is like an iceberg; most of it can't be seen. President Bush says he doesn't know Abramoff but had his picture taken with him at least five times and the guy was in the White House for several meetings with Presidential staff members.
OK -- But that alone tells a story. Abramoff had contacts in the highest places and he used them to build his lobbying business to a multi-million dollar level. And many of his activities were illegal, according to federal prosecutors.
Thank God for Sen. John McCain! His Senate Indian Affairs Committee exposed the scam and is keeping the heat on lobbying, influence peddling, illegal campaign contributions, etc. (You can read the incriminating e-mails and listen to startling evidence on videotape at www.senateindianaffairs.com)
Even Republicans in Congressional leadership admit that the Abramoff scandal may put the Democrats back in control. Then, I suppose, the cycle will continue.
Nothing's really new in politics. The party in power becomes corrupt. The other party promises reforms. Once in office, it becomes more corrupt that those it replaced.
How bad can it get? Pretty bad!
Anybody remember Michigan's political climate in the 1930s and 1940s?
Republican boss was corrupt Frank McKay, Grand Rapids weekly newspaper publisher. He was in cahoots with the Purple Gang, Jewish mobsters from Detroit.
What was behind much of McKay's corruption? Gambling. Sound familiar?
Nobody dared to stand up to the gangsters. Radio announcer Gerald Buckley tried to expose the crooked mayor of Detroit and was gunned down in a hotel lobby in 1930.
The Purples often met at the Graceland Ballroom in the northern Michigan hideaway of Lupton when they wanted to get out of town.
The bootlegging Purple Gang was in prison by the 40s. Trouble was they were running the prison. The Purples came and went as they pleased, got drunk with the wardens and even drove their cars.
One day two members of the gang were called to the warden's office. Got a job for you guys, the warden said. Here's $25,000. All youhave to do is kill Senator Warren G. Hooper. That way he won't be testifying tomorrow to the grand jury investigating bribery charges against McKay. The warden and deputy warden even gave them clothes, phony license plates and guns and drove the thugs from the prison to get a car for the bloody job.
Hooper was found with three bullets in his body, his car in a ditch between Lansing and Albion.
Although state officials heard testimony implicating Purple gangster Ray Bernstein in the murder, no indictment was ever handed down.
They were still talking about the officially unsolved murder when I covered the State Capitol 1957-59 while a Journalism student at Michigan State University.
You can read all about it in acouple of books: "The Purple Gang: Organized Crime in Detroit," by Paul R. Kavieff (Ft. Lee, NJ: Barricade Books, 2000) and "Three Bullets Sealed His Lips," by Bruce A. Rubenstein and Lawrence E. Ziewacz, (East Lansing: Michigan State University Press, 1987.)
Also, more Michigan political fun and games are documented in "Payoffs In The Cloakroom: Greening of the Michigan Legislature, 1938-46" by Rubenstein and Ziewacz, (East Lansing: Michigan State University Press, 1995.)
---
---

Dave Rogers




Dave Rogers is a former editorial writer for the Bay City Times and a widely read,
respected journalist/writer in and around Bay City.
(Contact Dave Via Email at carraroe@aol.com)

More from Dave Rogers
---
Send This Story to a Friend!
Letter to the editor
Link to this Story
Printer-Friendly Story View
---
--- Advertisments ---