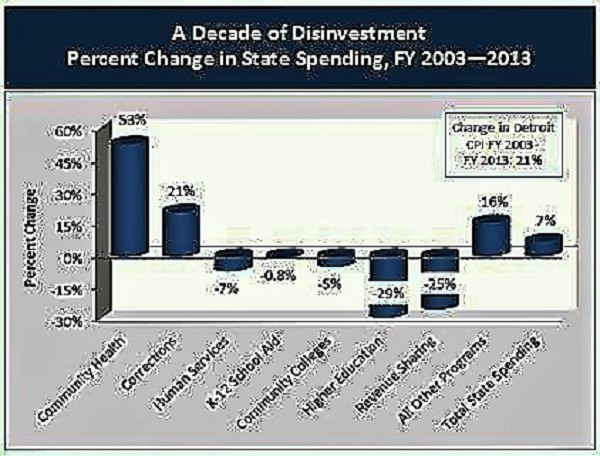 TAX CUT FOLLY: Flint is Poster Child for Refusal of State to Fund Cities
---
TAX CUT FOLLY: Flint is Poster Child for Refusal of State to Fund Cities
Saginaw Has Lost $30 Million Due to Flawed State Policy
February 28, 2016 Leave a Comment
By: Dave Rogers
Trying to run government like a business is being proven a ridiculous folly in Michigan.
The misguided movement to continually cut taxes and/or give tax breaks to business has created a situation in which state and local governments don't have enough resources to adequately fund critical public services.
Saginaw has been stripped of $30 million in state revenue sharing in recent years by this so-called "conservative" movement, according to the Michigan Municipal League (MML).
The monstrous danger in this short-sighted policy is that it ends up costing everybody far more than anyone could have dreamed. And that is exactly the opposite of the goals conservatives purport to seek.
Not to mention -- in the case of the water crisis in Flint -- the squandering of a magnificent and expensive tourism marketing image campaign called "Pure Michigan" that was bringing streams of eager spending tourists to the state.
The "Pure Michigan" aura was gone in an instant with the cover of Time Magazine advertising perhaps the biggest political blunder in Michigan history.
Under Gov. Rick Snyder's leadership, the Flint emergency city manager made a business decision to switch the city to the filthy Flint River to save $5 million and later refused to spend a mere $100 a day that could have avoided elevated lead levels by stopping the corrosion of pipes.
"These savings are trivial compared to the incalculable human cost of endangering the health and well-being of 100,000 state residents," writes Jenice Robinson of Citizens for Tax Justice.
Flint's problems of population loss, growth in poverty and an eroding tax base as General Motors slashed jobs and moved production overseas were exacerbated by state tax cuts adopted by lawmakers eager to show how conservative they are.
"It's hard to imagine how any lawmaker could view cutting spending as a viable solution," puzzled Ms. Robinson, punctuating her comments:
"Yet, here we are."
Dan Gilmartin of MML observed recently: "In an effort to streamline tax structure in Michigan, local communities long ago forfeited their rights to levy certain taxes in return for a share of the state's revenue. The law worked well for six decades.
Now, not so much, he could have said.
"The Great Revenue Sharing Heist ( the title of an article by MML's Anthony Minghine) details how the state of Michigan has balanced its own budget on the backs of its municipal partners for over a decade. Every community is suffering as a result, but large urban centers are particularly hard hit because they have greater legacy costs and they are essentially 'built-out', and lack open land for new growth.
"The cuts from 2003-14 topped $6 billion, including Detroit $732M, Grand Rapids $72M, and Flint $54M. Two cities that have spent time in receivership, Pontiac and Hamtramck, were cut by a combined $53M during the same time. All the cuts continue today."
The Heist has continued through several legislative sessions, Minghine noted. In years when state finances were at their worst, the argument was that everyone had to share in the pain. In good budget years, like this one, state officials contend that they must build-up their own rainy day fund, rather than restore cuts to communities. All the time trumpeting their own financial stewardship.
He concluded: "So municipalities are stuck between a hostile state government that yanks revenue and a citizenry that demands quality police departments, fire service, transportation and more."
Gov. Snyder, the former Gateway Computers chief who prides himself on running Michigan like he ran that business, in 2011 took control of Flint via an emergency manager after deciding that the state could do a better job of whipping economically struggling communities into financial shape.
"The problem is that running a business and governing are not parallel endeavors," wrote Ms. Robinson, commenting: "So, no, Gov. Snyder, your constituents are not customers. But if for argument's sake we assume they are, then know that Michigan's customer service spectacularly failed. In the business world, don't heads usually roll for such poor leadership and decision-making? A CEO is beholden to the bottom line and shareholders, but elected officials, in theory, are bound by public service and the greater good.
"The Flint water debacle has raised valid questions about race, class, political ideology and their role in government decision making and outcomes. But this we can say for certain: tax policy played a role in this crisis. Investments in higher education, local communities, public health, and other human services in Flint and throughout Michigan have and will continue to be squeezed by an array of costly business tax credits and transfers of general funds for transportation infrastructure.
"Rather than cutting taxes for businesses, reducing the income tax, and gutting credits for working families, the state should be reforming its tax system to ensure it has the funds needed to provide critical public goods both now and in the future. Failure to do so will lead to more catastrophes that will be costly, both in the state and to the health and well-being of its citizens. The devastating events in Flint so starkly remind us that 'savings' gleaned at the risk of public health and safety comes at too high a price."
We couldn't agree more. Does the old saw 'pennywise and pound foolish' apply here?
We have observed in this column that it would be wiser to reject the radical calls for recall of Gov. Snyder and allow him to "fix Flint" as he has promised. However, it may be too late to save Snyder from the wrath of the voting public.
And taxpayers would be wise to consider whether they should continue to back legislators who have created the disastrous state of Michigan municipal finances. The philosophy that is flawed and those who uphold it requires more voter scrutiny, legislator by legislator across the state.
###
---
---

Dave Rogers




Dave Rogers is a former editorial writer for the Bay City Times and a widely read,
respected journalist/writer in and around Bay City.
(Contact Dave Via Email at carraroe@aol.com)

More from Dave Rogers
---
Send This Story to a Friend!
Letter to the editor
Link to this Story
Printer-Friendly Story View
---
--- Advertisments ---