MICHIGAN IN FOCUS: Trump Stumps in Cadillac, Dems Debate in Flint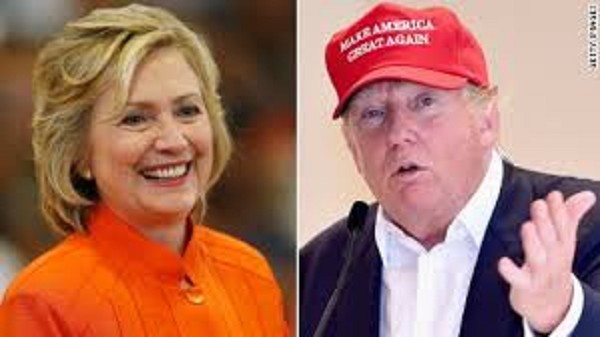 Democrat Hillary Clinton and Republican Donald Trump are favored to win their party's respective votes in the Michigan primary election March 8.
All of a sudden, a long cold winter is warming up -- news-wise that is.
MEEECHIGAN is now the focus of the most contentious, and controversial, political campaign in ages. A gaggle of Republicans, two sparring Democrats, national television personalities -- we haven't seen the like of it in many years.
The GOP elephants brawled in a Detroit debate Thursday night with hardly anything new, except for an update of the ongoing Trump feud with Fox News starlet Megyn Kelly.
MSNBC's investigative reporter Rachel Maddow put a national searchlight on Flint Friday night, revealing a multitude of sins allegedly committed by the administration of Gov. Rick Snyder.
Republican front-runner Donald Trump spurned CPAC, a big conservative rally in Maryland, to speak in Cadillac.
Bernie Sanders and Hillary Clinton debated in Flint, now the epicenter of national news due to the water crisis that is a story not going away soon.
An EPIC-MRA poll taken in January in Michigan showed President Barack Obama topping the favorability list with 50 percent, followed by Gov. Rick Snyder at 44, Hillary Clinton at 38 and Donald Trump at 31. Trump was low man on the totem pole with 57 percent unfavorable.
One Cadillac voter was aghast that Trump picked the small Wexford County community, telling a local reporter:
"I am incredibly embarrassed that man is coming to my hometown," said Cadillac resident Cliff Sjogren. "I am so mad that he has emerged as the People's choice for the Republican candidate there's so many other towns in Michigan there so many other town is Michigan that deserve him but Cadillac doesn't."
Another GOP Presidential hopeful, John Kasich, former governor of Ohio, is scheduled to campaign in Traverse City at the Park Place Hotel on Saturday. Desperate to cut into Trump's lead, Kasich is camping out in Michigan, perhaps forgetting that Wolverines are not too friendly with Buckeyes.
"It wasn't a great start for John Kasich's presidential campaign in Michigan," the Free Press' Kathleen Gray reports. The Union at the University of Michigan -- his first stop -- was a "ghost town" thanks to spring break. And Kasich himself was among the absent because of trouble with his charter plane. The few dozen who turned out for the event instead heard from Kasich over the telephone.
I don't know how Kasich did it, but he was shown talking in a box superimposed on a Trump page on the Internet. Trump was bragging that polls show him with 49 percent support among Republicans while Kasich brought up the rear at 6 percent. While I was trying to sort that out, my phone rang. Guess who? "Kasich for America," a robocall.
Michigan awards its 59 convention delegates proportionally, but a candidate must receive at least 15 percent of the statewide vote March 8 to win any delegates.
###
---
---

Dave Rogers




Dave Rogers is a former editorial writer for the Bay City Times and a widely read,
respected journalist/writer in and around Bay City.
(Contact Dave Via Email at carraroe@aol.com)

More from Dave Rogers
---
Send This Story to a Friend!
Letter to the editor
Link to this Story
Printer-Friendly Story View
---
--- Advertisments ---