Last Week's Rotary Cancelled Due To Snow!
For the first time in memory, Heavy Snow and Rotary converged
March 1, 2016 Leave a Comment
By: Stephen Kent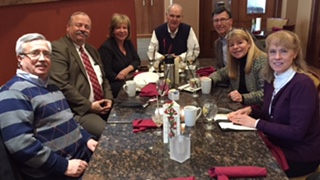 The bold members who came in!
For the first time in the memory of most living members, the March 1, 2016, Rotary meeting was cancelled due to snow.
Around 8:30, President Brenda started e-mailing then calling a key member of the executive staff. The snow was not bad yet, but warnings had been up since the night before and most schools, government offices, and other places were closing. The State Police advised staying off the roads.
With the decision made, Brenda sent e-mails, an e-mail blast was sent from the club website, and a notice was posted on the front page of the website. The meeting was cancelled!
Despite these notices, Brenda made the drive downtown just to be sure. She said it took twice as long as necessary due to road conditions. But it's good she did because ten other brave souls had come in.
As long as they were at the Doubletree, and the restaurant staff was there, most of the group decided they might as well stay to eat. So there was a Rotary Mini-Meeting and those members will be given make-up credit for their loyal effort!
Despite the fact that the snow was a fine power, it never stopped until well into the evening. By the next morning, there was, at least, a foot, and drifts were much higher. The roads were a mess by the time Rotary should have met, but the next day the city got everything cleaned up in short order.
Mild winter aside, last week the area experienced a big storm only to see it totally melt away in a few days. Then this week another big white dump, which is also melting quickly. The temperature in the 20's will be replaced by as high as the 50's next week. It's just the usual Michigan roller coaster at this time of year.
FOR FUTURE REFERENCE
We will always try to post an announcement on the front page of the club web site
when things like this happen. Check that first if you are not sure.
---
CLUB NEWS and ANNOUNCEMENTS
A NOTE ABOUT E-MAIL:
You should be receiving a weekly notice that the Breezes (which you're reading now) is available. Even if you do NOT receive the e-mail, you can always use your browser and go to MyBayCity.com to read the breezes.
In recent months, we've noticed that e-mail is not infallible. Spam filters and other "protections" prevent e-mail from reaching everyone it's addressed to. If you are not receiving your e-mails, you should contact your e-mail provider. If that doesn't work, consider using a different provider (Gmail, yahoo mail, HotMail, etc.)
You may also want to go to the club website RotaryBayCity.org and check the on-line directory. This is our master record for all members. Be sure that your address and other information is correct. If not, contact Steve Kent.
Rotary Rocks "Birds Of A Feather"
planning continues. Keep April 28 on your calendar! Andrea Hales will be selling program ads at $30, $50, and $100.
The club's
Community Grant
cycle is open through March 15. Check the club web site for full information and applications.
Andrea Hales
still needs a second family to
host our exchange student
for the Spring school session. She also says that the exchange for next year is being scheduled now and she needs a first host family on file so they can get busy on obtaining a passport.
A small number of
dues invoices
have yet to be paid. If you are one of that number, please attend to this matter soon. Payment will be greatly appreciated as the club needs to make its payment to Rotary International.
Current and past
DISTRICT DISPATCH
newsletters
MAY
be available on the District site shown in the LINKS section below. These are not always updated, but it's worth trying.
---
DATES TO REMEMBER
Board Meeting
- March 8 - 11:00 am before regular meeting - Everyone invited.
April 9
District Matching Grant Seminar (COPOCO CCU)
April 28
Rotary Rocks Concert
May 20-21
District Conference Alpena
---
Upcoming Programs
(See the official schedule at RotaryBayCity.org )
March 8, 2016 Clean Water in the Dominican Republic.
Randy Ettema, District 6310 Water & Sanitation Committee Chair, will provide an update on the ongoing and planned water and sanitation projects with which our district is involved in the Dominican Republic.
March 15, 2016 Bay County Library "3D" Printer
Kevin Ayala will discuss this exciting new technology that is available through the library system.
March 22, 2016 - "Anatomy of a Mystery"
Author David Vizard will showcase his new novel, "A Grand Murder" which is set in Bay City. He will present a slideshow entitled "Anatomy of a Mystery" which takes a look at how his book was developed.
April 12, 2016 Midland Center for the arts
Presented by Bruse Winslow.

Rotary
is an intimate affiliation of carefully selected business and professional people,
having as its objective the promotion of high ethical standards in private, commercial
and civic life, and dedicated to the ideal that the basis of all worthy endeavor is unselfish service.
---
Current and past
DISTRICT DISPATCH
newsletters are available on the District site shown in the LINKS section below.


Rotary Bay City on Facebook!
Click on the Blue Facebook to visit us there.

Remember! Check attendance sheets at the front desk.
---
LINKS
---
---

Stephen Kent




Steve Kent and his family have lived in Bay City for 40 years. He is VP of Technical Services at MMCC which produces MyBayCity.Com. Kent is active in many Bay City civic organizations.

More from Stephen Kent
---
Send This Story to a Friend!
Letter to the editor
Link to this Story
Printer-Friendly Story View
---
--- Advertisments ---