District Dominican Republic Water Program Topic of Talk
March 8, 2016 Leave a Comment
By: Stephen Kent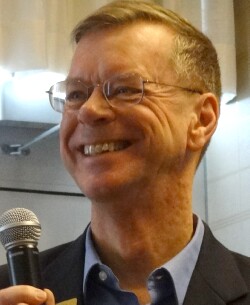 Randy Ettema
Randy Ettema
, Water and Sanitation Committee Chair for District 6310, spoke to Rotary about the projects the District and the Frankenmuth club have been doing in the Dominican Republic.
In 2013-14, Rotary collaborated with the Pasa de Moca host club to provide 40 new latrines, which cost $400 each. The also put in two 7,000 gallon water tanks ($5,500 each) and 40 Aqua Clara point of use water filters. A new pump was added to an existing well along with a new well and pump.
With labor provided by Rotary Community Corps and Builders Beyond Borders, the total grans for those projects came to $24,989.
An important component of the Rotary work is to provide hand washing and hygiene training for families. International studies show that a hand washing campaign can reduce diarrheal diseases by over 40%. Hand washing can stop up to 30% of respiratory infections and can reduce overall deaths from malnutrition caused by diarrhea and nematode infections.
A second project was done with host club Santiago Gurabito and Frankenmuth. They worked in a small community of 100 mountain families in La Cumbre de Juan Veras. That project cost about the same and provided 80 latrines and the hand washing a hygiene training.
Randy showed a number of slides of work in the area including before and after images, local residents, and Rotarians. One of the more interesting shots was of the manufacture of toilet bowls on site by locals. That method has proved popular and will be exported to other areas.
Randy talked about three projects and their results. In his words, the total investment was $94,839 but the future health impact is priceless.
---
CLUB NEWS and ANNOUNCEMENTS
Congratulations to
Trevor Keyes
who was presented with a "New Member Sponsor" pin by President Brenda. The club wants to begin recognizing all such sponsors in the future.
Connie Schweitzer
recognized and presented pins to
Linda Heemstra
who achieved her Paul Harris Plus 7, and
Ann Grady
who received her Paul Harris Plus 1. We thank both of these members for their generous contribution to the work of Rotary.
Lee Newton
talked briefly about plans for the upcoming Rotary Rocks "Birds Of A Feather" concert, April 28 at the State Theatre. Andrea Hales is selling program ads for the event at $30, $50, and $100. .
President Brenda talked about the district goals for the "Every Rotarian Every Year" program of contributions to the Rotary Foundation.
A NOTE ABOUT E-MAIL:
You should be receiving a weekly notice that the Breezes (which you're reading now) is available. Even if you do NOT receive the e-mail, you can always use your browser and go to MyBayCity.com to read the breezes.
In recent months, we've noticed that e-mail is not infallible. Spam filters and other "protections" prevent e-mail from reaching everyone it's addressed to. If you are not receiving your e-mails, you should contact your e-mail provider. If that doesn't work, consider using a different provider (Gmail, yahoo mail, HotMail, etc.)
You may also want to go to the club website RotaryBayCity.org and check the on-line directory. This is our master record for all members. Be sure that your address and other information is correct. If not, contact Steve Kent.
The club's
Community Grant
cycle is open through March 15. Check the club web site for full information and applications.
Andrea Hales
still needs a second family to
host our exchange student
for the Spring school session. She also says that the exchange for next year is being scheduled now and she needs a first host family on file so they can get busy on obtaining a passport.
A small number of
dues invoices
have yet to be paid. If you are one of that number, please attend to this matter soon. Payment will be greatly appreciated as the club needs to make its payment to Rotary International.
Current and past
DISTRICT DISPATCH
newsletters
MAY
be available on the District site shown in the LINKS section below. These are not always updated, but it's worth trying.
FOR FUTURE REFERENCE
We will always try to post an announcement on the front page of the club web site
when things like this happen. Check that first if you are not sure.
---
DATES TO REMEMBER
April 9
District Matching Grant Seminar (COPOCO CCU)
April 28
Rotary Rocks Concert
May 20-21
District Conference Alpena
---
Upcoming Programs
(See the official schedule at RotaryBayCity.org )
March 15, 2016 Bay County Library "3D" Printer
Kevin Ayala will discuss this exciting new technology that is available through the library system.
March 22, 2016 - "Anatomy of a Mystery"
Author David Vizard will showcase his new novel, "A Grand Murder" which is set in Bay City. He will present a slideshow entitled "Anatomy of a Mystery" which takes a look at how his book was developed.
April 12, 2016 Midland Center for the arts
Presented by Bruse Winslow.
---
Current and past
DISTRICT DISPATCH
newsletters are available on the District site shown in the LINKS section below.


Rotary Bay City on Facebook!
Click on the Blue Facebook to visit us there.

Remember! Check attendance sheets at the front desk.
---
LINKS
---
---

Stephen Kent




Steve Kent and his family have lived in Bay City for 40 years. He is VP of Technical Services at MMCC which produces MyBayCity.Com. Kent is active in many Bay City civic organizations.

More from Stephen Kent
---
Send This Story to a Friend!
Letter to the editor
Link to this Story
Printer-Friendly Story View
---
--- Advertisments ---