WICKED BAY CITY: Coming May 30 From Tim Younkman
March 18, 2016 Leave a Comment
By: Dave Rogers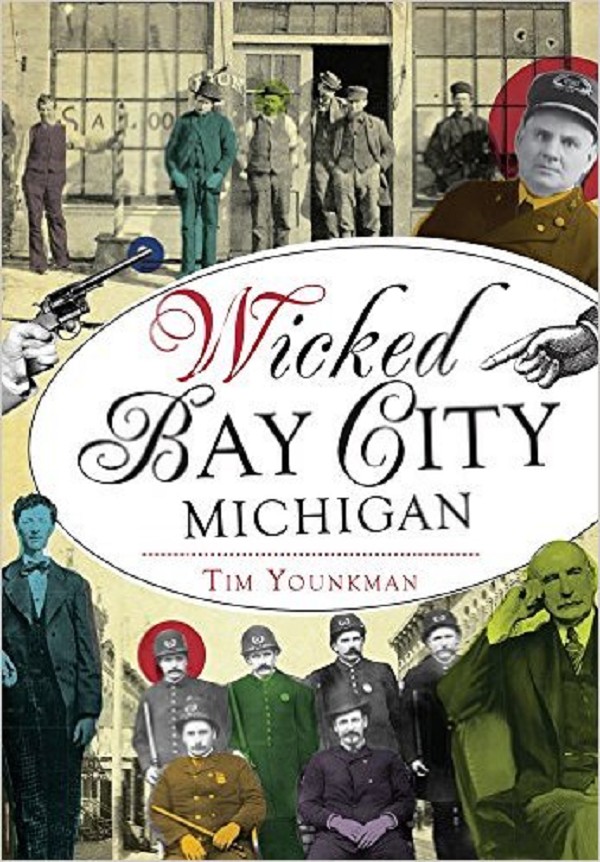 WICKED BAY CITY -- TIM YOUNKMAN
Tim Younkman is Bay City's quintessential police reporter, complete with Peter Falk type raincoat and porkpie hat.
A Muskegon native, Younkman prowled the "cops" beat here for many years, picking up nuggets of Bay City's not so admirable history along the way.
As is the case with good police reporters, Younkman sees a conspiracy under every rock. Wait a minute, that's what people used to say about me when I was a police reporter. Of course, in many instances we are right.
Now Tim has strung these tawdry stories together in his epic tour de force, a book entitled "Wicked Bay City."
Younkman ripped the veil off the new compilation of tales recently at a meeting of the 7th Michigan Cavalry Civil War Round Table. The theme of his talk was the age-old military scourge, P.T.S.D. (post-traumatic stress disorder, or less commonly "soldier's heart.")
The book's promotional statement reads:
"From unscrupulous lumber barons to Hell's Half Mile, Bay City history casts a sinister shadow. Pope Leo XIII was forced to intervene when rioting Catholic immigrants seized St. Stanislaus Catholic Church and battled one another in the city's streets.
"The police discovered prostitute Lou Hall nearly beaten to death in the Block of Blazes.
"And respected publishing mogul Edwin T. Bennett's secret life led to the death of a young woman in a Bay City hotel room.
Bennett was the publisher of the Bay City Tribune and the Lumberman's Gazette, the latter winning undeserved celebrity in an early book about Bay City's wicked side, Holy Old Mackinaw by Stewart Holbrook. One of half a dozen nationally known writers to spy on the antics of lusty timber fellers and spicy saloon gals here, Holbrook researched his book in the sin dens and took the word of denizens as fact.
A little known fact is that the book title was taken from the lumberjacks' moniker for a noted Bay City house of ill repute. The 1940 book came out just in time to soar on the bestseller lists, with a reported 500,000 books alone sold to servicemen for light reading in the trenches of World War II in Europe.
Holbrook branded the Lumberman's Gazette a chronicler of licentious tales when actually the publication was a dreary recitation of lumbering statistics that would put any reader to sleep. (Just ask me, I did my master's thesis in Journalism at Michigan State on the Lumberman's Gazette in 1973.)
But I digress...
"Join author Tim Younkman for a wild ride into the city's wicked side." --Amazon.com on Tim Younkman's forthcoming book, by Arcadia Publishing ($21.99 pre-publication price)
Nobody, including yours truly, knew the amazing background of a seemingly harmless newspaper publisher, Edwin T. Bennett. But Mr. Younkman stumbled on the yarn in his research for the book. He turned over a rock and there it was.
There was a demon lurking in Mr. Bennett as a result of an incident from his boyhood in upstate New York. We won't reveal the amazing incident, that would ruin the surprise factor you will discover while reading the book.
Rest assured Mr. Bennett was affected by the most unusual happening perhaps of the entire era, one that readers cannot possibly imagine. Did this long ago event cause Bennett to become the evil person he turned out to be? Perhaps, but to find out you have to read the book that is due for release from Arcadia Press ($21.95) on May 30.
###
---
---

Dave Rogers




Dave Rogers is a former editorial writer for the Bay City Times and a widely read,
respected journalist/writer in and around Bay City.
(Contact Dave Via Email at carraroe@aol.com)

More from Dave Rogers
---
Send This Story to a Friend!
Letter to the editor
Link to this Story
Printer-Friendly Story View
---
--- Advertisments ---