Library Demonstrates 3-D Printer To Rotary.
March 15, 2016 Leave a Comment
By: Stephen Kent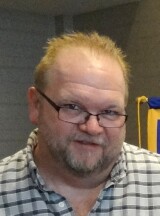 "Tech Guy" Walt
Rotarian Kevin Ayala, hear of Public Administration and Fiance for the Bay County Library system, introduced the Library's IT Supervisor Walt, who then demonstrated and talked about the 3-D printers at the library.
It's hard to describe a 3-D printer without something to see. So on the table in front, Walt had set up the smaller of two printers from the Library and a variety of small items that had been built with the device. He let it run during his talk and slide show and it proceeded to create what looked like a small chess piece, all from a coil of plastic that looked like what you'd put into your string trimmer used for yard grass.
3-D printing, or additive manufacturing, works on the simple idea of depositing very thin slices of an object one on top of the other until the entire object is finished. In practice, the model demonstrated sprays an extremely thin stream of plastic on a bed that can move in all directions under computer control. As a layer is completed, the bed is moved down a fraction and the next layer is laid on top.
The entire process depends on computers. The software is used to mathematically describe the 3-dimensional shape in the memory and on the screen of the computer. When it is complete, another program "slices" the image into very thin layers. The last step is to "print" each of those layers much as you might print an image with a conventional printer.
There are many types and sized of 3-D printers. They can be used for simple projects a youngster might make, to high tech pieces used in industry. The materials can be simple plastic, metal, resins, even edible products like cake frosting and biological materials to create artificial body parts.
The Library has two printers at this time. Staff teach the procedures to library patrons as well as to students and classes. The machines are available for anyone to use, the only cost if for materials. Although the more sophisticated software can be very expensive, a tremendous amount of software is free to download. There are also many designs ready to be printed.
At first glance, the prospect of using this technology seems almost overwhelming, at least to those of Rotary age. But for the generation in school now, this is just the next really cool technology. And it's available, right now, at almost no cost. There's no telling what may appear next in that open space under the 3-D print head.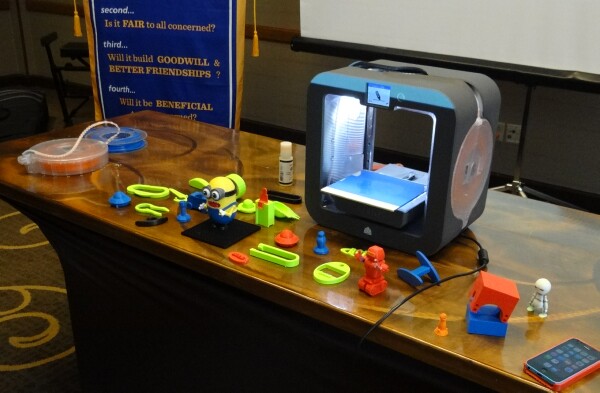 One of two 3-D printers at the Wirt Library
---
CLUB NEWS and ANNOUNCEMENTS
Don Carlyon
introduced
Andreas Franco
the next candidate auditioning for Conductor of the Saginaw Bay Symphony Orchestra. Andreas spoke a little about his background and the concert to be presented this weekend. He is from Columbia South America and his wife is from Argentina. They met here in the States. His wife was a Rotary Exchange student and finished her high school years at Interlochen Music Camp. The two met in Fort Worth, Texas.
Lee Newton
talked about the upcoming Rotary Rocks "Birds Of A Feather" concert, April 28 at the State Theatre. Andrea Hales is selling program ads for the event at $30, $50, and $100.
Tim Holsworth
made the first announcements for the upcoming Rotary Golf Outing, which will be held at Maple Leaf golf course in Linwood this year. Start thinking about golf now. Full information will be coming soon.
Elieen Curtis
announced that the Youth Advisory Council of the Community Foundation is going to take over the Rotary Garden in the arboretum as a permanent project. This will be a great help to the few loyal Rotarians who have been managing the garden for the last few years.
Don Carlyon
noted that the son of a Rotarian and a graduate of Delta College is now a marine and was the lead pallbearer for Nancy Reagan's funeral.
Chuck Cusick
noted that he and wife
Nancy
attended PETS where she spoke about her recent polio trip.
A NOTE ABOUT E-MAIL:
You should be receiving a weekly notice that the Breezes (which you're reading now) is available. Even if you do NOT receive the e-mail, you can always use your browser and go to MyBayCity.com to read the breezes.
In recent months, we've noticed that e-mail is not infallible. Spam filters and other "protections" prevent e-mail from reaching everyone it's addressed to. If you are not receiving your e-mails, you should contact your e-mail provider. If that doesn't work, consider using a different provider (Gmail, yahoo mail, HotMail, etc.)
You may also want to go to the club website RotaryBayCity.org and check the on-line directory. This is our master record for all members. Be sure that your address and other information is correct. If not, contact Steve Kent.
Andrea Hales
still needs a second family to
host our exchange student
for the Spring school session. She also says that the exchange for next year is being scheduled now and she needs a first host family on file so they can get busy on obtaining a passport.
A small number of
dues invoices
have yet to be paid. If you are one of that number, please attend to this matter soon. Payment will be greatly appreciated as the club needs to make its payment to Rotary International.
Current and past
DISTRICT DISPATCH
newsletters
MAY
be available on the District site shown in the LINKS section below. These are not always updated, but it's worth trying.
FOR FUTURE REFERENCE
We will always try to post an announcement on the front page of the club web site
when things like this happen. Check that first if you are not sure.
---
DATES TO REMEMBER
April 9
District Matching Grant Seminar (COPOCO CCU)
April 28
Rotary Rocks Concert
May 20-21
District Conference Alpena
---
Upcoming Programs
(See the official schedule at RotaryBayCity.org )
March 22, 2016 - "Anatomy of a Mystery"
Author David Vizard will showcase his new novel, "A Grand Murder" which is set in Bay City. He will present a slideshow entitled "Anatomy of a Mystery" which takes a look at how his book was developed.
April 12, 2016 Midland Center for the arts
Presented by Bruse Winslow.
---
Current and past
DISTRICT DISPATCH
newsletters are available on the District site shown in the LINKS section below.


Rotary Bay City on Facebook!
Click on the Blue Facebook to visit us there.

Remember! Check attendance sheets at the front desk.
---
LINKS
---
---

Stephen Kent




Steve Kent and his family have lived in Bay City for 40 years. He is VP of Technical Services at MMCC which produces MyBayCity.Com. Kent is active in many Bay City civic organizations.

More from Stephen Kent
---
Send This Story to a Friend!
Letter to the editor
Link to this Story
Printer-Friendly Story View
---
--- Advertisments ---