Lawsuit Sets Up Chippewa Battle with State in Federal Court over Lands, Law
Judge Lawson Asked to Determine Meaning of 19th Century Treaties
February 5, 2006 Leave a Comment
By: Dave Rogers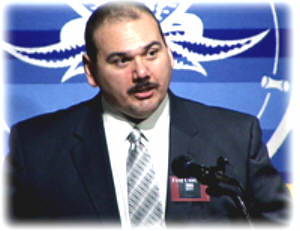 Fred Cantu, new Saginaw Chippewa Tribal Chief, gives his first "State of the Tribe" message recently in Mt. Pleasant.
Native Americans in mid-Michigan want their land back.
And now, with casino profits, they've got the big bucks to hire lawyers to fight centuries old land losses through treaties and other injustices.
The lawsuit is setting up a massive legal battle through most of this year in the Federal Building in Bay City.
Federal Judge David Lawson has set a status conference for April 17 at 10 a.m. in the Federal Building in Bay City in a suit by the Saginaw Chippewa Indian Tribe seeking to return six townships in Isabella County to reservation status.
The townships are Wise, Nottawa, Isabella, Denver and Deerfield and the northern half of Union and Chippewa townships.
The property includes much of the city of Mt. Pleasant and runs west to Rosebush and north to Loomis, approximately one-third of the entire county.
Defendants in the suit are Gov. Jennifer Granholm, Attorney General Mike Cox, State Treasurer Jay B. Rising, and Steven Chester, director of the Michigan Department of Environmental Quality.
The court faceoff will pit Attorney General Cox and his assistants against a tribal issues legal specialist, William A. Szotkowski, of St. Paul, Minnesota, and Sean J. Reed, Saginaw Tribe general counsel, of Mt. Pleasant, Michigan.
The tribe contends tribal members on the historic Isabella Reservation should not pay state income taxes nor should they be subject to state traffic, child welfare, environmental and other laws.
State officials recently filed an answer to the suit denying that the historic Isabella Reservation exists and asserting that the Chippewa waited 100 years, far too long to assert their land claims now.
Looming is a long, complicated court battle with a procession of expert witnesses testifying about what the Congress may have meant 150 or more years ago.
The classic confrontation between the Indian and the white man will be replayed right here in Bay City, once part of Saginaw County, aboriginal home of the Saginaw, Swan Creek and Black River Band of Chippewa.
How the Indians lost their land is described in the Michigan Pioneer and Historical Collections, "Sketch of the Settlement and Growth of Isabella County,"by J.E. Day:
"The Indians on the reservation numbered at first 1,600, but in 1876 had been reduced to about 600, and at the present time scarcely number 300, aside from those connected with the Indian school.
"She-mo-ko-man" trickery and "She-mo-ko-man" whisky were elements in the process of civilization with which the Indian could not successfully contend.
"They were divided by the agent or commissioner into two classes, called "competent" and "not so competent", those of the first class being at once initiated into the mysteries of full citizenship, including the power to sell or mortgage the portion of land which had been the gift of the government, and to be outwitted and defrauded by the white at his will.
"Those of the second class could not alienate their claims without consent of the commissioner, and as a result those of the less class were the longest stayers.
"A characteristic of the Indian nature is to have little care, and to make no provision for the future. So if one gave a mortgage upon his freehold, he made no plan to pay it, but when it became due he gave it up to some speculator and took in place of it a "wild forty" farther back, where the same process would be repeated.
"Often some speculator would agree with an Indian who had not been granted his allotment, to make his selection and sell to the speculator at a nominal sum, perhaps not a tenth of its value; sometimes, too, by a convenient change of Indian names, the same party could select land more than once, to the benefit of a waiting white. Their land was good and with proper treatment would yield ample returns for labor bestowed upon it, but few made any success in agriculture and most of the reservation is now owned by whites."
Doubtless testimony in the court case will focus on these aspects of ancient history by witnesses who have only read about such activities.
Some tribal observers speculate one intent of the lawsuit is to give the tribe leverage with the state on other issues, perhaps even extension of the gambling franchise to other lands such as the former reservation at Saganing on Saginaw Bay.
An out of court settlement is also a likely outcome before the complicated issue comes to a lengthy and expensive trial, observers speculated.###
---
---

Dave Rogers




Dave Rogers is a former editorial writer for the Bay City Times and a widely read,
respected journalist/writer in and around Bay City.
(Contact Dave Via Email at carraroe@aol.com)

More from Dave Rogers
---
Send This Story to a Friend!
Letter to the editor
Link to this Story
Printer-Friendly Story View
---
--- Advertisments ---