Author Vizard Talks to Rotary About New Book
"A Grand Murder" Second in Nick Steele Series
March 22, 2016 Leave a Comment
By: Stephen Kent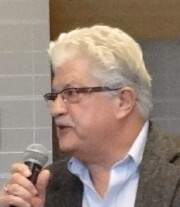 Dave Vizard
Dave Vizard
is well known around Bay City. Over a 24 year period, he was Columnist, News Editor and Managing Editor of the Bay City Times. Following that he went on to edit the True North Magazine for the Times. After retiring in 2008 Dave has worked as a writer and editor and real estate agent. "Now after 35 years as a journalist and newspaperman, I'm doing what I want to do."
What Dave wants to do is to write. He's just completed his second novel in the Nick Steele murder mystery series. The first book featured Mackinac Island and became one of the best-selling local books on the island. The new book,
"A Grand Murder"
, is set in Bay City at the fictional "Bay City Blaze" newspaper. The story has connections to Mackinac Island, Flint, Saginaw, Detroit, and Ann Arbor: "all the places I've worked", said Dave.
Dave made a point of saying that the 248-page book is "family friendly" no "F" bombs, no graphic sex, no graphic violence. It took two years to write and rewrite twice. He set this murder on Mackinac Island for a number of reasons, not the least of which is that there actually was an unsolved murder there in the 1960s.
Mackinac is a unique setting because of the nature of the island. Each summer thousands of tourists descend on the island. These people come and go so quickly that trying to solve a crime becomes almost impossible. "If you pay cash, there's no record of your time on the island", said Dave. There are few deaths there and only a handful of accidents. Crime is low and there's only a small "cop shop".
The book has many connections to Bay City and Michigan. Characters were based on people Dave knew or knows, or on a combination of those characters. Although a fictional story, it is tied to real events that occurred locally. It also addresses issues that will be familiar to readers.
"A Grand Murder" is not a typical "whodunit". Rather it's a mystery about the why and the motive. The book is available at a number of stores in the area as well as on Amazon.com's Kindle store, your favorite library, and "from Dave's trunk". Dave will speak at the "Booked for Lunch" series at the Wirt Library next week. Be sure to catch him there for a more in-depth discussion.
---
CLUB NEWS and ANNOUNCEMENTS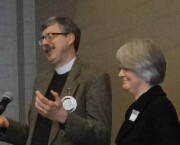 Andreas and Tracy Teich
Bob Chadwick
talked about the Rotary Foundation's origin and its works over the years. He then presented the
Bequest Society 4th Level
recognition to
Andreas and Tracy Teich
for their contributions to the Society. Andreas then spoke and noted that when you die, you no longer have the ability to say where your money goes. He and Tracy made the decision now while they can. He encouraged others to do the same by leaving a Bequest to Rotary.
Frank Janca
received a pin recognizing his sponsoring of new members to the club. Thanks Frank!
Andrea Hales
announced that our exchange student for the fall has been selected. Andera also noted that she still needs host families. Please consider being a Host, or finding one. Talk to Andrea for details.
Rotary Rocks 2016 "Birds Of A Feather"
is only a few weeks away: April 28 at the State Theatre. Andrea Hales is selling program ads for the event at $30, $50, and $100.
A NOTE ABOUT E-MAIL:
You should be receiving a weekly notice that the Breezes (which you're reading now) is available. Be sure to let us know if you are NOT receiving this notice. Even if you do NOT receive the e-mail, you can always use your browser and go to the club website or directly to MyBayCity.com to read the breezes.
Current and past
DISTRICT DISPATCH
newsletters
MAY
be available on the District site shown in the LINKS section below. These are not always updated, but it's worth trying.
FOR FUTURE REFERENCE
We will always try to post an announcement on the front page of the club web site
when things like this happen. Check that first if you are not sure.
---
DATES TO REMEMBER
April 28
Rotary Rocks Concert
May 20-21
District Conference Alpena
June 16th,
Thursday, Annual Golf Outing - Maple Leaf Golf Course, 9:00 a.m. start
---
Upcoming Programs
(See the official schedule at RotaryBayCity.org )
March 29,2016 Pinconning HS Senior SeaTrek Marine Biology Experience
Speaker: Ally Marter
April 05, 2016 The Community Advancement Network.
Building Effectiveness and Efficiency in Nonprofits in the Great Lakes Bay Region. Executive Director Charlie Schwedlerwill be providing us with an overview of the Network and a report on its progress.
April 12, 2016 Midland Center for the arts
Presented by Bruse Winslow.
April 19,2016 Volunteer Program & need for volunteers from Bay City
Dee Bliss, Volunteer Coordinator, will talk about opportunities to be matched with Hospice patients to provide companionship and friendship.
May 03, 2016 Nancy Cusick
will talk about her experiences administering the
POLIO VACCINE
on her recent trip to India.
---
Current and past
DISTRICT DISPATCH
newsletters are available on the District site shown in the LINKS section below.


Rotary Bay City on Facebook!
Click on the Blue Facebook to visit us there.

Remember! Check attendance sheets at the front desk.
---
LINKS
---
---

Stephen Kent




Steve Kent and his family have lived in Bay City for 40 years. He is VP of Technical Services at MMCC which produces MyBayCity.Com. Kent is active in many Bay City civic organizations.

More from Stephen Kent
---
Send This Story to a Friend!
Letter to the editor
Link to this Story
Printer-Friendly Story View
---
--- Advertisments ---