Ally Mater Speaks to Rotary About Sea Trek BVI
March 29, 2016 Leave a Comment
By: Stephen Kent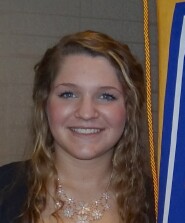 Ally Marter
Ally Marter
, a senior at Pinconning High School, spoke to Rotary about her experiences at Sea Trek in the British Virgin Islands. Brenda Scramlin met Ally when she was her mentor at Youth Leadership Bay County two years ago. They've kept in touch since and Brenda wanted Ally to share her story.
Ally became interested in marine biology as a youngster enjoying the bay and outdoors with her Dad. She researched opportunities and found Sea Trek on the internet. "Now, how many of you would let your 15-year-old daughter take off to spend weeks on a ship in the Virgin Islands?", Ally said. She was able to "sell" the idea only because the couple who ran the program happened to live in Michigan and were able to meet and get to know Ally and her parents.
Her first camp experience, in 2013, was as a regular session with Ally learning to SCUBA dive, do experiments, and work in marine sciences. When she wanted to go back the next summer she received a full scholarship. The third summer she was brought back as an intern and this summer she will go back as paid staff.
The Sea Trek experience solidified Ally's plan to become a marine biologist. She applied to Tampa University and was able to report that not only was she accepted, but she received a full ride scholarship, largely based on her experiences with Sea Trek.
Sea Trek is operated a number of ships each summer. A typical cruise will include ten students, five counselors, plus crew. The campers earn a dive certificate and work with real scientists doing real experiments, surveys, and studies. Ally listed five programs ranging from a $2,175 10-day program to multi-week programs costing around $6,000.
It was very encouraging to hear from an articulate and enthusiastic young lady. Rotary will keep an eye on her career as it unfolds in the years to come.
For more information visit
www.seatrekbvi.com
---
CLUB NEWS and ANNOUNCEMENTS
Dee Dee Wacksman
has been named as the district's International Conference chairperson. The upcoming conference will be held in Atlanta, Georgia, making it possible for almost any member to attend.
Chuck Cusick
reported on the project to reintroduce sustainable, native food plants in the area where Rotary is supporting the "Adopt-a-Village" program. In particular, we are sponsoring work with the Amaranth plant. Once an important Aztec and Mayan crop with religious significance, amaranth was almost wiped out by Spanish rulers in their religious fervor.
Andrea Hales
announced that our exchange student for the fall has been selected. Andera also noted that she still needs host families. Please consider being a Host, or finding one. Talk to Andrea for details.
Rotary Rocks 2016 "Birds Of A Feather"
is only a few weeks away: April 28 at the State Theatre. Andrea Hales is selling program ads for the event at $30, $50, and $100.
A NOTE ABOUT E-MAIL:
You should be receiving a weekly notice that the Breezes (which you're reading now) is available. Be sure to let us know if you are NOT receiving this notice. Even if you do NOT receive the e-mail, you can always use your browser and go to the club website or directly to MyBayCity.com to read the breezes.
Current and past
DISTRICT DISPATCH
newsletters
MAY
be available on the District site shown in the LINKS section below. These are not always updated, but it's worth trying.
FOR FUTURE REFERENCE
We will always try to post an announcement on the front page of the club web site
when things like this happen. Check that first if you are not sure.
---
DATES TO REMEMBER
April 4
Golf Committee meeting - Vino's - 4:00 pm
April 9
Distract Grants Seminar at COPOCO CCU
April 12
Club Board Meeting
April 18-23
Saginaw Bay Nature Festival - Northern Bay & Areanac Rotary fund raiser
Banquet Saturday April 23 - Sign up today - limited space
Full schedule at www.facebook.com/SaginawBayNatureFestival
Presented by Rotary Club of Pinconning and Standish
Proceeds to fund projects in four local school districts.

April 28 Rotary Rocks Concert State Theatre.

May 20-21 District Conference Alpena

June 16th, Thursday, Annual Golf Outing - Maple Leaf Golf Course, 9:00 a.m. start


---
Upcoming Programs
(See the official schedule at RotaryBayCity.org )


April 05, 2016 The Community Advancement Network. Building Effectiveness and Efficiency in Nonprofits in the Great Lakes Bay Region. Executive Director Charlie Schwedlerwill be providing us with an overview of the Network and a report on its progress.

April 12, 2016 Midland Center for the arts Presented by Bruse Winslow.

April 19,2016 Volunteer Program & need for volunteers from Bay City Dee Bliss, Volunteer Coordinator, will talk about opportunities to be matched with Hospice patients to provide companionship and friendship.

May 03, 2016 Nancy Cusick will talk about her experiences administering the POLIO VACCINE on her recent trip to India.

---

Current and past DISTRICT DISPATCH newsletters are available on the District site shown in the LINKS section below.







Rotary Bay City on Facebook!
Click on the Blue Facebook to visit us there.

Remember! Check attendance sheets at the front desk.
---
LINKS
---
---

Stephen Kent




Steve Kent and his family have lived in Bay City for 40 years. He is VP of Technical Services at MMCC which produces MyBayCity.Com. Kent is active in many Bay City civic organizations.

More from Stephen Kent
---
Send This Story to a Friend!
Letter to the editor
Link to this Story
Printer-Friendly Story View
---
--- Advertisments ---