BARCIA'S BOSS: "Earmark Lobbyist" Bob Livingston Endorses Trump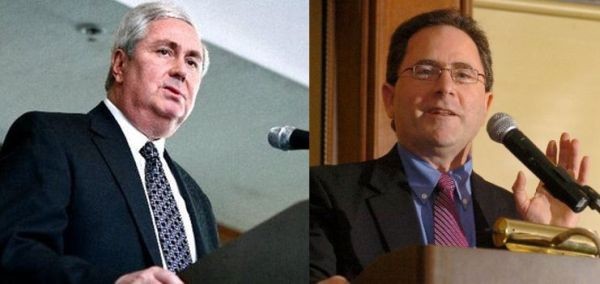 Jim Barcia (Left) and Tom Hickner (Right)
Enlightened bipartisanship or myopic conflict?
That's what local political observers are pondering about one Bay County candidate in a race headed for the August primary election.
Jim Barcia, 64, has declared his candidacy for Bay County Executive opposing his longtime friend and colleague Tom Hickner, 62.
Barcia is employed by the national lobbying firm of Bob Livingston, former Republican Member of Congress from Louisiana, who has just endorsed Donald Trump for President.
A perplexed Mr. Hickner will only say about Barcia's declaration of candidacy on Facebook that Mr. Barcia told him recently that he would only run if he (Tom) didn't. "This came as a complete surprise to me," said Hickner. "Of course, I'm disappointed as Jim and I have always cooperated when it comes to politics."
Barcia is listed as one of six "senior counselors," all former Members of Congress, for the Livingston firm. Other Livingston senior counselors are three Republicans, Wayne Allard, Colorado; Ray McGrath, New York; and William H. Zeliff Jr., New Hampshire.; and Democrats Eva Clayton, North Carolina, and Bob Clement, Tennessee.
Writes Timothy P. Carney in the Washington Examiner: "Livingston, who was appropriations committee chairman in the 1990s, and almost the speaker of the House, is now a big-deal corporate lobbyist on K Street. Largely, he's an earmark lobbyist. "[W]orking to influence the federal budget process reigns supreme" at the Livingston Group, The Hill reports. Livingston has inveighed against the Republicans' earmark ban in The Wall Street Journal and in Esquire.
"His lobbying clients include appropriations-seekers and major corporations and business groups. Citigroup, the U.S. Chamber of Commerce, Verizon, the City of New Orleans, and many others are Livingston Group clients.
"Livingston joins other top Republican lobbyists Bob Dole, Rudy Giuliani, and Trent Lott in endorsing Trump over his only serious rival right now, Ted Cruz."
Hickner notes that it was his analysis of public opinion in 1975 that showed Barcia could defeat Republican incumbent Colleen House who then was representing Bay County in the Legislature. Barcia went on to an upset victory over Rep. House.
Ms. House was married 1975-1986 to John Engler, who became Republican governor of Michigan 1991-2002 and now is a Washington lobbyist and power broker as head of the Business Roundtable.
Barcia was a member of the Michigan State House of Representatives, from 1977 to 1983. He left the House after being elected to the Michigan Senate, where he served until he resigned in 1993 to enter the U.S. House of Representatives.
Barcia was elected as a Democrat from Michigan's 5th congressional district to the 103rd Congress and to the four succeeding Congresses, serving from January 3, 1993, to January 3, 2003. He was considered a "moderate" Democrat who opposed abortion and gun control. He had a lifetime rating of 54 from the American Conservative Union -- the highest of any Democrat from Michigan at the time, according to Wikipedia.
Barcia was one of 81 House Democrats who voted in 2002 to authorize the war in Iraq.
After the United States 2000 Census, Barcia's district was dismantled by the Republican-controlled state legislature. Most of his district's territory was shifted to the 10th District, but his home in Bay City was merged with the neighboring 9th District represented by fellow Democrat Dale Kildee. The new district retained Barcia's district number (the 5th) but was geographically more Kildee's district. Barcia opted to run for his old seat in the State Senate and won.
He was term-limited and in 2010 announced his retirement from politics. He was pictured at a hunting camp with Detroit rapper Ted Nugent, a prominent hunter and gun advocate, and declared his intention to spend more time seeking game. Barcia is a noted big game hunter and has a 400-pound lion mounted in his Bangor Township home.
Barcia and then Bangor Township Supervisor Terry Watson in 2012 were invited to represent the U.S. at the 70th anniversary of the Battle of Dieppe in France.
###
---
---

Dave Rogers




Dave Rogers is a former editorial writer for the Bay City Times and a widely read,
respected journalist/writer in and around Bay City.
(Contact Dave Via Email at carraroe@aol.com)

More from Dave Rogers
---
Send This Story to a Friend!
Letter to the editor
Link to this Story
Printer-Friendly Story View
---
--- Advertisments ---