Community Advancement Network Topic of Rotary Program
April 5, 2016 Leave a Comment
By: Stephen Kent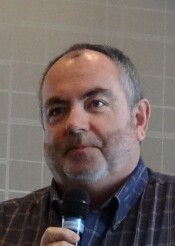 Charlie Schwedler
Charlie Schwedler
, Director of The Community Advancement Network of Midland talked to Rotary about the programs and services of his organization. A program of the United Way of Midland, the network is a collaborative partnership that works with Community Foundations and United Ways. Major support is provided by The Dow Chemical Company and Dow Corning Corp.
Simply put, the Community Advancement Network works to strengthen nonprofit organizations through capacity building services that enhance effectiveness and efficiency. The network services cover Bay, Isabella, Midland and Saginaw counties. Operating officers come from the United Ways and Community Foundations in those counties as well as from Dow and Dow Corning.
Potential clients contact the network and meet with him and staff to discuss projects and needs. The client is paired with a qualified consultant that can best handle their situation. Sessions evaluate the client and help design and implement plans for the clients.
Nonprofit clients pay for these services. There are, however, grants available that cover up to 60% of the costs. Clients use an Assessment of Capacity Enhancement (ACE) tool to gather a set of organizational data designed to measure the changes that take place in the client's organization.
Of the dozen project focus areas studies, strategic planning accounts for the largest amount of time and effort. Marketing, fund development, and board governance come next. Generally, clients see a 20% increase in capacity over the first year.
For more information visit
www.advancementnetwork.org
---
CLUB NEWS and ANNOUNCEMENTS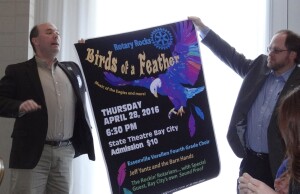 Rotary ROCKS!
Lee Newton and Ron Bloomfield presented the poster for the 2016 Rotary Rocks titled
"Birds Of A Feather"
. The concert is only a few weeks away: April 28 at the State Theatre. Andrea Hales is selling program ads for the event at $30, $50, and $100. General admission is $10. Patron tickets (1 ticket and name listing) are $25.
The Northern Bay and Arenac Club (Pinconning) is holding their
2016 Saginaw Bay Nature Festival
April 18-23. Visit
www.facebook.com/SaginawBayNatureFestival
for details.
The next
Rotary Night Out
is scheduled for Wednesday, May 25, 6:30pm, at Old City Hall. The cost will be $21.99 plus tax and tips for a full dinner (prime rib or artichoke chicken) and a cash bar. Sign up now for a great night of food and fellowship. There's a limit of 50 people so reservations are required.
Members are encouraged to make their annual contributions to the Rotary Foundation now for the District challenge "Every Rotarian Every Year".
A NOTE ABOUT E-MAIL:
You should be receiving a weekly notice that the Breezes (which you're reading now) is available. Be sure to let us know if you are NOT receiving this notice. Even if you do NOT receive the e-mail, you can always use your browser and go to the club website or directly to MyBayCity.com to read the breezes.
Current and past
DISTRICT DISPATCH
newsletters
MAY
be available on the District site shown in the LINKS section below. These are not always updated, but it's worth trying.
FOR FUTURE REFERENCE
We will always try to post an announcement on the front page of the club web site
when things like this happen. Check that first if you are not sure.
---
DATES TO REMEMBER
Board Meeting
- April 12 - 11:00 am before regular meeting - Everyone invited.
April 4
Golf Committee meeting - Vino's - 4:00 pm
April 9
Distract Grants Seminar at COPOCO CCU
April 12
Club Board Meeting
April 18-23
Saginaw Bay Nature Festival - Northern Bay & Areanac Rotary fund raiser
Banquet Saturday April 23 - Sign up today - limited space
Full schedule at www.facebook.com/SaginawBayNatureFestival
Presented by Rotary Club of Pinconning and Standish
Proceeds to fund projects in four local school districts.

April 28 Rotary Rocks Concert State Theatre.

May 20-21 District Conference Alpena

June 16th, Thursday, Annual Golf Outing - Maple Leaf Golf Course, 9:00 a.m. start.
Full details are on the club web site.


---
Upcoming Programs
(See the official schedule at RotaryBayCity.org )


April 12, 2016 Midland Center for the arts Presented by Bruse Winslow.

April 19,2016 Volunteer Program & need for volunteers from Bay City Dee Bliss, Volunteer Coordinator, will talk about opportunities to be matched with Hospice patients to provide companionship and friendship.

May 03, 2016 Nancy Cusick will talk about her experiences administering the POLIO VACCINE on her recent trip to India.

---

Current and past DISTRICT DISPATCH newsletters are available on the District site shown in the LINKS section below.







Rotary Bay City on Facebook!
Click on the Blue Facebook to visit us there.

Remember! Check attendance sheets at the front desk.
---
LINKS
---
---

Stephen Kent




Steve Kent and his family have lived in Bay City for 40 years. He is VP of Technical Services at MMCC which produces MyBayCity.Com. Kent is active in many Bay City civic organizations.

More from Stephen Kent
---
Send This Story to a Friend!
Letter to the editor
Link to this Story
Printer-Friendly Story View
---
--- Advertisments ---