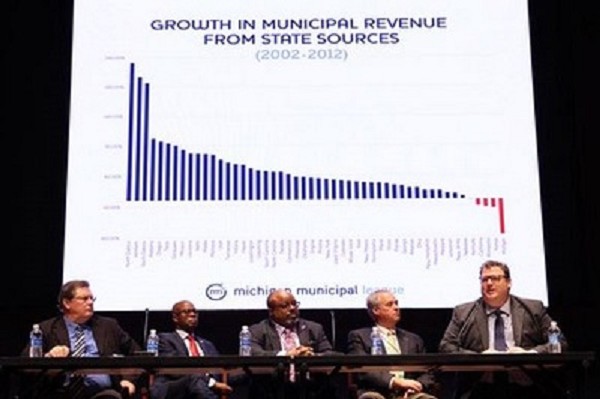 This graphic was published by the Big Rapids Daily Herald showing the city's revenue losses.
---
REVENUE SHARING: Midland Republican Senator Leads Policy Reversal
Counties, Cities Finally Seen Benefitting From New $$$ Thrust
April 16, 2016 Leave a Comment
By: Dave Rogers
Revenue sharing by the state to local governments is on the road toward getting back on track under leadership of Midland County's Senator Jim Stamas, according to the Michigan Association of Counties (MAC).
"Michigan residents who daily utilize county services stand to benefit from the decisions made so far by House and Senate budget leaders on revenue sharing funds for counties," said Sen. Stamas.
The state is playing "makeup" since it cut revenue sharing by $6.2 billion in the 2004-2014 decade, including $732 million lost by Detroit in that period, Jonathon Oosting of MLive.com has reported.
"It is sad; it is wrong," commented Utica Mayor Jacqueline Noonan in a 2014 interview.
Oosting commented: "That money that would have helped local governments provide essential services -- including police and fire, water systems, road maintenance, parks, libraries -- and may have allowed some of them to avoid financial emergencies requiring state intervention.
Now, the winds have shifted as the Detroit bankruptcy and the Flint water crisis have spotlighted the abysmal failure of state government to support municipalities.
This week, the Senate's General Government Appropriations Subcommittee approved a budget bill for fiscal 2017 that includes a 2 percent increase in county revenue sharing over Gov. Rick Snyder's proposal. In dollar terms, the subcommittee budget calls for a total of $219.5 million -- $4.4 million more than Snyder had proposed.
Meanwhile, Stamas' counterpart in the House, Rep. Laura Cox (R-Wayne), has sponsored a bill that calls for revenue sharing at the governor's suggested levels, so counties are in good shape too, at the very least, receive full funding for the third consecutive year.
"Last October, MAC was able to sit down with Sen. Stamas to discuss his interest in finding ways to assist the counties, which he knew had faced lean budgets for many years," explained Steve Currie, MAC's deputy director.
"We walked him through the details of the crisis in local funding; this week's committee vote is evidence of Stamas' understanding of the crisis and commitment to addressing it."
The funding measure, Senate Bill 788, now moves to the full Senate Appropriations Committee. The final number on revenue sharing likely won't be known until House-Senate conference committees start meeting in May.
"The budget process is far from complete, but this gives us excellent momentum in our campaign to convince lawmakers to reinvest in the local services their constituents rely on each day," Currie added. "We thank Sens. Stamas, Mike Nofs (R-Calhoun County) and Darwin Booher (R-Osceola) for their votes this week."
Meanwhile, the Michigan Municipal League, the organization representing cities, has launched a SaveMICity campaign, its officials noting: "Across the country, cities account for over 80 percent of GDP, but in Michigan we have failed to invest in this vital resource.
After years of working within the existing paradigms, the League is undertaking a major legislative and policy push aimed at reforming municipal finance in Michigan to encourage renewed investment in our communities."
The MML states: "Michigan has the most abysmal record for investing in local government. It's worse than any state in the nation, and this directly relates to our ability to provide great services and create the places we all know are needed to be competitive in a global economy. We must reform our system to invest in what matters most: our communities."
MML Associate Executive Director Tony Minghine says, quite simply, the state is not investing in local communities, commenting:
"The State of Michigan has had revenues increase" this is according to the U.S. Census Bureau by the way -- from 2002 to 2012, their revenues grew 29 percent and at the same time the money that they shared with cities went down 56 percent. We are strategically dis-investing in our communities right now."
Details on the history of county revenue sharing can be found in a summary published by the House Fiscal Agency summary.
For more information on the Michigan Association of Counties, visit www.micounties.org.
Also, savemicity.org for information on city revenue losses.
###
---
---

Dave Rogers




Dave Rogers is a former editorial writer for the Bay City Times and a widely read,
respected journalist/writer in and around Bay City.
(Contact Dave Via Email at carraroe@aol.com)

More from Dave Rogers
---
Send This Story to a Friend!
Letter to the editor
Link to this Story
Printer-Friendly Story View
---
--- Advertisments ---