Old Defoe Freighter, Now Voyageur Independent, Finds New Life on Seaway
Great Lakes Shipping Directory, Seaway Ships 2005, Lists 217 "Salties"
February 12, 2006 Leave a Comment
By: Dave Rogers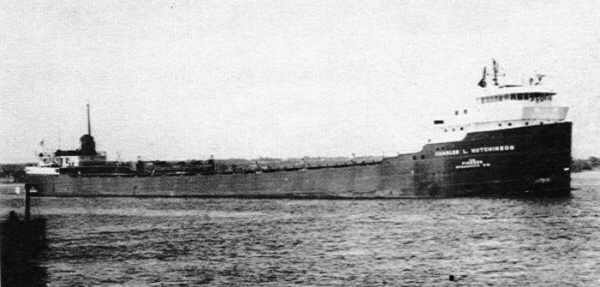 Charles L. Hutchinson steams out of Bay City's Defoe yard in 1952.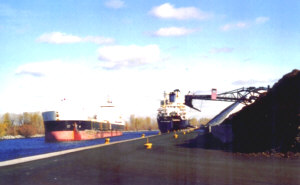 Cover photo of Seaway Ships 2005 shows Anna Desgagnes loading for northern regions and Spruceglen passing last fall. Photo courtesy Rene Beauchamp.
Among the 292 ships on the St. Lawrence Seaway last year was one listed as a "new miscellaneous vessel" by Rene Beauchamp's Great Lakes directory, "Seaway Ships 2005.
In fact the "new" ship was the 53 year old Charles L. Hutchinson built by the Defoe Shipbuilding Company in Bay City.
The 45 page directory is in its 23rd year of publication out of Montreal. It provides a wealth of information on lakes shipping and is available for $19.25 US, including postage, through Rene Beauchamp, 9041 Bellerive, Montreal, Quebec H1L 3S5, Canada, e-mail oceanaute@videotron.ca.
Beauchamp reports 56 new foreign flag vessels plying the seaway last year, the majority built in the Orient. China leads vessel builders with 16 new Seaway ships, followed by Japan with 14. Other builders of new ships on the Seaway were: Romania, 6; Netherlands, 5; Poland, 4; Bulgaria, Yugoslavia and Germany, 2 each; and Denmark, Turkey, Italy, Portugal all a ship apiece.
Besides the ageless Hutchinson, among notable new "miscellaneous" vessels are the excursion ships Famille Dufour II, out of Quebec; Kanan, a Chicago cruiser rebuilt in Palatka, Florida; Le Bateau Mouche, Montreal tour boat; and, Spirit of America Ferry, with capacity of 4,400 and 30 cars, built last year in Marinette, Wisconsin, for the City of New York Department of Transportation.
Tugs, sailing ships, ice breakers, patrol vessels and a "fishing protection vessel" for the Canadian Ministry of Fisheries & Oceans make up most of the rest of 18 new ships among the 75 miscellaneous Seaway ships.
Like a cat with many lives, the Hutchinson has been reborn several times, intrepidly escaping the scrap heap and attesting over and over to Defoe craftsmanship.
In fact the scrap man has been waiting several years to get his hands on the Hutchinson as it languished in Buffalo after hauling its "last load" of grain to General Mills there in 2002. (See MyBayCity.com archives, Mar. 27, 2004, "Honey Fitz Found Basking in Florida; Bay City Ships Dwindle to Precious Few.")
The 642 foot long vessel, with beam of 67 feet, has capacity of 18,800 tons, estimated at 600,000 bushels of grain. She came off the ways in 1952 in Bay City.
The Hutchinson became the Ford Motor Company's ore carrier Ernest R. Breech in 1961, the grain-hauling Kinsman Independent in 1988 and the Voyageur Independent, a wheat hauler under Canadian flag, in 2005.
The fact that she hauled 17,673 tons of wheat in her "maiden" voyage" last November is a tribute to her new General Electric 17FDM medium-speed 16 cylinder diesel engine, replacing a steam turbine system.
It was the first application of a new GE diesel engine on a Great Lakes vessel, said John Manison, manager of GE marine diesel in Erie, Pennsylvania.
The Voyageur Independent was refitted by Voyageur Marine Transport Limited, Ridgeville, Ontario, Canada, in Hamilton, Ontario.
The Hutchinson, largest vessel ever launched in the Saginaw River, when last seen was retired at the dock in Buffalo awaiting sale at a price of $100,000, or scrapping.
Low water levels and demise of the longshoremen who "scooped" out the last of her grain cargoes in favor of hoppers nearly brought an end to the freighter. "The fact that she was a straight-decker prolonged her operating years long after others were laid up or converted," said former lake seaman Alan Flood of Bay City.
The Kinsman Independent retired with anengine salvaged from the ocean-going Alcoa Protector, sunk by the Japanese during World War II.
The Independent was the last American-flag straight-deck bulk carrier still operating on the Great Lakes upon its retirement in December, 2002, after carrying a final load of 15,000 tons of wheat from Duluth, Minnesota, to Buffalo.
Unlike the self-unloaders, "straight-deckers" must be unloaded with dockside equipment and final cleanup by longshoremen. Ironically, the self-unloader Joseph H. Frantz that replaced the Independent in the Duluth-Buffalo grain trade, is more than 30 years older, having been built in the 1920s.
The Frantz itself has recently gone to the scrap heap while the old Hutchinson still sails.###
---
---

Dave Rogers




Dave Rogers is a former editorial writer for the Bay City Times and a widely read,
respected journalist/writer in and around Bay City.
(Contact Dave Via Email at carraroe@aol.com)

More from Dave Rogers
---
Send This Story to a Friend!
Letter to the editor
Link to this Story
Printer-Friendly Story View
---
--- Advertisments ---