Lee Newton, Rob Clark: "It's a Club Full of Heroes," Says DG
April 26, 2016 Leave a Comment
By: Dave Rogers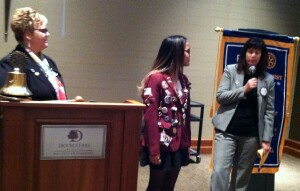 Brenda Scramlin, Print Boonrapongcharoen,
Andrea Hales
Tuesday's main speaker was our international exchange student
Print Boonrapongcharoen
who hails from Bangkok and is a triplet. (One of her sisters will be a Rotary International Scholar in Texas next year.)
Thailand's population is 67 million; it is tropical and humid and the main religion is Buddhism, she said. Plus "it's summer all year, and the beaches are really pretty," she exclaimed.
Her country is famous for its food: if you visit, try the spicy shrimp soup and the famous desserts, she advised.
Outdoor markets, especially the night market and the floating markets, are the best places to hang out and get in Bangkok, she said with a knowing smile. They are also good places to find really cheap clothes and shoes.
The Rotary Club of Bangkok, her sponsor for the Youth Exchange, was founded in 2001, has 15 members, she said.
"Sadly, I only have two and a half months left," she said with a sigh.
What will she miss most about Bay City? "Sledding at Vets Park; it's hard walking up but going down is really fun!"
President Brenda Scramlin presented her with a Rotary centennial pin to go with the dozens of pins on her exchange student vest.
Her next stop is Calvin College, Grand Rapids, in July for a final review with the other Michigan international exchange students before she heads back to Thailand.
---
CLUB NEWS and ANNOUNCEMENTS
District Governor Mike Kelly
from Alpena summed up the status of the Rotary Club of Bay City: "It's a club full of heroes."
"With 101 years of service, you're the finest noon Rotary Club in Bay City," he quipped, tongue in cheek, "but really Bay City Rotary is something special."
Rob Clark
It was that kind of meeting, last Tuesday, April 26, 2016, a meeting infuzed with "service above self" laurels.
Newsman Rob Clark
, marking his last meeting at Bay City Rotary, had turned the responsibility for selecting the ROSE recipient over to past president Ron Bloomfield. Bloomfield, in turn, presented this year's ROSE award to
Rotarian Dr. Lee Newton
. Bloomfield then presented a surprise ROSE to Clark, who had created the award in 2008.
Mr. Clark
was honored as a "
Rotary Hero
" at the district conference last year for "steadfast service." Rob will be relocating to Cedar Rapids, Iowa.
Our Rotary international exchange student,
Print Boonrapongcharoen
, from Thailand, was introduced by Youth Exchange Chair Andrea Hales. Print then bade us farewell, extolling fond memories of her year in town.
DG Kelly enthusiastically cited the 4C's in describing the club: "Consistently Caring with Constant Control."
"We are blessed to have such champions, humanitarians at heart," said Chuck Cusick in the introduction to the Rose Award presentation.
REMEMBER...
"Birds Of A Feather"
, the 2016 Rotary Rocks concert is scheduled for Thursday, April 28, 6:30pm, at the State Theatre. Admission is only $10. It should be a great night for everyone.
The next
Rotary Night Out
is scheduled for Wednesday, May 25, 6:30pm, at Old City Hall. The cost will be $21.99 plus tax and tips for a full dinner (prime rib or artichoke chicken) and a cash bar. Sign up now for a great night of food and fellowship. There's a limit of 50 people so reservations are required.
The club has, again, been asked to prepare a
Club Auction Basket
for the district conference. Cindy Luczak is putting this together again. If you have Bay City items, bring them to a meeting for Cindy to use.
Following the Rotary Rocks concert, attention will turn to the
Golf Outing
. The event is June 16, 2016, at Maple Leaf Golf Course. Registration is at 7:30am with a shotgun start at 9:00am. Cost is $75 per person with net proceeds going to technology upgrades for Bay City Public Schools.
President Brenda noted that students are being selected for the
RYLA: Rotary Youth Leadership Awards
. These students will attend the RYLA camp this summer. If you have suggestions, be sure to see Brenda.
Members are encouraged to make their annual contributions to the Rotary Foundation now for the District challenge "Every Rotarian Every Year".
Current and past
DISTRICT DISPATCH
newsletters
MAY
be available on the District site shown in the LINKS section below. These are not always updated, but it's worth trying.
---
DATES TO REMEMBER
Board Meeting
- May 10 - 11:00 am before regular meeting - Everyone invited.
April 28
Rotary Rocks Concert State Theatre.
May 20-21
District Conference Alpena
Wednesday, May 25, 6:30pm
Rotary Night Out - Old City Hall
June 16th,
Thursday, Annual Golf Outing - Maple Leaf Golf Course, 9:00 a.m. start.
Full details are on the club web site.
---
Upcoming Programs
(See the official schedule at RotaryBayCity.org )
May 03, 2016 Nancy Cusick
will talk about her experiences administering the
POLIO VACCINE
on her recent trip to India.
May 10, 2016 Assisted Living
presented by Rotarian Bonnie Marsh
May 17, 2016 Rotary Community Grant Recipient Update China Exchange program
- Bay City Public Schools
May 24, 2016 Restoring Access to the Saginaw Bay
Presented by Laura Ogar, Bay Co Director fo Environmental Affairs & Commyunity Development, who will specifically address the Bay city State Recreation Area.
May 31, 2016 Martial Arts

Rotary
is an intimate affiliation of carefully selected business and professional people,
having as its objective the promotion of high ethical standards in private, commercial
and civic life, and dedicated to the ideal that the basis of all worthy endeavor is unselfish service.
---
Current and past
DISTRICT DISPATCH
newsletters are available on the District site shown in the LINKS section below.


Rotary Bay City on Facebook!
Click on the Blue Facebook to visit us there.

Remember! Check attendance sheets at the front desk.
---
LINKS
---
---

Dave Rogers




Dave Rogers is a former editorial writer for the Bay City Times and a widely read,
respected journalist/writer in and around Bay City.
(Contact Dave Via Email at carraroe@aol.com)

More from Dave Rogers
---
Send This Story to a Friend!
Letter to the editor
Link to this Story
Printer-Friendly Story View
---
--- Advertisments ---