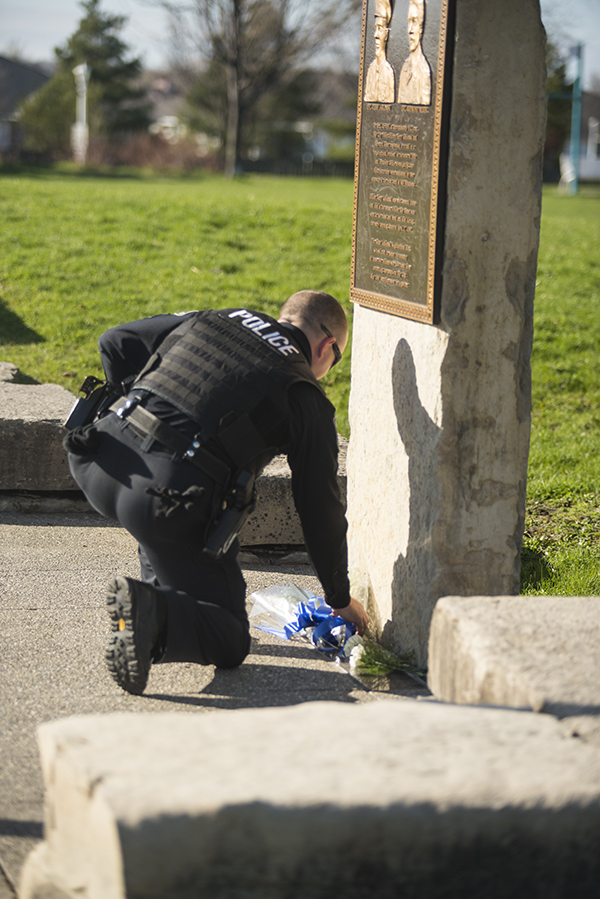 Officer Rod Schanck of the Bay City Public Safety placed flowers in front of the memorial.
(MyBayCity Photo by John Keuvelaar)
---
Ray Rexer and Terry Jablonski Honored
Area officers pay tribute and remember their ultimate sacrifice
May 2, 2016 Leave a Comment
By: John Keuvelaar
On April 26, area officers assembled at the Rexer-Jablonski Park to pay tribute to their fallen brothers in law enforcement. Twenty-five years prior, these two fine officers answered a call that would ultimately cost them their lives in the line of duty. While a 25th anniversary usually would call for a larger ceremony, the officers of Bay City chose to honor these two men and their memory in a quieter personal way.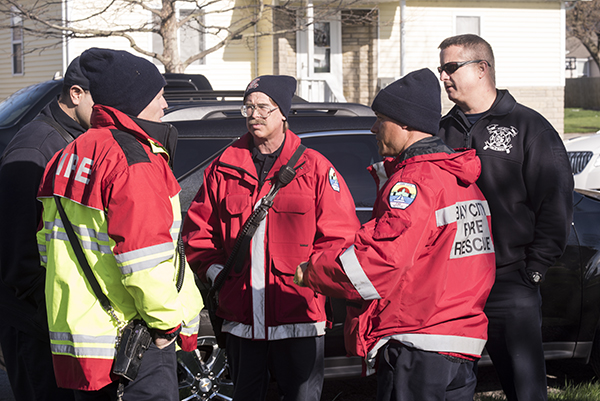 Several public safety groups await the memorial of police officers Jablonski and Rexer.
(MyBayCity Photo by John Keuvelaar)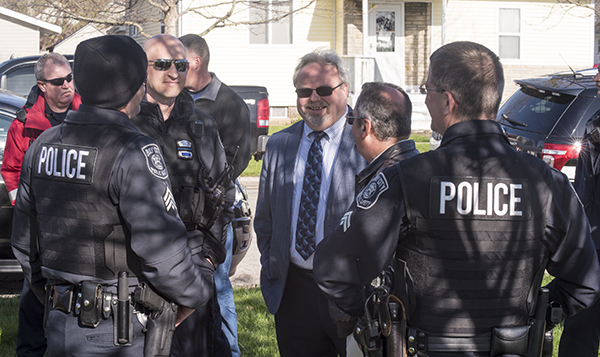 Judge John Keuvelaar chats with some of the Bay City Public Safety officers.
(MyBayCity Photo by John Keuvelaar)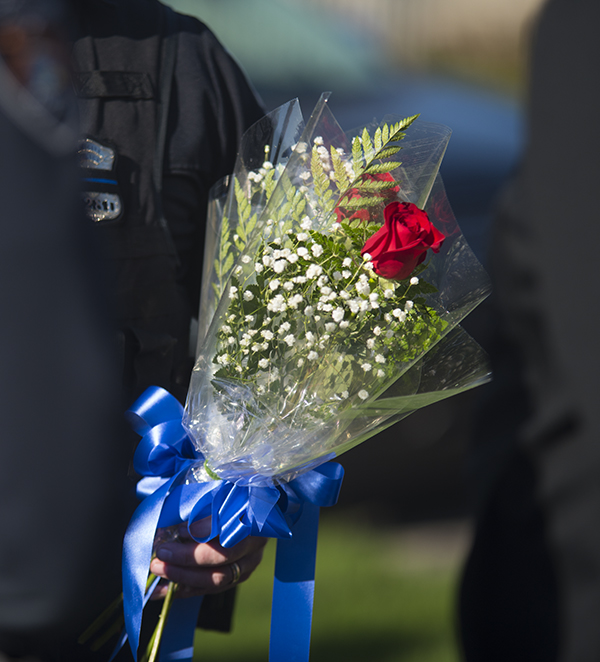 Flowers represent our gratitude for the service of these fine officers.
(MyBayCity Photo by John Keuvelaar)
As I approached the gathering, I was stopped by a man walking his dog inquiring of why there were so many officers there and what was going on. After I informed him of the reason, this man, a veteran of the Gulf Wars, immediately returned to the park to pay his respects to Ray and Terry.
It's sad that all too often it takes events like this to bring friends, past and present, back together. This was one of those events in Bay City's history that we say "Do you remember where you were when Ray and Terry were shot and killed"? As many of the now-retired officers gathered and shared where they were, I recall getting the word as I stood in my living room and immediately telling my family, I have to go to work! At that time, I was an Assistant Prosecutor for Bay County. Without being summoned, we all assembled at our office in the County Building ready to prepare search warrants and do whatever was needed.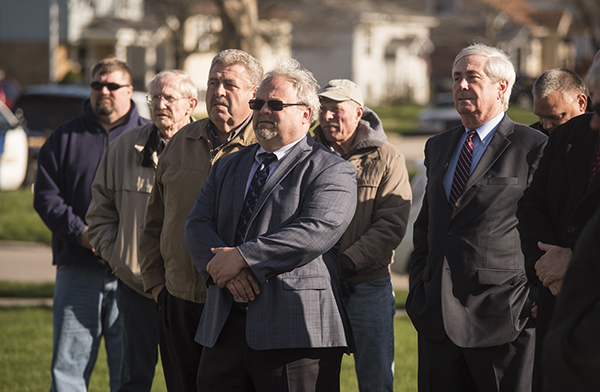 Several people came to pay respects including Judge Keuvelaar and Jim Barcia
(MyBayCity Photo by John Keuvelaar)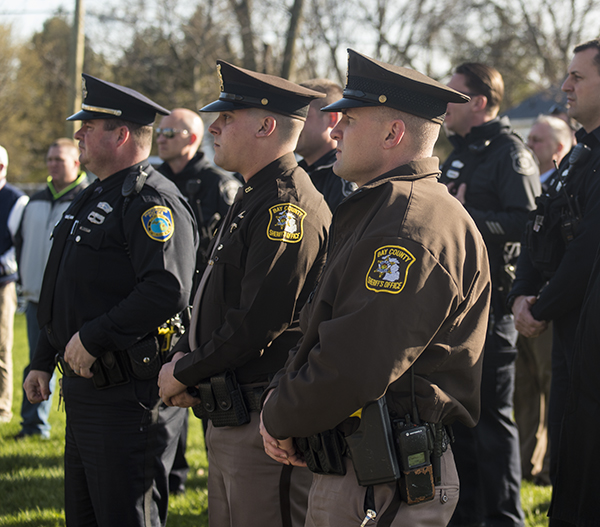 Many of Bay County's finest came to honor the memories of fallen officers.
(MyBayCity Photo by John Keuvelaar)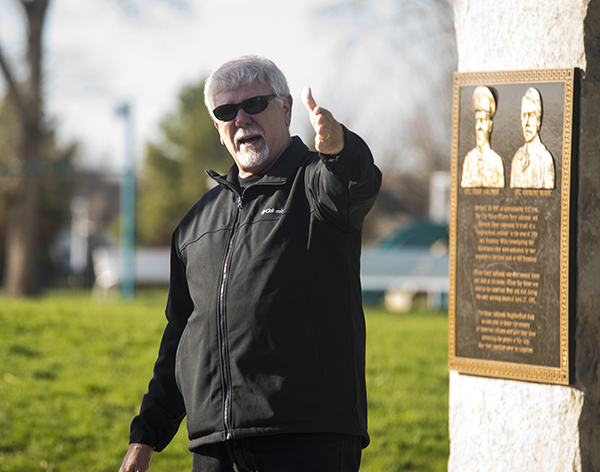 Retired officer John Buczek recalls the events of that day.
(MyBayCity Photo by John Keuvelaar)
Tuesday, as we gathered at the park, Officer Rod Schanck of the Bay City Public Safety led off the ceremony with words of respect and admiration. The stage was turned over to John Buczek, a retired officer of that day, an officer that had put his life in harm's way for the betterment of our community with his undercover narcotics work in years past. He walked us through that day as if it occurred last night lest we forget the unpredictable dangers that officers face on an everyday basis.
Ray and Terry, as John Buczek shared, were responding to a neighborhood call of a 28-year-old causing a disturbance at a home where a 14-year-old resided and he wasn't to have a relationship with. Having been turned away by the young girl's guardians, he pounded on the door shouting and creating a disturbance necessitating the police being called. After taking the report, the two officers walked down to the suspect's house only to be ambushed as the suspect and his brother lied in wait for the officers and gunned them down in the street. A simple call turned into a deadly situation, clearly not one that anyone would expect.
The initial minor nature of the police call serves as a reminder that officers have to always be on guard for unexpected events, especially in today's societal atmosphere.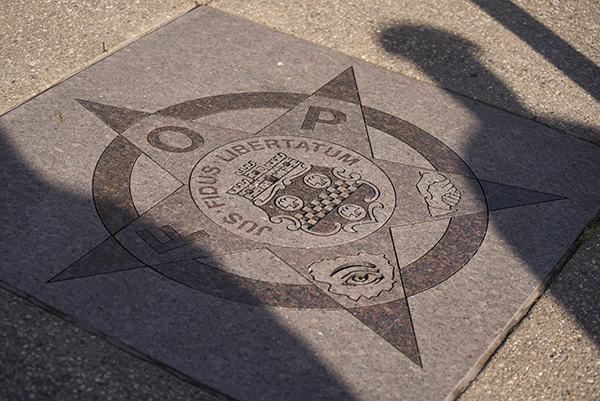 Fraternal Order of Police symbol lays before the memorial of fallen officers Ray Rexer and Terry Jablonski.
(MyBayCity Photo by John Keuvelaar)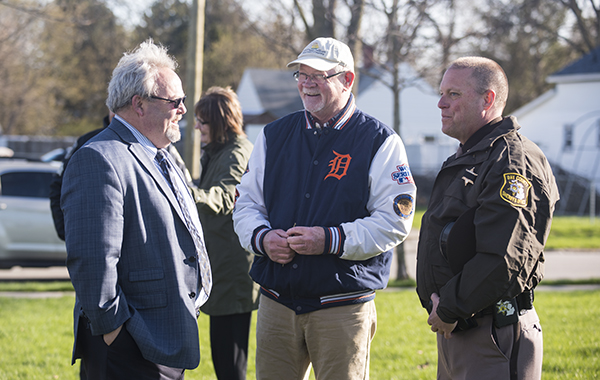 Judge Keuvelaar talks with Retired Deputy Tom Newsham and Undersheriff Troy Cunningham.
(MyBayCity Photo by John Keuvelaar)
Ray Rexer and Terry Jablonski were what most officers are. One had a wife and the other had a fiancé. They had children, a sense of humor, kind hearts, and friends who loved and respected them. Their memories need to be cherished and that day should never be forgotten. They are a stark reminder of the dangers an officer faces every day and we need to honor and respect that service they do for us and our community. Twenty-five years have passed since that fateful event but not their memories and gratitude. Ray and Terry, thank you for your service.
---
---

John Keuvelaar




John Keuvelaar is a college student at Midwest Photography Workshops and Delta College.

More from John Keuvelaar
---
Send This Story to a Friend!
Letter to the editor
Link to this Story
Printer-Friendly Story View
---
--- Advertisments ---