Nancy Cusick Speaks To Rotary About Polio Immunization Trip to India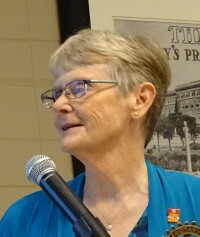 Nancy Cusick
Member
Chuck Cusick
introduced his wife, and Honorary Rotarian,
Nancy Cusick
who recently returned from yet another polio immunization trip. Her first trip was to Africa in 2003. In subsequent years, she and Chuck both went to Egypt then Nigeria. When she asked him to join her this year in India he says he replied: "I don't think so!".
Chuck reported on the overall efforts. So far this year there have been 12 cases. The same period last year saw 20. Prior to that, the annual total was in the 300's. "So we are making progress. At the rate we're going we'll eradicate polio."
Chuck also said that the vaccine has changed. Until last week, a "trivalent" vaccine was used. This included a live, type-2 virus. Since 1999, the only cases of type-2 have been caused by the vaccine itself. Starting last week a new "bivalent" vaccine is being used, which should totally eliminate type-2.
Nancy said that the "Rotary Dream Team to India" included 40 people. Her smaller group was 17. "We were fortunate that 11 of them were from Australia and they are fun loving people." The first week of a trip included sight-seeing, which "gives us a chance to build the team we'll spend two weeks with."
India's National Immunization Day was Feb 21, 2016. The country of 1.2 billion people has been polio-free for 10 years. The program is well publicized with everything from the teams to posters, parades, and excitement.
As the vaccine is given, each child's pinkie finger is dyed the famous "purple". Local health workers will follow up in the next few days to find and vaccinate children who have been missed.
A second project for the team was helping with the "Uprala Wala Dam". India has suffered from a serious drought for several years. The Wala Dam is a large catch basin that is being built to capture any rain that falls and then slowly releases it into the aquifer for later use. The project is supported by Rotary districts and clubs from the US, India, and Australia.
Nancy went on to talk about the food (she'll eat anything, Chuck will not), the living conditions and the local acceptance of immunization and the dam project. It's a safe bet that there will be more such trips in Nancy's future.
---
CLUB NEWS and ANNOUNCEMENTS
"Birds Of A Feather"
, the 2016 Rotary Rocks concert was held last week. Reports were that it was a great success. Rob Clark, who came up with the "Rotary Rocks" tag a few years ago, was a hit with his final participation in a Bay City performance.
The next
Rotary Night Out
is scheduled for Wednesday, May 25, 6:30pm, at Old City Hall. The cost will be $21.99 plus tax and tips for a full dinner (prime rib or artichoke chicken) and a cash bar. Sign up now for a great night of food and fellowship. There's a limit of 50 people so reservations are required.
The club has, again, been asked to prepare a
Club Auction Basket
for the district conference. Cindy Luczak is putting this together again. If you have Bay City items, bring them to a meeting for Cindy to use.
The Club
Golf Outing
is scheduled for June 16, 2016, at Maple Leaf Golf Course. Registration is at 7:30am with a shotgun start at 9:00am. Cost is $75 per person with net proceeds going to technology upgrades for Bay City Public Schools.
President Brenda noted that students are being selected for the
RYLA: Rotary Youth Leadership Awards
. These students will attend the RYLA camp this summer. If you have suggestions, be sure to see Brenda.
Members are encouraged to make their annual contributions to the Rotary Foundation now for the District challenge "Every Rotarian Every Year".
Current and past
DISTRICT DISPATCH
newsletters
MAY
be available on the District site shown in the LINKS section below. These are not always updated, but it's worth trying.
---
DATES TO REMEMBER
Board Meeting
- May 10 - 11:00 am before regular meeting - Everyone invited.
May 20-21
District Conference Alpena
Wednesday, May 25, 6:30pm
Rotary Night Out - Old City Hall
June 16th,
Thursday, Annual Golf Outing - Maple Leaf Golf Course, 9:00 a.m. start.
Full details are on the club web site.
---
Upcoming Programs
(See the official schedule at RotaryBayCity.org )
May 10, 2016 Assisted Living
presented by Rotarian Bonnie Marsh
May 17, 2016 Rotary Community Grant Recipient Update China Exchange program
- Bay City Public Schools
May 24, 2016 Restoring Access to the Saginaw Bay
Presented by Laura Ogar, Bay Co Director fo Environmental Affairs & Commyunity Development, who will specifically address the Bay city State Recreation Area.
May 31, 2016 Martial Arts
---
Current and past
DISTRICT DISPATCH
newsletters are available on the District site shown in the LINKS section below.


Rotary Bay City on Facebook!
Click on the Blue Facebook to visit us there.

Remember! Check attendance sheets at the front desk.
---
LINKS
---
---

Stephen Kent




Steve Kent and his family have lived in Bay City for 40 years. He is VP of Technical Services at MMCC which produces MyBayCity.Com. Kent is active in many Bay City civic organizations.

More from Stephen Kent
---
Send This Story to a Friend!
Letter to the editor
Link to this Story
Printer-Friendly Story View
---
--- Advertisments ---