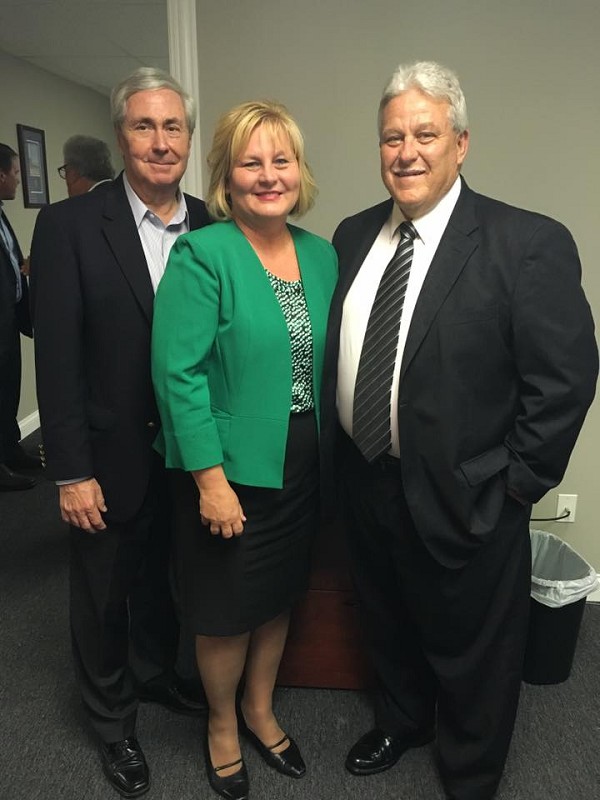 Jim Barcia's campaign website has posted this photo of he and Bay County Clerk Cindy Luczak and her husband, mortician Doug Luczak.
---
BARCIA VS. HICKNER: Longstanding County Building Disputes Eyed
Is County Executive's Challenge Linked to Old Clerk-Board Battles?
May 18, 2016 1 Comments
By: Dave Rogers
Is Jim Barcia's campaign for Bay County Executive against his former friend and colleague Tom Hickner linked to an ongoing feud in the county building?
And, is the management of Bay County now subject to Presidential-style political maneuvering and mud-slinging because of a redistricting dispute or the efforts of the county commission to control costs in county offices?
Political insiders say Barcia, who has recently been employed by lobbying firms in Washington and Lansing, is strongly supported by County Clerk Cynthia Luczak, who is embroiled in a lawsuit against Hickner and the county claiming prejudice against her and seeking a court order to have the county pay her legal fees.
Barcia withdrew his Michigan lobbyist licensing with the attorney general's department on May 12.
Ms. Luczak's suit stemming from the county building dispute is now in the Michigan Court of Appeals. In the suit she charges Hickner is unfairly seeking to do a study of her office workload. Despite the rebuff, Hickner recommended restoring one of two positions cut by the commission, which agreed to add the job in Ms. Luczak's office.
In the lawsuit, MLive.com reported, "Luczak says she 'believes that the duties of her office are being impaired or infringed upon by the arbitrary and capricious action of the Defendants, the County Executive, and/or the Board of Commissioners through the implication (sic) of policies and/or procedures that have not been applied to other county-wide elected officials.'"
For years, Luczak has demanded that the Bay County Commission add staff to her office on grounds her workload is too great. Two former chairmen of the commission told MyBayCity.com the clerk threatened "I will get you" if they did not approve additional staff for her office. They said the county commission, faced with budget constraints, did not approve her requests.
(See "Feud Underway at County Building As Clerk Demands More Staff," MyBayCity.com, May 1, 2011.)
In the 2010 primary election thousands of votes were declared 'spoiled' by the clerk and were invalidated. Both former chairmen who had clashed with Ms. Luczak lost their primary races.
No explanation has been stated for the invalidation of 10,735 ballots, nearly half the votes cast, in the primary election. Ms. Luczak stated the spoiled ballots "were due to voter error" caused by mistaken attempts to cross party lines in candidate selection. A MyBayCity.com reporter interviewed several township clerks where hundreds of spoiled ballots were reported who said there were only a handful of spoiled ballots in their townships.
While the spoiled votes in Bay County amounted to 48 percent of the 22,000 votes cast, the Michigan Secretary of State reported only about 13 percent "spoiled" ballots among 224,000 cast.
The chairman of the Bay County Canvassing Board, Walter Wozniak, retired Bay City Clerk, said there was no way to review the results and the invalidated votes of the election because no candidate requested a recount.
In 2012, former State Rep. Howard Wetters, a strong supporter of fellow former state representative Hickner, challenged Ms. Luczak, promising to "restore full-time service" to the clerk's office. He stated: "I decided to run for county clerk the day I went to the office, found the office door closed and locked during regular business hours, and saw the clerk and her staff standing inside looking at me through a locked door."
On a 5-4 vote, the Bay County Commission refused a Freedom of Information Act (FOIA) request to access to videotapes of the hallway outside the County Clerk's office. Wetters said he believed the tapes would show members of the public being turned away during regular hours.
Wetters told the commission publicly that the clerk's office could save $250,000 to $300,000 each election cycle by competitive bidding of ballot printing. Ms. Luczak responded: "As with all service providers, you get what you pay for and sometimes it is worth it to pay slightly more than low bid for quality service with the knowledge that the job will be done right the first time."
Ms. Luczak defeated Wetters in the Democratic primary of 2012 8,096 to 3,728.
The roots of the county building turmoil also are believed to be the result of redistricting of the county board of commissioners in 2011 in which Ms. Luczak and former Democratic County Chairman Tony Pawelski voted with Republicans. The redistricting reduced the commission from nine to seven members and pitted three incumbents against each other.
###
---
"The BUZZ" - Read Feedback From Readers!
sethdrz Says: On July 10, 2016 at 02:43 PM

Shame on your for writing such a bias article about barcia. If you want to vote foe hickner, get a yard sign not slander
---

Dave Rogers




Dave Rogers is a former editorial writer for the Bay City Times and a widely read,
respected journalist/writer in and around Bay City.
(Contact Dave Via Email at carraroe@aol.com)

More from Dave Rogers
---
Send This Story to a Friend!
Letter to the editor
Link to this Story
Printer-Friendly Story View
---
--- Advertisments ---