PREDATORY LENDERS: Payday Loans (390% Interest) Under Fire
Sen. Elizabeth Warren's Proposed Rules Would Control Scam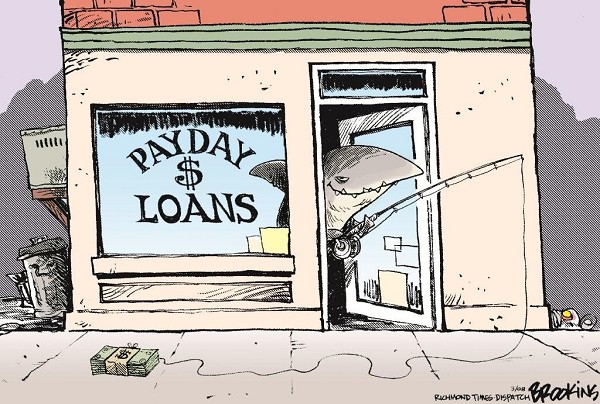 Michigan Attorney General Bill Schuette has issued a warning against payday lenders.
Talk about ripoffs!
Michigan Attorney General Bill Schuette has issued a warning against payday lenders, several of whom have moved into the Bay City area. One recently opened on Euclid Avenue.
Payday lenders are known for their predatory practices, which include exorbitant interest rates (390% is the national average), transaction fees, penalties, and contracts which keep people in a vicious cycle of debt that is nearly impossible to break.
These operations target the poorest populations, primarily operating in low-income and communities of color where they perpetuate the cycle of poverty.
The Consumer Financial Protection Bureau (CFPB), the brainchild of Senator Elizabeth Warren, wants to change these practices by placing new rules on the industry, which currently operate on a state-by-state regulatory basis.
Who could possibly be against such regulations?
Would you be surprised if I said a prominent Democrat is "in bed," so to speak, with the loan sharks? Well, it's true, and the offender is none other than the Florida Representative Debbie Wasserman Schultz.
Rep. Wasserman Schultz had joined Republicans in cosponsoring H.R. 4018, which will make it harder to rein in payday lenders. This came after she received more than $68,000 in donations from the industry.
The Attorney General's Consumer Protection Division is receiving an increase in the number of consumer calls and complaints related to aggressive debt collectors attempting to collect on outstanding payday loans. Generally, callers claim to be from law firms, government agencies, or even law enforcement agencies. They demand payment on outstanding payday or internet check cashing loans. Often, the callers use many of the "debt collectors don'ts" outlined above, and call consumers unceasingly at all hours of the day and night at home or on cell phones, at work, and may even contact relatives.
These calls are especially frightening because they have accurate information about the consumers they target, including Social Security numbers, dates of birth, address information, employer information, bank account information - in some cases, they even have the names and will actually contact neighbors, relatives, or physicians.
The common thread among these vicious telemarketing scams is that the callers demand payment, refuse to send you any written proof of an outstanding debt, and often threaten legal action or physical violence if the consumer refuses to pay.
If you receive calls such as these:
Do not send payment or follow the caller's instructions! Also, do not provide any additional information, or confirm any information to anyone that calls you.
If you believe you are in physical danger, contact your local police department.
Contact your banking institution and alert them to the fact that your account may have been compromised.
Contact the three credit reporting agencies and put a security freeze on your credit reports. Carefully review copies of your credit reports and look for fraudulent activity. File a complaint with the Attorney General's Office, the Federal Trade Commission, or the Internet Crime Complaint Center (http://www.IC3.gov).
###
---
---

Dave Rogers




Dave Rogers is a former editorial writer for the Bay City Times and a widely read,
respected journalist/writer in and around Bay City.
(Contact Dave Via Email at carraroe@aol.com)

More from Dave Rogers
---
Send This Story to a Friend!
Letter to the editor
Link to this Story
Printer-Friendly Story View
---
--- Advertisments ---