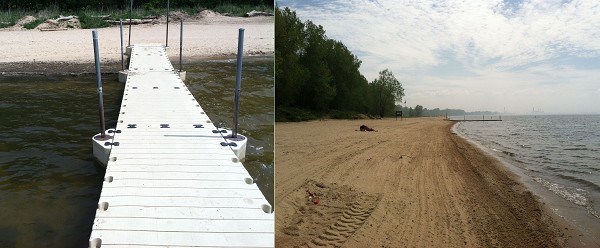 (Left) Short boardwalk at State Park beach may herald longer boardwalk and fishing pier. (Right) Lone sunbather enjoys a newly clean Bay City State Park beach on Friday.
---
SUPERFUND MAY PAY: Funds For State Park Eyed in Dioxin Remediation
Shore Now Clean: Boardwalk, Pier on Wish List for Hickner, County Officials
Bay County's long struggle to restore the Bay City State Park beach and Saginaw Bay as the clean scenic destination tourism drawing card it once was is finally bearing fruit.
Shoreline muck is gone and the beach is clean!
A lone sunbather on Friday asked why others were not enjoying the beach as she was, quipped: "I don't know -- it's their loss."
Higher water levels and bans of algae producing chemicals like phosphorous have had the almost miraculous effect of eliminating the black, sticky muck from the shoreline.
Now county officials are turning to making the beach more accessible with a shore-to-water boardwalk, killing the invasive Phragmites weeds, and a 600-foot long fishing pier.
Bay County Executive Tom Hickner has identified possible funding for the State Park beach from the Dow Chemical/EPA Superfund settlement, according to a report last week at the Rotary Club of Bay City.
"It appears there will be a Superfund financial settlement that could be used for the State Park," said Laura Ogar, Bay County Director of Environmental Affairs and Community Development.
Mr. Hickner introduced Rotary speaker Ms. Ogar, who outlined efforts to clean the beach of algae and muck and to install the boardwalk and a 600-foot long fishing pier. A former Alaska environmental official, she has served since 2009 on the 23-member Community Advisory Group advising the U.S. Environmental Protection Agency on dioxin contamination in the Saginaw Bay watershed.
Ms. Ogar also said the Bay County Commission's leadership in banning phosphorous discharges into waterways several years ago has spread to a statewide ban that appears to be having a salutary effect on water quality in the bay and in producing a cleaner beach.
She also credited the Save Our Shoreline group, under leadership of county commissioners Ernie Krygier and Kim Coonan, with dauntless efforts to clean and groom the beach.
The county received Michigan Department of Environmental Quality (DEQ) approval to groom the State Park beach in 2011. Since then Krygier and Coonan have raised funds and made the beach a priority project under the label Beach Wellness. The pair is often seen clambering aboard tractors to do the raking necessary to remove unsightly materials from the sand on the beach.
In 2007 Michigan lawmakers made it illegal for beach owners to clean their properties, beyond general maintenance, without applying for state and federal permits. Beach owners have fought to repeal the law, which occurred in 2012, although a permit is still required from the U.S. Army Corps of Engineers. General maintenance is considered raking or hand pulling vegetation. To use mechanical devices you need a permit.
Ms. Ogar added that a $334,000 federal grant recently received will allow officials to go into action this year to control phragmites by aerial spraying and then cutting the pesky weeds off at the roots.
Katy Hintzen of Michigan Sea Grant, which offered workshops for residents of Bay, Tuscola, Midland and Arenac counties this spring, said: "Few invasive plant species have managed to change the Saginaw Bay shoreline as much as Phragmites australis also known as a common reed or simply Phragmites. Phragmites is a tall grass that grows in wetlands, ditches, shorelines, and roadsides. This aggressive invasive grass regularly grows to be 15 feet tall and forms dense stands with up to 200 plants in a three-foot-square area. Phragmites spreads rapidly both through airborne seed dispersal and through underground stems called rhizomes."
According to the federal Environmental Protection Agency (EPA), past waste disposal practices at the Dow Chemical Company Midland Plant have resulted in on and off-site contamination that settled in some sediment and built up in some riverbanks and floodplain areas. Off-site contamination extends over 50 miles downstream through the Tittabawassee and Saginaw Rivers and into Saginaw Bay.
Ms. Ogar said although contamination in Saginaw Bay is considered minimal, the Superfund monies, if received, can be used in a variety of ways to improve the shoreline.
She devoted much of her talk to plans to restore public access to Saginaw Bay, an issue that we will be concerned with in a future article.
###
---
---

Dave Rogers




Dave Rogers is a former editorial writer for the Bay City Times and a widely read,
respected journalist/writer in and around Bay City.
(Contact Dave Via Email at carraroe@aol.com)

More from Dave Rogers
---
Send This Story to a Friend!
Letter to the editor
Link to this Story
Printer-Friendly Story View
---
--- Advertisments ---