Rotary Hears About Marial Arts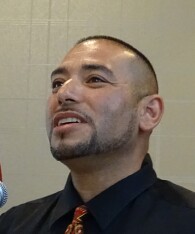 Joe Stricker
Joe Stricker
, owner of four
Martial Arts Connection
studios in Saginaw, Bay City, and Rochester, spoke to Rotary about his experiences. Joe is very active in the Hispanic community in Saginaw and recently started publication of the
Nosotros Los Latinos
Magazine for that community. He is also the incoming president of the Saginaw Sunrise Rotary Club.
Joe's studios offer programs for kids as young as 3 (Little Dragons, as he called them) to adult classes. He said it's not unusual for a parent to sign up their daughter saying something like "she's going to college next fall and we want her to have some training". Joe commented that he will train the daughter as best he can, but to really learn the art a young person should start much younger.
Commenting further on his youngest students he said the intent is not to make them hardcore fighters. Rather they are taught discipline and focus and other skills that will last their lifetime.
Inspired by his father's interest in the sport, Joe began his own training at the age of three. He talked about some of his teachers and the many awards he's won over his lifetime. At the age of 18, he joined the US Marines and became an instructor in martial arts and combat knives. He spent a year in Japan where he trained in various arts and has returned several times. His next trip, accompanied by some of his students, will be in a few weeks.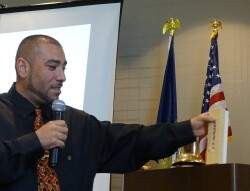 Joe showing his Secret Scrolls
Joe has won many awards and is one of eight in the United States who has been given all three of the "secret scrolls" of Japan. These are some of his proudest possessions and he showed pictures of the presentations then he brought out the scrolls themselves.
When asked about breaking bricks, Joe said that he has done that, and won awards for it, but he added "I don't do it anymore. It hurts a lot". He noted that sometimes he wished he never did and commented on various broken bones that resulted from the practice. If you want to see demonstrations, just search for Joseph Stricker Brick Breaking on YouTube. Try the one where he breaks 100 bricks in under 11 seconds!
---
CLUB NEWS and ANNOUNCEMENTS
A special
SKYPE conference
will be held following the meeting this week (June 7). Everyone is encouraged to attend. The conference will be with the group the club sponsors in Guatemala. Don't miss it.
The Club
Golf Outing
is scheduled for June 16, 2016, at Maple Leaf Golf Course.
Tim Holsworth
reported that 18 teams had signed up as of May 31. Tim said that helpers are still needed. Registration is at 7:30am with a shotgun start at 9:00am. Cost is $75 per person with net proceeds going to technology upgrades for Bay City Public Schools. Tim read the names of sponsors and announced that raffle tickets are being sold for the 49 inch, LG smart TV.
Chris Girard
reported on the planning for the
Zombie Run
in a few months.
The committee will meet this week, June 7,
before the regular meeting. If you area available to serve, please see Chris.
Vocation Day 2016
has been scheduled for November 1. Seven area schools will participate. Some new hosts have been identified. If you would like to take a student, please see Matt.
The first half of the Rotary year is rapidly coming to a close.
Dues invoices for the July to December
term have been mailed out. Please do your best to get your payment in promptly. You will note a slight change to the dues invoice format. We are trying to better show the breakdown and distribution of the dues. Comments are welcome.
Current and past
DISTRICT DISPATCH
newsletters
MAY
be available on the District site shown in the LINKS section below. These are not always updated, but it's worth trying.
---
DATES TO REMEMBER
June 7,
Zombie Run committee meets at 11:00 before the regular meeting.
June 7,
SKYPE conference on Guatamala right after the regular meeting.
June 16th,
Thursday, Annual Golf Outing - Maple Leaf Golf Course, 9:00 a.m. start.
Full details are on the club website.
November 1, 2016 Vocational Day
---
Upcoming Programs
(See the official schedule at RotaryBayCity.org )
June 7, 2016 Bay Future Inc.
Fundraising Campaign Update by Trevor Keyes, Mark Liton, and Paul Santiago
June 21, 2016 Community grant recipient update:
Kathy Rayner Literacy Council of Bay County
July 5, 2016 Passing of the Gavel.
Be sure to attend as
Brenda Scramlin
ends her year as club President by passing the gavel to
Incoming President Andrea Hales
.

Rotary
is an intimate affiliation of carefully selected business and professional people,
having as its objective the promotion of high ethical standards in private, commercial
and civic life, and dedicated to the ideal that the basis of all worthy endeavor is unselfish service.
---
Current and past
DISTRICT DISPATCH
newsletters are available on the District site shown in the LINKS section below.


Rotary Bay City on Facebook!
Click on the Blue Facebook to visit us there.

Remember! Check attendance sheets at the front desk.
---
LINKS
---
---

Stephen Kent




Steve Kent and his family have lived in Bay City for 40 years. He is VP of Technical Services at MMCC which produces MyBayCity.Com. Kent is active in many Bay City civic organizations.

More from Stephen Kent
---
Send This Story to a Friend!
Letter to the editor
Link to this Story
Printer-Friendly Story View
---
--- Advertisments ---