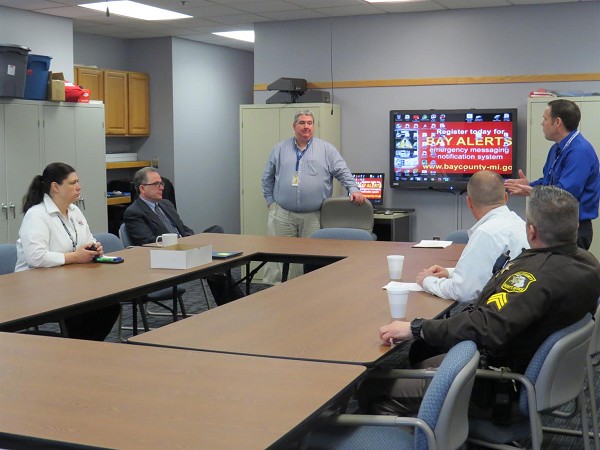 Bay County Executive Thomas L. Hickner, left, seated, and Central Dispatch Director Chris Izworski, right, standing, brief dispatchers about Smart 9-1-1.
---
SMART 9-1-1:New Bay County Safety Service Popular with Citizens
More Than 5,600 Sign Up For Enhanced Program, Izworski Says
If you liked Bay Alerts, you may like Smart 9-1-1, a national public safety service, even more. It seems lots of folks do.
More than 5,600 persons have signed up since Bay County Central Dispatch recently enhanced its 9-1-1 services with Smart 9-1-1, Director Chris Izworski told county commissioners last week.
Announced here April 5, the program is a free service providing emergency responders with more information to help save time and lives, he said.
"Smart 9-1-1 saves critical time in an emergency; helping 9-1-1 and first responders to save lives nationwide," said Troy Cunningham, Bay County Under Sheriff. "The additional information provided in a Smart 9-1-1 Safety Profile helps us when responding to the scene of a vehicle accident or when looking for a missing person, Smart 9-1-1 profile details can help us respond faster and more efficiently."
Central Dispatch Assistant Director Michelle Katt says Smart 9-1-1 significantly reduces emergency response time and makes it easier for dispatch to relay information. She added:
"It's a lot easier for us on the dispatch side that we can disseminate that information, not only to the first responders, but we also have a Facebook page -- We can get that information out even faster."
Smart 9-1-1 allows citizens to create a Safety Profile at www.smart911.com for their household. It can include information on medical conditions, the location of rooms in a house, how many people live in a home, number of pets, vehicle information and much more.
The service is private and secure, is only used for emergency responses and is made available only to the 9-1-1 system in the event of an emergency call. All information is optional. Residents can choose which details they would like to include.
Smart 9-1-1 is currently available in 40 states and more than 1,500 municipalities across the country,and has been credited with positively impacting emergency outcomes including a missing child in which the girls photo and physical description were immediately available to 9-1-1 and responders, as well as a heart attack victim where an address and medical notes allowed responders to be dispatched to his location quickly.
Katt says there's even a texting feature. "Right now, you cannot just text 9-1-1. But with Smart 9-1-1, dispatch is able to initiate a text to anyone with a mobile phone" (If) someone calls and they're unable to talk for some reason, maybe they're having an allergic reaction, or maybe they're the victim of a home invasion and they don't want the suspects to know that they're home -- we're able to initiate a text and they can communicate via text with us."
"When we answer a mobile 9-1-1 call from someone who can't safely speak, it becomes very difficult to quickly locate them and send help," said Sally McCaffrey, a dispatcher with 26 years experience. "Since a mobile phone does not provide an exact address, the Smart911Chat feature allowed me to ascertain the caller's location and send help fast, in a dangerous situation when every second counts."
McCaffrey and Jeffrey Whelton were honored with the SmartSave Award from Smart 9-1-1 which honors and rewards 9-1-1 call-takers, dispatchers and emergency responders who are able to effectively use the national public safety service to positively affect the outcome of an emergency.
On March 19, McCaffrey received an emergency 9-1-1 call from a 16-year-old caller who said she heard two gunshots inside her house. Recognizing it was unsafe to have the caller speak; McCaffrey utilized the Smart911Chat feature to gather pertinent information including the caller's precise location and emergency contacts. Using this information, McCaffrey was able to dispatch help and safely resolve the situation.
Less than one week after Smart 9-1-1's launch, Whelton answered a 9-1-1 call about a home invasion. By leveraging the Smart911Chat, Whelton quickly retrieved the caller's location when it was not safe to retrieve it over the 9-1-1 call. Thanks to the Smart911 technology, Whelton was able to continue to communicate via SMS text and send help to a caller in need.
Smart 9-1-1 is a free service that allows individuals and families to sign up online to receive emergency notifications and to provide key information to 9-1-1 call takers during an emergency. When a citizen makes an emergency call, their Safety Profile is automatically displayed to the 9-1-1 call taker, allowing them to send the right response teams to the right location with the right information.
Additionally, individuals can opt-in to receive notifications about emergencies or critical situations and receive alerts regarding necessary actions, such as evacuation and shelter-in-place.
Bay County residents who signed up for Bay Alerts since last fall already have a profile. Katt says you should visit the website to update your information.
###
---
---

Dave Rogers




Dave Rogers is a former editorial writer for the Bay City Times and a widely read,
respected journalist/writer in and around Bay City.
(Contact Dave Via Email at carraroe@aol.com)

More from Dave Rogers
---
Send This Story to a Friend!
Letter to the editor
Link to this Story
Printer-Friendly Story View
---
--- Advertisments ---