Bay City Players Topic of Program
Club Holds Annual Golf Outing In Rain
June 14, 2016 Leave a Comment
By: Stephen Kent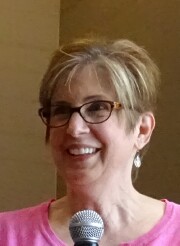 Kathy Pawloski
Kathy Pawloski
, Operations Manager for the
Bay City Players
spoke to Rotary about what's going on at the Players. Kathy started with the Players a number of years ago then went to Racine, Wisconsin with her husband. She was active in community theater there and when she returned to Bay City she also returned to the Players.
Bay City Players, the oldest continuous community theater in Michigan, starts their 99th season this year. "We trying to get away from being the oldest of anything, but sometimes, you know it's not the uh... when people think old... well never mind, let's stop right there."
The longevity of the Players can be attributed to the strong base of volunteers. "We only have three paid positions, and those are all part time", said Kathy. "We have an office manager, a maintenance man, and Me." She said that her job is new and evolving. "People will say 'we ought to be doing that. Let's get Kathy; she can do that.'"
Besides their normal productions, the organization has two children's theater groups, one of which is going right now with over a hundred kids participating in staging a show. This is students directing students. Experienced high school students teach the craft to the younger kids. "[The productions are] one of the best bargains in the state at $3 a show or $5 for the entire weekend."
In August the second youth offering is Stages of Discovery. Limited to about 30 students, this is a much more in-depth and intensive program that teaches all parts of productions.
The facility has grown dramatically over the years. Current plans are to tear down one structure on the property and, hopefully, purchase two older buildings. Objectives include expanding the main theater to allow more storage and providing more parking. A recent Rotary Community Grant has helped fund these efforts.
Season 99 starts with
Jesus Christ Superstar
in July. That's followed by the musical comedy
Spamalot
in October. Other productions include
The Jungle Book
(this year's family offering),
Act One>, and My Fair Lady.

For more information visit baycityplayers.com


---
CLUB NEWS and ANNOUNCEMENTS
The board meets this week
June 21 at 11:00 before the regular meeting.
Everyone is welcomed.
Thanks to
Andrea Hales
who got a taste of her upcoming term as Club President by standing in for
Brenda Scramlin
who was out of town on business.
Tim Holsworth
reminded everyone that the annual Golf Outing was two days away and had a sell-out slate of 30 teams. Although it was a beautiful day Tuesday, we can report by as of this writing the Outing has been held and it was a rather wet day. But it was still great fun. Wet, but without lightning. Everyone played.
Pictures from the Golf Outing can be found on the Club website. Look for links on the front page.
Don Carlyon announced that the restored
Battery Park
in front of the Wirt Library downtown will be dedicated in a ceremony Tuesday starting at 5:00 pm. There are new paved walkways, a reconstructed "guard shack", and two reproduction canons. It will be a fine addition to downtown.
Nancy Greve has been asked to coordinate volunteers in the Tall Ship Celebration VIP tents this year. There will be a tent on each side of the river. The duty is light and is considered one of the "best" jobs of the weekend. Rotarians from this club will have the first choice then the other Rotary clubs will be contacted. If you want to work one of the shifts, contact Nancy.
Vocation Day 2016
has been scheduled for November 1. Seven area schools will participate. Some new hosts have been identified. If you would like to take a student, please see Matt.
The first half of the Rotary year is rapidly coming to a close.
Dues invoices for the July to December
term have been mailed out. Please do your best to get your payment in promptly. You will note a slight change to the dues invoice format. We are trying to better show the breakdown and distribution of the dues. Comments are welcome.
Current and past
DISTRICT DISPATCH
newsletters
MAY
be available on the District site shown in the LINKS section below. These are not always updated, but it's worth trying.
---
DATES TO REMEMBER
Tuesday June 21
Battery Park dedication. Wirt Library at 5:00 pm.
July 15-17
Tall Ship Celebration. Rotarian volunteers needed for VIP tents. See Nancy Greve.
November 1, 2016 Vocational Day
---
Upcoming Programs
(See the official schedule at RotaryBayCity.org )
June 21, 2016 Community grant recipient update:
Kathy Rayner Literacy Council of Bay County
July 5, 2016 Passing of the Gavel.
Be sure to attend as
Brenda Scramlin
ends her year as club President by passing the gavel to
Incoming President Andrea Hales
.

Rotary
is an intimate affiliation of carefully selected business and professional people,
having as its objective the promotion of high ethical standards in private, commercial
and civic life, and dedicated to the ideal that the basis of all worthy endeavor is unselfish service.
---
Current and past
DISTRICT DISPATCH
newsletters are available on the District site shown in the LINKS section below.


Rotary Bay City on Facebook!
Click on the Blue Facebook to visit us there.

Remember! Check attendance sheets at the front desk.
---
LINKS
---
---

Stephen Kent




Steve Kent and his family have lived in Bay City for 40 years. He is VP of Technical Services at MMCC which produces MyBayCity.Com. Kent is active in many Bay City civic organizations.

More from Stephen Kent
---
Send This Story to a Friend!
Letter to the editor
Link to this Story
Printer-Friendly Story View
---
--- Advertisments ---