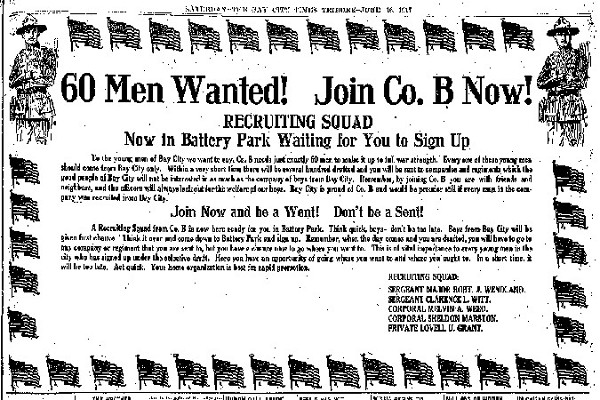 Newspaper ad exhorted citizens to enlist in the Army for service in World War I.
---
HISTORY REPEATS: Rebirth of Battery Park Recalls Memorable Event
Congressman Loud Spoke to Civil War Vets at 1907 Dedication
Images of a historic event 109 years ago will return Tuesday to mark the rebirth of Bay City's historic Battery Park.
The downtown four-quadrant park at Center and Jefferson not only greeted returning heroes from the Civil War, the Spanish-American War and World War I, it was the headquarters of recruitment of soldiers in 1917 and war bond sales in 1918.
-- To View Installation Video, Click Below --
So when the tributes ring out once again on Tuesday, this time in front of the Wirt Library, Battery Park will bask in the glow of community pride as it has for over a century.
On June 12, 1907, it was Congressman George Loud of Oscoda addressing the members of the Grand Army of the Republic as he presided over ceremonies marking placement of four massive Civil War cannon he had obtained from the government.
The Bay City Times headlined:
"AT BATTERY PARK; HISTORIC GUNS DEDICATED BY CONGRESSMAN LOUD; IN STIRRING SPEECH TO VETERANS WHO WERE THE BLUE."
A reporter on hand took down his every word and reported Loud's remarks:
"Two of these historic pieces were once a part of the broadside battery of Admiral Farragut's flagship, the Hartford," intoned the Congressman at the 1907 ceremonies. "There was a time in which they spoke in loud and determined voice that we should have a free and united country.
"Their voices rang out again and again at Port Hudson, at Mobile and New Orleans, and victory came each time at their call.
"These ponderous mortars, once in Fort Sumter in those fierce days of the Civil War, have now come hundreds of miles to seek a final resting place here in Bay City."
Loud concluded, no doubt in stentorian tones reflecting appropriate patriotism: "May we not hope that in viewing them, the younger and rising generations may realize the scenes that these great mortars have passed through and be ever ready as they come in manhood to do their part when their country calls them and ever ready to defend their country and our beautiful flag."
Turning to the blue-clad veterans of the Civil War, 500 of whom had settled in the booming lumber town of Bay City after the war, Congressman Loud said: "You are the men who marched with Sherman from Atlanta to the sea and you are the men who at last, at the close of the war, marched in that Grand Review, a part of that grand army of 189,109 veterans.
"I consider it one of the greatest honors of my life to be asked to address you, soldiers of the Grand Army of the Republic, today, and I thank you for it."
For four years Loud was a colonel on the staff of Michigan Governor Hazen S. Pingree. He was paymaster on the U.S. revenue cutter "McCulloch" when it participated in the Battle of Manila Bay during the Spanish-American War. He was killed in an auto accident at Myrtle Point, Michigan, in 1925 and is buried in AuSable Cemetery, Oscoda.
Tuesday at center stage will be Keith Markstrom, a Vietnam veteran, president of the Bay Veterans Foundation, whose fundraising of $125,000 and planning led to replication of the historic cannon at a local firm, Bay Cast, Inc., and construction of a guard shack/kiosk by students at Delta College directed by Dave Bledsoe, head of the construction management division.
While the original mortar cannon weighed 17,000 pounds and the Dahlgren ship cannon weighed 14,000 pounds, the replicas of necessity are hollow and weigh 5,000 pounds and 4,600 pounds respectively, according to Bay Cast President Max Holman.
Dr. Tim Eckstein, chairman of the rededication committee, will open the event at 5 p.m., followed by the Sons of Union Veterans of the Civil War who will parade and post the colors.
Other speakers will include City Manager Rick Finn, County Executive Tom Hickner, and Bay County Library Trustee Don Carlyon. The formal re-dedication will be by guest speaker Col. Roger Donlon, Medal of Honor recipient and Honorary Chairman of the Bay Veterans Foundation.
A trumpet quartet comprised of Tom Friewald, designer of the historical kiosk, John Rickert, David Selley and Joel Wiseman will play the National Anthem to open the ceremonies, will present a service medley, taps and will conclude the affair with several patriotic breaths of air.
###
---
---

Dave Rogers




Dave Rogers is a former editorial writer for the Bay City Times and a widely read,
respected journalist/writer in and around Bay City.
(Contact Dave Via Email at carraroe@aol.com)

More from Dave Rogers
---
Send This Story to a Friend!
Letter to the editor
Link to this Story
Printer-Friendly Story View
---
--- Advertisments ---