P.O.W.E.R. Fund Vital to Local Growth, But Electric System Surplus Required
Economic Development Venture Fund Has Already Made Great Strides
February 19, 2006 Leave a Comment
By: Dave Rogers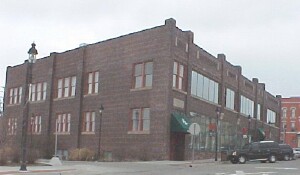 Hereford and Hops (now Lumber Baron's) failed to make timely payments against its loan from the POWER fund. Does that mean the fund loan was a bad idea? Probably Not!
Ratepayers of the Bay City Electric System may be better off if city officials decide to maintain a job-producing venture fund.
What would you rather do: Pay a few dollars less on your electric bill or be confident that there is a pot of moneyto help start enterprises with potential?
However, City Commissioner Charlie Brunner and County Commissioner Kim Coonan have made an important point: Why take money out of the pockets of ratepayers when the electric system is not profitable?
The fund, entitled Providing Opportunity With An Electric Reward, is one positive legacy of former City Manager Jim Palenick. It was designed to use SURPLUS funds to seed new projects.
Without a surplus, the whole idea doesn't carry water. That dog won't hunt, as savvy Southern politicians were wont to say, at least in the movies.
But to abandon the whole idea of the fund is not wise either.
Maybe a compromise can be reached, in fact it has already been suggested by Tom Starkweather of the city's Economic Development Commission and others: preserve the fund for now and wait to see if surpluses are created again in the future.
Don't raise utility rates but don't scrap the P.O.W.E.R. Fund either.
People in Bay City and the area have a huge stake in successful economic development. Only marginal successes have been racked up so far by these processes in Bay County in recent years, despite huge investments.
Was Hereford & Hops agood investment? It all depends on how you look at it. A going brew pub in an entertainment district is good for the city, many would say. It brings in visitors, provides some jobs and adds to the appeal of the city.
Art Dore appears to have found a working formula for the revitalized brew pub, now called Lumber Barons, partially by trotting out the horses from their stables and creating a martini-cigar bar where they once stomped. Also by providing good food and service in a setting with ambience not normally found in a small town.
Few could argue that the State Theatre was not a good investment; besides the P.O.W.E.R. fund was repaid. Having a community performance center is a definite asset and adds to the draw of downtown.
In the case of the DoubleTree, everybody knows it takes a few years for hotel properties to achieve profitability.
We subscribe to the view of one community leader who says privately: "It's just a case of the city not paying the city for a while."
The 150-roomDoubleTree by all accounts is a tremendous success in what it was designed to do: provide a conference headquarters so Bay City/Bay County can compete with major metropolitan areas and begin to rebuild a reputation asa place that has all the amenities visitors want. We haven't had that in the more than 30 years since the 400 room Wenonah Hotel ceased to become a functioning hostelry early in the 1970s and went up in flames Dec. 10, 1977.
The old girl, Wenonah, had a glorious run for more than half a century, a tribute to the community that chipped in to get it built in 1908.
It's good to recall that the DoubleTree followed the same pattern as the Wenonah, needing a strong boost from the community to rise on the riverfront.
Summarizing the P.O.W.E.R. Fund analysis, the paraphrase we may consider most pertinent is: If you build it, they will bring their dollars.
The P.O.W.E.R. fund is an organized, ongoing economic development strategy that is vital to progress. It is a formula for investment that has input from all segments of the community through commissions, committees and boards, comprised of representatives from the public and private sectors, labor and management alike.
The major development triumphs of the last century in Bay City were Industrial BrownHoist, scored in 1927 when the Chamber of Commerce raised a million dollars to acquire the Brown Hoisting Company of Cleveland and merge it with the old Industrial Works, and in 1936 when another pot of money was raised by the Chamber to buy the old Wildman Rubber plant and give it to the Electric AutoLite Company of Toledo. Each project created about 1,000 ongoing jobs for about 50 years.
Midland is putting $30 million dollars into a minor league baseball team we couldn't afford. But as some savvy observers see it that's great for the area; many of the baseball players and fans will be over in Bay City having fun when they're not at the baseballfield, anyway. And without the DoubleTree, the State Theatre and Lumber Barons there wouldn't be as many reasons for those visitors to seek out the ambience of Bay City.
If they build it over there, they will come over here. Maybe we should think about the P.O.W.E.R. Fund that way.
With it, job-producing and community enhancing enterprises will have another reason to want to locate here. Without it, that process wouldn't have quite the vitality.
Let's hang on to the P.O.W.E.R. Fund, see if surpluses are generated once again and hope for the future.###
---
---

Dave Rogers




Dave Rogers is a former editorial writer for the Bay City Times and a widely read,
respected journalist/writer in and around Bay City.
(Contact Dave Via Email at carraroe@aol.com)

More from Dave Rogers
---
Send This Story to a Friend!
Letter to the editor
Link to this Story
Printer-Friendly Story View
---
--- Advertisments ---