Literacy Council of Bay County Topic of Rotary Program
June 21, 2016 Leave a Comment
By: Stephen Kent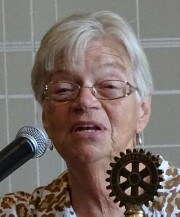 Kathy Rayner
People don't usually think of school kids as not being able to read. It's just a given. But the truth is that there's always a group of youngsters who fall behind.
The purpose of the
Literacy Council of Bay County, Inc.
is to identify these youngsters and provide them with the opportunity to catch up.
Kathy Rayner
, the Director of the Literacy Council talked to Rotary about her organization and its mission. As a recipient of a Rotary Community Grant, and with members of the club on her board and working as volunteers, her organization already has a connection to the club.
Each year the Council provides confidential tutoring to 60 plus students. Rayner qualifies each student and places him or her into a grade level. She then pairs the student with a trained volunteer tutor. The tutor and student meet twice a week for about 45 minutes. All sessions are held at public locations like the library.
One of the main difficulties is the lack of participation by some parents. It's the parent's responsibility to get the student to the tutoring session and to work with the child at home. Too often that just doesn't fit into the parent's schedule.
Rayner offered a number of stories and examples of the need for tutoring. An interesting fact is that of about 25 words that all kids should know, almost every kid knows and can read "down, help, play". It was a mystery until recently when a parent said "that's easy. It's computer games. Every game uses the words down, help and play. Mystery solved.
During the question period, someone asked about adults how are illiterate "can that actually happen"? Rayner answered that while it was once possible, it's probably not today. A few years ago a non-reader could get a good job in a factory and get by. Today almost all job applications are done on the computer. A person really can't get by without reading.
At this time Rayner has 49 students matched and 21 on the waiting list. "If you are interested, or have a high school child, or a grandchild, or you know an older person, we have a place for them. And most sessions are in air conditioned locations". Contact Kathy at McKinley School (989) 686-8700, or by e-mail at bayliteracy@bcschools.net.
---
CLUB NEWS and ANNOUNCEMENTS
The club held its monthly board meeting today. President Brenda reported on the highlights.
The grand prize at the Golf Outing was the flat screen TV. "Mr. Lucky" won it. Who's that? Every member of a few years knows... Hratch, who was visiting from Chicago.
Our exchange student Print is about to go home. She spent the entire year with Lee and Molly Newton. The club expresses sincere thanks to them.
Deb Lutz is looking for Club Service volunteers to work at the front table taking lunch money and selling 50/50 tickets for July and August. See Deb is you can help.
June 2016 is significant to the club because the final payments for the Paul Harris Statue pledges are due. Bob Chadwick will send invoices if you still owe a share.
Chris Girard
reported on the planning for the
Zombie Run
. The date has been set for
October 8
and the location will be the
Sugar Trails
on the Middle Grounds. It promises to be a great event. Volunteers will be needed so sign up if you are available.
Nancy Greve reported that she has arranged for most of the volunteers she needs for the Tall Ship Celebration VIP tents this year. If you're interested, there may be a slot left. Contact Nancy. There will be a tent on each side of the river. The duty is light and is considered one of the "best" jobs of the weekend.
Vocation Day 2016
has been scheduled for November 1. Seven area schools will participate. Some new hosts have been identified. If you would like to take a student, please see Matt.
The first half of the Rotary year is rapidly coming to a close.
Dues invoices for the July to December
term have been mailed out. Please do your best to get your payment in promptly. You will note a slight change to the dues invoice format. We are trying to better show the breakdown and distribution of the dues. Comments are welcome.
Current and past
DISTRICT DISPATCH
newsletters
MAY
be available on the District site shown in the LINKS section below. These are not always updated, but it's worth trying.
---
DATES TO REMEMBER
Tuesday June 28
RYLY students will speak to the club.
Tuesday July 5
Annual Passing of the Gavel.
Tuesday July 19
District Governor annual meeting. The Board meeting is moved to this date to accommodate.
July 15-17
Tall Ship Celebration. Rotarian volunteers needed for VIP tents. See Nancy Greve.
October 8, 2016 ZOMBIE Run
November 1, 2016 Vocational Day
---
Upcoming Programs
(See the official schedule at RotaryBayCity.org )
June 28, 2016 RYLY students speak to the club.

July 5, 2016 Passing of the Gavel. Be sure to attend as Brenda Scramlin ends her year as club President by passing the gavel to Incoming President Andrea Hales.



---

Current and past DISTRICT DISPATCH newsletters are available on the District site shown in the LINKS section below.




Rotary Bay City on Facebook!
Click on the Blue Facebook to visit us there.

Remember! Check attendance sheets at the front desk.
---
LINKS
---
---

Stephen Kent




Steve Kent and his family have lived in Bay City for 40 years. He is VP of Technical Services at MMCC which produces MyBayCity.Com. Kent is active in many Bay City civic organizations.

More from Stephen Kent
---
Send This Story to a Friend!
Letter to the editor
Link to this Story
Printer-Friendly Story View
---
--- Advertisments ---