BONNIE & CLYDE GANG: Old News Clipping Documents Bay City Connection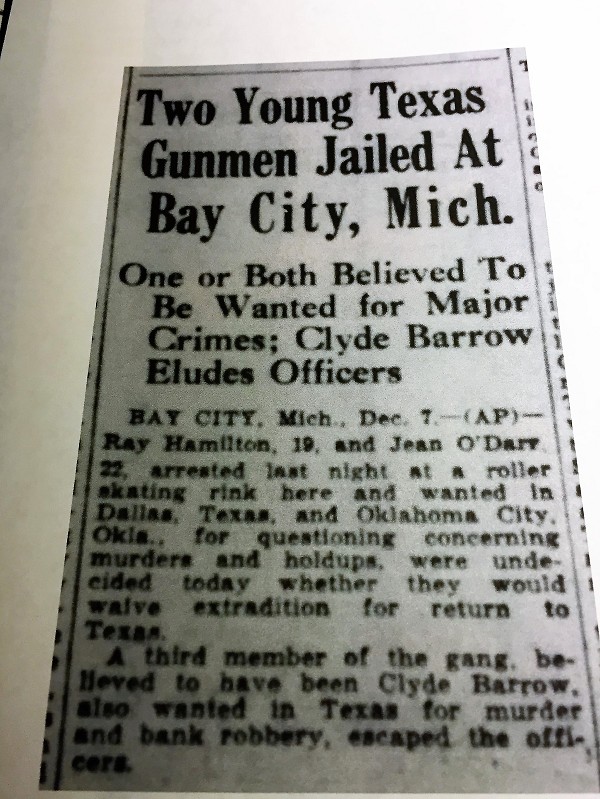 An old news clipping posted on Facebook states an 84-year-old rumor that the infamous Clyde Barrow escaped when two pals were captured here in 1932.
The brief Associated Press story recounting the capture of Ray Hamilton and Gene O'Dare at a Water Street roller skating rink (now Bay City Auto Co.) said: "A third man, believed to be Clyde Barrow, escaped."
The discovery of this allegation makes news even today since Barrow, half of the notorious team of Bonnie & Clyde, has reached legendary status in the movies and lately in a Broadway show.
Another revelation that has come to light is that Hamilton actually was visiting Bay City to see his father, John Henry Hamilton, said to have been a resident here at the time.
J.H. Hamilton does not show up in the city directories of the time, but chances are he was living in one of the many hotels and wouldn't have been listed.
The story, as we have known it, was that Ray Hamilton and O'Dare were sent to mid-Michigan by Bonnie & Clyde to "case," and perhaps rob, the Chemical State Bank in Midland. They came here by bus from Chicago, drawn by reports of the biweekly $75,000 Dow Chemical Company payroll that arrived by train from Detroit.
Townspeople were alerted to their presence when the disreputable pair used the ruse of changing a $20 bill to case the bank on Main Street in Midland.
Local and state police notified the Texas Rangers who soon showed up to collect the pair who were wanted for murder in Oklahoma.
They were found to be living in an apartment on Adams Street in Bay City and were frequenting the roller skating rink above the Cash Furniture Co., 1124 N. Water St., managed by a Cyril Miller.
Local police detectives Frank Anderson and Sgt. Robert Rushford were joined by four state police detectives and Midland County Sheriff William Day when they took the pair into custody at the rink, but not without a tussle. News reports said the pair needed to be subdued and O'Dare required a knock in the head by one of the officers using the butt of his pistol.
As the story goes, the Texas Rangers returned the dangerous duo to Texas where they were wanted for murder. They were placed in the notorious Eastham State Prison outside Dallas where Clyde Barrow earlier had been abused, prompting him to wage virtual war on the police and society in an attempt to gain revenge for his treatment.
John Neal Phillips, writing in American History Magazine in 2000, observed:
"Barrow called Eastham 'that hell hole,' and for good reason. He saw prisoners beaten by guards, stuffed in tin sweat boxes under the blazing sun, and murdered, sometimes for the $25 reward for the capture of escaped prisoners, other times for revenge. It made Barrow so angry that he immediately began conspiring with another prisoner, 19-year-old Ralph Fults, to one day get out of prison, raise a gang, and return to Eastham. "I'd like to shoot all these damned guards and turn everybody loose," he told Fults."
Barrow's revenge was wreaked Jan. 13, 1934 when he and Bonnie attacked the Eastham prison farm and helped Ray Hamilton and several other prisoners to escape from a group of guards called "the shotgun ring." Using a Browning Automatic Rifle, Barrow sprayed the air above the guards and kept them at bay during the escape.
A notoriously cruel guard, Major Crowson, was shot during the melee and died.
Hamilton split with Bonnie & Clyde, saying he was "a gentleman bandit" not to be connected anymore to Clyde Barrow. He moved to New Orleans but soon was captured after a bank robbery in Lewisville, Texas April 25, 1934.
Sentenced to die in the electric chair for the murder of a prison guard, Hamilton succumbed to "Old Sparky" in Collin County Prison May 10, 1935.
Two weeks later Bonnie and Clyde were ambushed by police, tipped off by a former accomplice who was given a pardon, in Gibsland, Louisiana. A 1967 film starring Warren Beatty and Faye Dunaway depicted their spectacular deaths in a fusillade of 167 bullets. Hamilton's character was prominently featured in the film.
---
---

Dave Rogers




Dave Rogers is a former editorial writer for the Bay City Times and a widely read,
respected journalist/writer in and around Bay City.
(Contact Dave Via Email at carraroe@aol.com)

More from Dave Rogers
---
Send This Story to a Friend!
Letter to the editor
Link to this Story
Printer-Friendly Story View
---
--- Advertisments ---