Rotary Youth Leadership Award Students Speak
June 28, 2016 Leave a Comment
By: Stephen Kent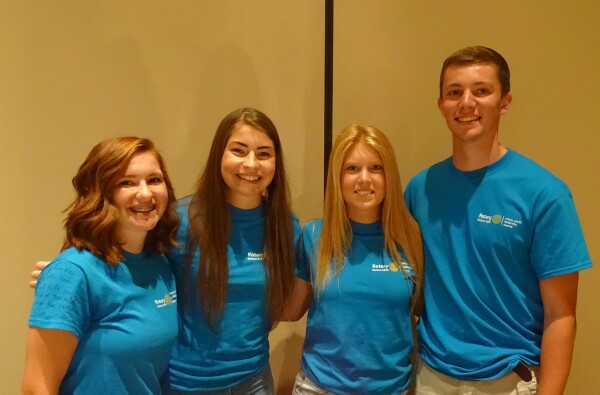 Hannah Ducolon, Marlee Bromberg, Allyson Schafer, Nick Vlk
Each summer the Bay City Rotary Club, and other clubs nationwide, send high school students to Rotary Youth Leadership Award (RYLA) summer camp programs. In Michigan the RYLA camp is held at Camp Rotary in Clare Michigan, a camp perhaps more widely known as a Boy Scout Resident and High Adventure Canoe camp.
RYLA campers have demonstrated leadership skills and aptitude to teachers and faculty, who nominate them to Rotary. Although award winners often hold leadership positions at their schools, that's not a requirement and not something always found. As one student said "I found that you do not need to have a position of leadership to be a leader. You can apply leadership skills in day-to-day conversation and day-to-day interactions with people."
RYLA endeavors to teach young people to enhance or become a leader. Each of the RYLA students said that camp helped them grow as a person, work better with people, and rely on teamwork to accomplish tasks. Students learn to be outgoing and how to set a good example for others to follow.
The students showed a collection of slides depicting the various activities and groups at camp. Each said the experience was both beneficial and worthwhile for their lives.
One teacher's lesson was related where he talked about how to work with people that have different languages and different personality types. "Everyone works differently yet they still come together to work as a whole to accomplish a goal."
---
CLUB NEWS and ANNOUNCEMENTS
The club welcomed exchange student
Chawanrut Boonrapongcharoen (Print)
, who is preparing for her trip home. Print spent the entire year with
Lee and Molly Newton
. The club expresses sincere thanks to the Newton's and wishes Print a safe trip home.
Matt Felan
of the Great Lakes Bay Regional Alliance addressed the membership saying "I normally try to leave my work outside of Rotary... but I know there are questions today". He went on to give some background and reassurances concerning the announcement by Dow of 2,500 layoffs globally and how this could impact the local community and economy.
Tim Holsworth
gave another brief wrapup of the golf outing and read the names of all the sponsors one more time. The club extends a round of thanks to all of those sponsors, who are essential to a successful event. Thirty teams signed up and 29 showed up even with the rain. "It was a record number of golfers. If not for the rain we would have had 120 golfers. It wasn't that long ago when we were struggling and beating doors to get 60 golfers." Maple Leaf proved to be an excellent fit. They have 27 holes so Tim said: "my goal next year is for 160 golfers."
Tara Welch
spoke about planning for the
Zombie Run
. The committee will be doing promotional tee-shirts again this year. Shirts will cost about $7 and come in both men's and women's sizes. A sign-up sheet will be passed around this week and next week. The hope is that all members will wear those shirts to advertise the event. The run will be
October 8
at the
Sugar Trails
on the Middle Grounds.
Deb Lutz
is looking for Club Service volunteers to work at the front table taking lunch money and selling 50/50 tickets for July and August. See Deb is you can help.
Final payments for the Paul Harris Statue pledges are due this month.
Bob Chadwick
will send invoices if you still owe a share.
Vocation Day 2016
has been scheduled for November 1. Seven area schools will participate. Some new hosts have been identified. If you would like to take a student, please see Matt.
The first half of the Rotary year is rapidly coming to a close.
Dues invoices for the July to December
term have been mailed out. Please do your best to get your payment in promptly. You will note a slight change to the dues invoice format. We are trying to better show the breakdown and distribution of the dues. Comments are welcome.
Current and past
DISTRICT DISPATCH
newsletters
MAY
be available on the District site shown in the LINKS section below. These are not always updated, but it's worth trying.
---
DATES TO REMEMBER
Board Meeting
- July 19
ONE WEEK LATE
- 11:00 am before regular meeting. The District Governor will make his annual visit. - Everyone invited.
Tuesday July 5
Annual Passing of the Gavel.
Tuesday July 19
District Governor annual meeting. The Board meeting is moved to this date to accommodate.
July 15-17
Tall Ship Celebration. Rotarian volunteers needed for VIP tents. See Nancy Greve.
October 8, 2016 ZOMBIE Run
November 1, 2016 Vocational Day
---
Upcoming Programs
(See the official schedule at RotaryBayCity.org )
July 5, 2016 Passing of the Gavel.
Be sure to attend as
Brenda Scramlin
ends her year as club President by passing the gavel to
Incoming President Andrea Hales
.
July 12, 2016
New President Andrea Hales
will speak about the upcoming Rotary Year.
July 19, 2016
District Governor Cheryl Peterson
will address our club and update us on upcoming projects.
July 26, 2016
Smart Energy
Presented by
Kathryn Burkholder
of Consumers Energy
---
Current and past
DISTRICT DISPATCH
newsletters are available on the District site shown in the LINKS section below.


Rotary Bay City on Facebook!
Click on the Blue Facebook to visit us there.

Remember! Check attendance sheets at the front desk.
---
LINKS
---
---

Stephen Kent




Steve Kent and his family have lived in Bay City for 40 years. He is VP of Technical Services at MMCC which produces MyBayCity.Com. Kent is active in many Bay City civic organizations.

More from Stephen Kent
---
Send This Story to a Friend!
Letter to the editor
Link to this Story
Printer-Friendly Story View
---
--- Advertisments ---