Rotary Inducts Next President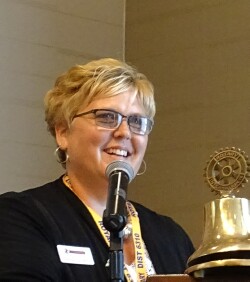 Brenda Scramlin
Adhering to a time-honored tradition,
Brenda Scramlin
, Club President for the last twelve months, passed the gavel and the historic President's Pin to
Andrea Hales
. As each President in living memory has said, Brenda admonished Andrea "don't lose it!". Then, much to everyone's amusement, she dropped it on the floor when starting to pin it on the new President.
During her segment, Brenda recapped the past year and the achievements and new activities the club achieved during her leadership term. For example, the club raised $1,150 in the "polio jar", which was passed among the tables each week with the slogan "the change in your pocket could change a life".
This was a year of change as the long-running "Intentional Night" fundraiser was changed and the club held "The Running Dead Zombie Marathon" at the former Country Club. The event was well received and raised $15,200. The event returns this year for another ghoulish day.
Many traditions and activities were unchanged. The club sponsored an exchange student for the year, a group of high school students were sent to the Rotary Youth Leadership Award (RYLA) camp, and the club made a number of Community Grants.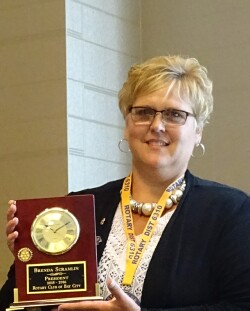 Other significant items included starting an executive board meeting the week after each board meeting. The meeting and venue review committee, which is formed ever few years, reviewed the Doubletree as our meeting host and signed a new contract with revised menus and other considerations. The member dues invoice was revised to show the breakdown of dues and other costs that the club pays.
A new "Rotary Night Out" was held several times and gave members the opportunity to get together in the evening for fellowship and food. A member nurture committee was formed to address ways the club can better serve members.
Brenda closed by thanking her board and committee members and the club in general. In turn, the club thanked Brenda for her year of service. Incoming President Andrea presented Brenda with the Past President pin and a plaque for her office commemorating her year of service.
---
CLUB NEWS and ANNOUNCEMENTS
The club welcomed new member
Ryan Carley
, President of the Bay Area Chamber of Commerce. Ryan was inducted by Andreas Teich.
Chris Girard
reminded members that orders are being taken for
Zombie Run
promotional tee-shirts, $7 each. It's hoped that those shirts will be seen around town to help spread the word that the "running dead" are returning October 8.
President Brenda read a report from outgoing District Governor Mike Kelly about the year's achievements. She also asked that members mark their calendars for July 19 when the incoming District Governor, Cheryl Peterson, will attend our meeting.
Note that the board meeting has been moved back one week to accommodate DG Cheryl Peterson's visit.
Vocation Day 2016
has been scheduled for November 1. Seven area schools will participate. Some new hosts have been identified. If you would like to take a student, please see Matt.
The first half of the Rotary year is rapidly coming to a close.
Dues invoices for the July to December
term have been mailed out. Please do your best to get your payment in promptly. You will note a slight change to the dues invoice format. We are trying to better show the breakdown and distribution of the dues. Comments are welcome.
Current and past
DISTRICT DISPATCH
newsletters
MAY
be available on the District site shown in the LINKS section below. These are not always updated, but it's worth trying.
---
DATES TO REMEMBER
Board Meeting
-
July 19
ONE WEEK LATE
- 11:00 am before regular meeting. The District Governor will make his annual visit. - Everyone invited.
Tuesday July 19
District Governor annual visit. The Board meeting is moved to this date to accommodate.
July 15-17
Tall Ship Celebration. Rotarian volunteers needed for VIP tents. See Nancy Greve.
October 8, 2016 ZOMBIE Run
November 1, 2016 Vocational Day
---
Upcoming Programs
(See the official schedule at RotaryBayCity.org )
Tuesday July 12
New President Andrea Hales
will outline her plans for the upcoming year and the 100th Birthday of the Rotary Foundation.
July 19, 2016
District Governor Cheryl Peterson
will address our club and update us on upcoming projects.
July 26, 2016
Smart Energy
Presented by
Kathryn Burkholder
of Consumers Energy
---
Current and past
DISTRICT DISPATCH
newsletters are available on the District site shown in the LINKS section below.


Rotary Bay City on Facebook!
Click on the Blue Facebook to visit us there.

Remember! Check attendance sheets at the front desk.
---
LINKS
---
---

Stephen Kent




Steve Kent and his family have lived in Bay City for 40 years. He is VP of Technical Services at MMCC which produces MyBayCity.Com. Kent is active in many Bay City civic organizations.

More from Stephen Kent
---
Send This Story to a Friend!
Letter to the editor
Link to this Story
Printer-Friendly Story View
---
--- Advertisments ---