Rotary District Governor Speaks To Bay City Rotary
July 19, 2016 Leave a Comment
By: Stephen Kent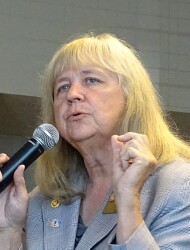 DG Cheryl Peterson
Rotary welcomed the new
District Governor Cheryl Peterson
, who met with the club board prior to the meeting then addressed the full club on the goals of the district, Rotary International, and the clubs.
From the RI side, the Council on Legislation made a number of decisions that affect the local clubs. Dues will increase over the next few years, the role of the treasurer will change, club meeting requirements will change, and new templates for club constitutions and by-laws are being released.
Peterson talked about the good works of the Rotary Foundation and how our district is a top contributor. As the foundation marks its 100th year, both the district and the club will be having events to recognize the accomplishments. She talked about the theme for the year of "
Rotary Serving Humanity
". And she presented pins to Bob Chadwick and Jerome Yantz (not present) for their service as past district governors.
A goal of the club and the district is to emphasize the "Every Rotarian Every Year" contributions to the foundation. Peterson outlined the polio campaign as well as other efforts. She reviewed the amount of money that has been raised historically and the goals to be aimed for.
Other topics included youth programs like Interact and Rotaract clubs, exchange students, and community projects and grants.
A project that is getting quite a bit of attention is the "
Little Free Library
", where clubs will partner with the Library system to build, or buy, small "kiosks" containing books and placed in neighborhoods. Anyone will be able to take a book or leave one. The program has had great success in recent years and should be welcomed here.
Peterson introduced the Bay City club's own
Dee Dee Wacksman
, who is the district chair for the international convention coming up in Atlanta. Dee Dee spoke about some of the opportunities, including the possibility that the district will charter a bus to make the trip. More information is available at
www.riconvention.org/en/atlanta
Peterson also showed, with Asst Gov.
Larry Arendt's
help, an original painting by Rotarian
George Lewis
, who has gained wide recognition in the Rotary world for his art. Four of his paintings will be raffled at this year's District Conference. Tickets will be available in January.
Cheryl closed with these words from
RI President John Germ
. "In this year of Rotary Serving Humanity, be sure that you do all that you can do. Be sure that you do it as well as you can. And be sure that you change as many lives as you can, for the better, forever."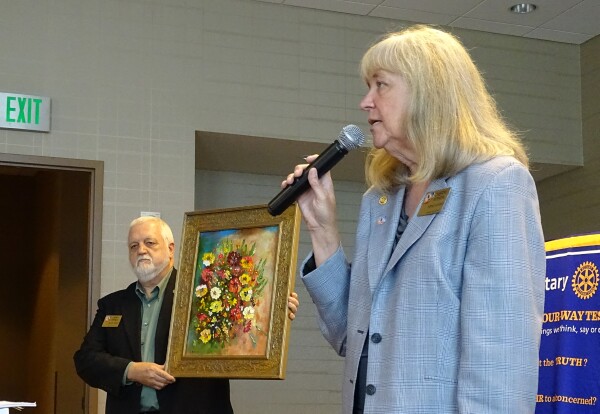 DG Peterson describes painting by George Lewis, held by Asst DG Larry Arendt,
to be raffeled at the District Conference.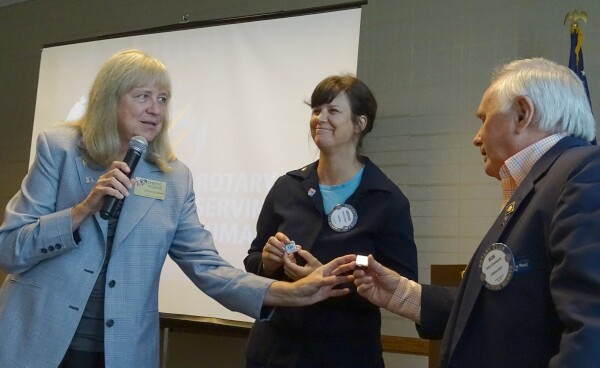 DG Peterson presents Past District Governor Pin to Bob Chadwick
---
CLUB NEWS and ANNOUNCEMENTS
The club board met prior to the regular meeting. District Governor Cheryl Peterson visited to discuss the club's activities and goals for the year as well as talk about the district's goals.
The board business meeting was limited to review of minutes from previous meetings and the treasurer's report. The upcoming
Zombie Run
and the return of the "running dead" on October 8 was mentioned.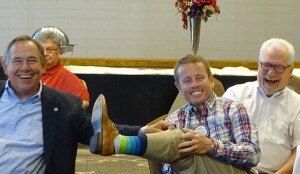 It "socks" to be Ryan today
Attention was brought to newest member
Ryan Carley's
socks. In the words of the Sargent at Arms "It socks to be Ryan today"
A letter from Studio 23 was read thanking the club for the recent grant.
Vocation Day 2016
is been scheduled for November 1. Seven area schools will participate.
If you have not paid your July to December dues, please get that in. If you need another invoice, ask Steve Kent.
Current and past
DISTRICT DISPATCH
newsletters
MAY
be available on the District site shown in the LINKS section below. These are not always updated, but it's worth trying.
---
DATES TO REMEMBER
October 8, 2016 ZOMBIE Run
November 1, 2016 Vocational Day
June 10-14, 2017 Rotary International Convention - Atlanta, Georgia, USA
www.riconvention.org/en/atlanta
---
Upcoming Programs
(See the official schedule at RotaryBayCity.org )
July 26, 2016
Smart Energy
Presented by
Kathryn Burkholder
of Consumers Energy
Aug 2, 2016
Leadership Bay County Renee Schwartz
, Bay Area Chamber, with
Angel Moore
and
Tara Welch
, class advisors, will give a brief overview of what LBC is all about and why we should encourage our local business members to take the class. Next class starts in September.
Aug 16, 2016
The YMCA and the Togetherhood Program. Joslyn Jamrog
Membership Director of the Dow Bay Area Family YMCA describes a project that is looking into strengthening our community with some local needs. Some of these projects are access to fresh and health food, city blight clean-up, and Senior Citizen house/property help.
Aug 30, 2016
Stylecomm
a community focused fashion show for the people of the Great Lakes Bay Region. Laura Horwath & Tosha Lijewski will about efforts to support our community in a unique way.
Sept 13, 2016> Growth in Downtown Bay City - Candace Bales
talks about the new businesses that are opening in Downtown Bay City and also the future development.
---
Current and past
DISTRICT DISPATCH
newsletters are available on the District site shown in the LINKS section below.


Rotary Bay City on Facebook!
Click on the Blue Facebook to visit us there.

Remember! Check attendance sheets at the front desk.
---
LINKS
---
---

Stephen Kent




Steve Kent and his family have lived in Bay City for 40 years. He is VP of Technical Services at MMCC which produces MyBayCity.Com. Kent is active in many Bay City civic organizations.

More from Stephen Kent
---
Send This Story to a Friend!
Letter to the editor
Link to this Story
Printer-Friendly Story View
---
--- Advertisments ---