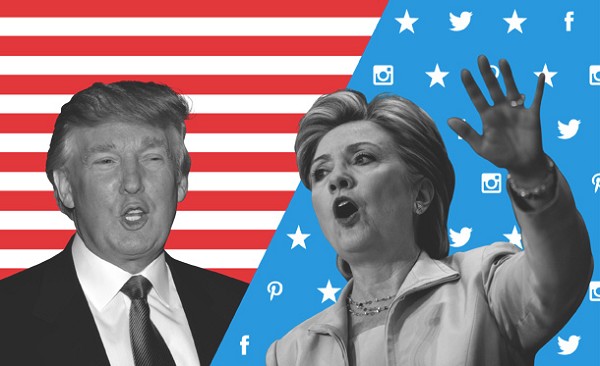 Trump & Clinton
---
ELECTION QUESTIONS; With Over One Third Undecided, Tossup Seen in Michigan
Neither Trump Nor Clinton is Popular, Statewide MRG Poll Shows
Although most pundits and pollsters have Michigan solidly in the blue for the November elections, a wise observer might say "not so fast!"
A startling 37 percent of Michigan voters are still undecided on their Presidential choices, a statewide poll recently conducted by Marketing Resource Group (MRG), showed.
However, the state, which has 16 electoral votes, is rated "Lean Clinton" by 270towin.com. Mitchell Research has Clinton leading 40-34 with 26 percent uncommitted; YouGov/CBS News has Clinton ahead 42-39 percent; and Gravis Marketing has Clinton up 48-41 percent.
The results indicated that some of the undecided voters are looking at other candidates or are not sure they will even vote for President this fall.
Hillary Clinton's strongest support comes from the Detroit metropolitan are where she leads Donald Trump 40 to 27 percent.
Trump's strongest area of the state is the northern Michigan where he leads Clinton 41 to 20 percent.
Most surprising is Trump's weakness in normally GOP Oakland County, where the auto industry elites normally join with the so-called Reagan Democrats to back the party, the pollster, Tom Shields of MRG, noted on the PBS state political program "Off the Record" with Tim Skubick this weekend.
The largest bloc of undecided voters is in the mid-Michigan/Lansing area where 54 percent of the voters are undecided (29 percent), looking at other candidates or may not vote in the Presidential election.
A majority of Michigan voters have a negative view of both Clinton (33 percent favorable/55 percent unfavorable) and Trump (27 percent favorable/60 percent unfavorable) when voters were asked their basic opinion of each of the major party candidates. However, Republicans have unified in their dislike of Clinton (3 percent favorable and 91 percent unfavorable).
Trump is currently leading among Independent voters in Michigan, 25 percent to 21 percent over Clinton, but Clinton's lead can be directly attributed to her strength with Democrats (71 percent support) as compared to Trump's support among Republicans (63 percent support). Only 57 percent of Republican women voters are committed to Trump at this time, with 31 percent saying they are undecided. Only 4 percent of Republican women are voting for Clinton.
"If Michigan is going to be a toss-up state, Donald Trump's goal should be to solidify his Republican base and start addressing issues that will attract women voters, especially Republican women voters, to his candidacy," said Shields, President of MRG, concluding: "More than one-third of the Michigan vote is up for grabs."
The election website 270 to win reflects: "Michigan joined the Union in January 1837. The state voted primarily Republican in presidential elections until the Great Depression. From the 1930s through the 1960s, the state alternated periodically between the two parties. From 1972 through 1988 the state voted exclusively Republican, before becoming the Democratic-leaning state it is today.
"In 2012, Barack Obama defeated Mitt Romney by a 54% to 45% margin. The state has experienced significant economic turmoil since the 1970s and has seen slow population growth relative to the rest of the country. This has resulted in a loss of electoral votes, from 21 in the 1970s to 16 in 2012."
###
---
---

Dave Rogers




Dave Rogers is a former editorial writer for the Bay City Times and a widely read,
respected journalist/writer in and around Bay City.
(Contact Dave Via Email at carraroe@aol.com)

More from Dave Rogers
---
Send This Story to a Friend!
Letter to the editor
Link to this Story
Printer-Friendly Story View
---
--- Advertisments ---