Chuck Bork Made News on the Bay City Bowling Lanes Back in 1979
A Look Back - 27 Years Ago
February 24, 2006 Leave a Comment
By: Julie McCallum,
Senior Staff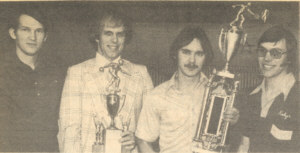 Back In 1979
From Left: Mike Luptowski,
Denny Torgerson - (Bay Lanes Manager) ,
Chuck Bork, Rodger Cederberg.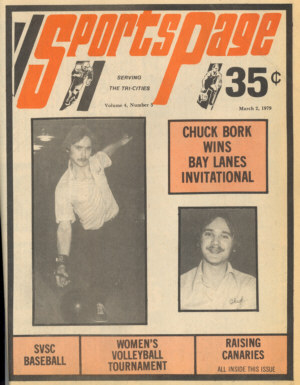 Sports Page Magazine Cover - March 2, 1979
Chuck Bork is Winner
of Bay Lanes Scratch Bowling Invitational

as Sports Page read March 2, 1979
.
Chuck Bork left little doubt in anyone's mind at Bay Lanes on that Sunday as to who the best of the field was, as he reeled off 13 games at an average of 219 to walk away with the hug 1st place trophy and a check for $400.
In the final position round, Bork hammered games of 226 and 236 while defeating Rodger Cederberg in head-to- head competition to lock up the 1979 championship. Cederberg and Bork went into the final 2 games of the day in a virtual deadlock for 1st place. Cederberg faltered as he opened the final round with a disappointing 168 game. Although Cederberg came back with a strong 227 count in the final game, Bork never let up and won going away.
Cederberg actually finished that Sunday's competition (13 games) with a better average than Bork (220.6 to 219.8) but Bork won 10 of his 13 matches while Cederberg won 6½ matches out of 13. Each match victory was worth a 50 pin bonus to the winner. Cederberg picked up a check for $200 for his fine 2nd place effort.
"I'm very pleased." Bork said after picking up 1st place money. Bork has been concentrating very hard on his game during the current season and at the time was bowling in 12 leagues both in Bay City and Saginaw.
Bork had been a "shooting star" in local bowling circles of late as he consistently registers 3-game totals around the "700" mark. Bork averaged anywhere from 207 to 193 in the local leagues around Bay City in 1979.Other standout performances then were from Mike Luptowski who almost became the 7th Bay City bowler to register a "300" game as he left a "wiggling" 8-pin for a 299 count in his 3rd game on that Sunday.
Bruce Zinke had a very good tournament as he averaged 217 for the final 13 games. A split in the final frame of game #11 cost Zinke that match and in effect about 70 pins. Zinke won his final 2 games to finish 5th. Except for that split, he might have made a very good run for 2nd place.
Defending 1978 Champ, Chuck Beldin, performed well and ended the 13-game set with a 209 average. That was just about what Beldin averaged last season when he claimed the top prize. But this year, the 12- finalists toppled a total of 32, 772 pins in 156 games for a remarkable 210 average. That's mighty good bowling. Beldin finished 8th.
NOTE: This is one of a continuing series of flashback article to be taken from the archives of the Bay County Sports Page & Bay City Enterprise newspapers published from 1976 through 1984 by O.J. Advertising, Inc. This Publisher hopes you enjoy the time travel as much as he does! If Sports Page and Enterprise are the grandparents of our newest arrival - mybaycity.com - then they are (as expected) very proud grandparents, indeed.
---
---
---
Send This Story to a Friend!
Letter to the editor
Link to this Story
Printer-Friendly Story View
---
--- Advertisments ---