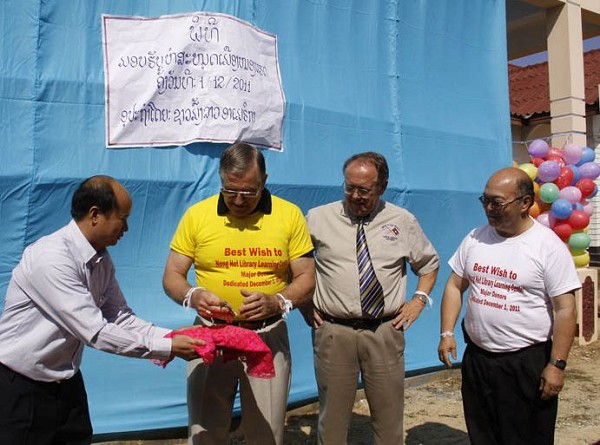 Founder Chuck Theusch, second from right, helps inaugurate Children's Library International in Nong Het, Laos.
---
FAR EAST TIES: Bay Veterans Foundation Mirrors Work of Drs Gale, Doll
Oriental Link Reinvigorated With Children's Library International
An amazing philanthropic link bridging decades since World War II has been created by the Bay Veterans Foundation's support of Children's Library International (CLI).
Army veteran Chuck Theusch, founder of CLI, accompanied Col. Roger Donlon, first Medal of Honor recipient in Vietnam, to Bay City in June to re-dedicate a restored Battery Park at Center and Jefferson downtown. At that time he acknowledged a gift from the Bay Veterans Foundation and explained how it was compounded to provide multiple benefits to the program.
This link also re-connects a century-old tie of Bay City with the Far East that began in 1913 when American diplomat Dr. Esson Gale of Bay City managed the Chinese Salt Administration that rescued the economy of that troubled country.
It continued after World War II when Dr. Louis Doll, later local educator and president of the Bay County Historical Society, helped rebuild the libraries of war-ravaged Japan for the U.S. administration of Gen. Douglas MacArthur.
Representing the Bay Veterans Foundation this weekend at a Children's Library International conclave in Milwaukee, Wisconsin, are Keith Markstrom, president, and Dr. Tim Eckstein, board member.
What is Children's Library International? The organization's website explains:
"In Countries scarred by war and poverty, Children's Library International is building a new vision of hope, one library at a time to the underprivileged children and communities so that they can have access to knowledge so that they can better their lives.
"Children's Library International builds Library/Learning Centers in various undeveloped countries around the world as living monuments to peace and goodwill among peoples. It explores and acts upon opportunities to improve the health, education and welfare of the individuals in the communities these facilities serve. Finally, it builds enduring personal relationships between and among all who become part of the library family, whether sponsors, travelers, government officials, war veterans, citizens, adults or children -- with the primary focus on children, their hopes, dreams and aspirations for their futures.
"Our core philosophy is truly American, the common man can get things accomplished and that?s where the real power to change things is. Our approach is not only very American; it's very Oriental too. It is the "little guy" that does big things. Added to this is the fact that we are here to stay and help, well after the building is built. Upon leaving each library and site after work is done, we have two important messages that we leave with the people: "we will be back" and this is only the beginning."
CLI has built two dozen libraries (average cost $35,000) in once war-torn Far East countries, including one in My Lai, Vietnam, site of the infamous 1968 murder of 504 unarmed civilians by U.S. troops commanded by Lt. William Calley. Lt. Calley was convicted of 22 counts of murder and received a life sentence, but served only three and a half years under house arrest. Three U.S. servicemen who tried to halt the massacre and protect the wounded were initially denounced as traitors by several U.S. congressmen, but were later recognized as the heroes of the incident.
The libraries have been lauded by the press as a demonstration of love among people in contrast to the horrors of war.
Librarian, historian, and teacher; archivist of the Historical Division of the Far East Command in Japan after World War II, Louis W. Doll was born in Chelsea, Michigan in 1911, later moving to Ann Arbor in 1922. He received degrees in history and library science from the University of Michigan. He entered the army in 1942 and served five years with the Japanese Language School. After the war, he was appointed archivist of the Historical Division of the Far East Command in Japan.
He moved to Bay City in 1953 becoming a professor of history at Bay City Junior College and later Delta College and headed the Bay County Historical Society. He retired in 1977. In addition to teaching, Doll also wrote books and articles about local Ann Arbor and Washtenaw County history. He died September 25, 2001.
Native of Bad Axe, Dr. Esson Gale, who began as a student interpreter from the University of Michigan in the U.S. Diplomatic Corps in China in 1908, played a vital role in China's history. Because of a working knowledge of salt from his family's Bay City lumber mills and his experience with warlords in the provinces, he was named Chief Foreign Auditor for the Salt Revenue Administration in four Yangtse provinces in China in 1913.
His work guaranteed that revenues from the salt tax were used to repay the $125 million Reorganization Loan of 1913. The old order of the mandarins had disintegrated as the republican revolution of Dr. Sun Yat Sen succeeded the Ching Dynasty that had been in power since 1644.
In 1927, having accomplished his fiduciary task in China, Dr. Gale returned to teach at the Universities of Michigan and California. In 1932 he returned to China until the onset of the Communists in 1947. Back in Bay City at last, he established an iconic home at 1900 Center Avenue filled with Oriental artifacts and wrote his memoirs, entitled "Salt for the Dragon," that were published by the Michigan State University Press in 1953. He died in 1975 and is buried in Elm Lawn Cemetery along with his wife, Annie Heron Gale.
---
---

Dave Rogers




Dave Rogers is a former editorial writer for the Bay City Times and a widely read,
respected journalist/writer in and around Bay City.
(Contact Dave Via Email at carraroe@aol.com)

More from Dave Rogers
---
Send This Story to a Friend!
Letter to the editor
Link to this Story
Printer-Friendly Story View
---
--- Advertisments ---