Consumers Energy Introduces New Smart Meters
July 26, 2016 Leave a Comment
By: Stephen Kent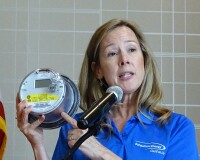 Kathryn Burkholder
Kathryn Burkholder
spoke to Rotary about the new smart meters being installed soon by Consumers Energy. This meter will move Michigan into the new generation of power by actively monitoring energy usage and reporting back to the company using cell phone technology. Where Consumers today gets a monthly picture of a customer's usage, the new meter will give hourly reports.
Among the many advantages of the new technology, the customer will be able to go on-line and check his usage in real time. "For example, you could buy a new energy efficient refrigerator. You check your usage on-line, then unplug the fridge for an hour. Check your usage again to see what you saved in that period."
The new detail readings will also allow Consumers to bill customers based on when they use power. Off-peak usage could be cheaper than the power used in the middle of the day.
Andy Rogers spoke to the benefits of the meter. When he bought his Volt electric car several years ago, Consumers installed this meter with his personal charging station. He says a whole group of Consumers techs were on hand to see how it worked. He was quite happy, in particular, the fact that Consumers charges that lower rate for power used in off-peak times.
For gas customers, a new gas meter will link to the electric meter and report usage through the same link.
In the event of a problem with the reporting technology, the meters will continue to record usage the old way as a backup.
Bay City Electric customers will not get the new meters at this time. The Bay City utility has purchased its power from Consumers since 1929 and does its own metering and billing.
Kathryn said that installers will soon be working throughout the state installing the new meters. She said that customers will receive mailings indicating this is happening. The installers will be wearing unique clothing, hats, and visible identification badges. If any customer is not sure the person is a consumers employee, they can call the company for confirmation.
---
CLUB NEWS and ANNOUNCEMENTS
The "
Running Dead
" fundraiser is getting into full swing.
Tara Welch
and
Chris Girard
were manning the table outside the meeting room to hand out the promotional tee-shirts that had been ordered. Be sure to pick yours up.
The Community Grants cycle is open. Applications may be made through the club website.
President Andrea
read a letter from
District Governor Cheryl
outlining a district training team that will travel to
Uganda
for two weeks in Mid-January. The trip is sponsored by clubs in this district. If you are interested in going, please see Andrea.
Vocation Day 2016
is been scheduled for November 1. Seven area schools will participate.
If you have not paid your July to December dues, please get that in. If you need another invoice, ask Steve Kent.
Current and past
DISTRICT DISPATCH
newsletters
MAY
be available on the District site shown in the LINKS section below. These are not always updated, but it's worth trying.
Frank Janca
was Sergent at Arms for the first time today. He had done his research and mentioned some of the history of the position. He also brought "ARMS". In this case, his wife
Kerry
had cut the arms off two old dress shirts and filled them with goodies. Frank used one as a prize for the question of the day and the others were part of the 50/50 drawing. Also,
Consumers
gave a $50 and a $25 gift certificate as 50/50 prizes!
| | |
| --- | --- |
| Sgt. Frank and his ARMS | Eric Jylha opens one of the ARMS |
---
DATES TO REMEMBER
October 8, 2016 ZOMBIE Run
November 1, 2016 Vocational Day
June 10-14, 2017 Rotary International Convention - Atlanta, Georgia, USA
www.riconvention.org/en/atlanta
---
Upcoming Programs
(See the official schedule at RotaryBayCity.org )
July 26, 2016
Smart Energy
Presented by
Kathryn Burkholder
of Consumers Energy
Aug 2, 2016
Leadership Bay County Renee Schwartz
, Bay Area Chamber, with
Angel Moore
and
Tara Welch
, class advisors, will give a brief overview of what LBC is all about and why we should encourage our local business members to take the class. Next class starts in September.
Aug 16, 2016
The YMCA and the Togetherhood Program. Joslyn Jamrog
Membership Director of the Dow Bay Area Family YMCA describes a project that is looking into strengthening our community with some local needs. Some of these projects are access to fresh and health food, city blight clean-up, and Senior Citizen house/property help.
Aug 30, 2016
Stylecomm
a community focused fashion show for the people of the Great Lakes Bay Region. Laura Horwath & Tosha Lijewski will about efforts to support our community in a unique way.
Sept 13, 2016> Growth in Downtown Bay City - Candace Bales
talks about the new businesses that are opening in Downtown Bay City and also the future development.

Rotary
is an intimate affiliation of carefully selected business and professional people,
having as its objective the promotion of high ethical standards in private, commercial
and civic life, and dedicated to the ideal that the basis of all worthy endeavor is unselfish service.
---
Current and past
DISTRICT DISPATCH
newsletters are available on the District site shown in the LINKS section below.


Rotary Bay City on Facebook!
Click on the Blue Facebook to visit us there.

Remember! Check attendance sheets at the front desk.
---
LINKS
---
---

Stephen Kent




Steve Kent and his family have lived in Bay City for 40 years. He is VP of Technical Services at MMCC which produces MyBayCity.Com. Kent is active in many Bay City civic organizations.

More from Stephen Kent
---
Send This Story to a Friend!
Letter to the editor
Link to this Story
Printer-Friendly Story View
---
--- Advertisments ---