Jamrog Speaks to Rotary About Dow Bay Area Family YMCA
August 16, 2016 Leave a Comment
By: Stephen Kent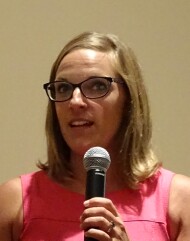 Joslyn Jamrog
Joslyn Jamrog
, Membership Director of the Dow Bay Area Family YMCA, spoke to Rotary about the many programs of the organization. Although most Rotarians are familiar with the Y, most of them know just selected areas and programs. The range of offerings was eye opening to many members.
Starting from the statement "We're not just a gym", Jamrog went on to talk about programs spanning areas from exercise to education, volleyball to volunteerism and preschool to preventive health. The Y is dedicated to youth development, healthy living, and social responsibility.
Through the Y's Strong Community Movement over $800,000 has been given back since December 2001. Over eighteen thousand people have been impacted and 976 youth scholarships have been given for YMCA memberships and programs.
Events like the "Heave Ho! Dodgeball Battle" on February 6 will kick off the next Pirates Festival . The goal will be to raise over $7,200 for Strong Communities. The Y expects 2,000 attendees and 300 participants. The Pirates Festival itself includes races,a Buccaneer Breakfast and Captain's Chicken Dinner plus many other events.
Jamrog also talked about the Y's "Strong Roots, Green Thumbs Community Garden" and their "Feed the Cause Membership Program". Both programs strive to bring food and better nutrition to families in the area. Since 2012, the "Host" programs in the summer and during the school year have served over 38,000 meals to kids who might otherwise not have regular meals.
Along with the traditional Y programs, such as swim lessons that have taught over 1,500 children and adults to swim, the Dow Bay Area Family YMCA lives up to that slogan "We're not just a gym".
For more information visit
ymcabaycity.org
---
CLUB NEWS and ANNOUNCEMENTS
Chris Girard
reported on the "
Running Dead
" fundraiser scheduled for October 8. The website and Facebook page for the site are up and running. T-shirts were sold recently but there are some extras if you are interested.
During Sargent at Arms
Eric Jylha's
Happy and Hard Luck Bucks,
Jim Griffiths
recalled some history of the Crapo building that is, hopefully, being restored soon. As the false front is removed Jim asked who remembered the attempts that were made to protect the public from pigeon droppings as the birds nested in the false front. Most people remembered the rubber snakes, some remembered electrified areas, and Jim mentioned screens. But few people remembered LSD-laced corn. Jim said he heard it but doesn't know if it is true. But some wag in the audience did say "well, it was the 60's after all".
Happy birthday to
Jerry Lewless
, who celebrated his 90th on August 14. Jerry has been a member of this club for 62 of those years. Jerry's son
Bret
, on the other hand, is just a kid, having been a member for a mere 23 years.
City Manager Rick Finn
gave an update on the approval of a "no wake" zone on the river around the Uptown development.
Dee Dee Wacksman
reminded to the next International Rotary Convention in Atlanta coming up next June.
The club notes the passing of
Jerry Woodcock
who died of cancer in Harlingen, Texas last week at age 73. Jerry was our Club President in the 1989-90 year and resigned from the club in 2002.
The Community Grants cycle is still open but the deadline is August 30, right around the corner.
Vocation Day 2016
is been scheduled for November 1. That's just over 2 months away. Seven area schools will participate. If you can, consider taking a student to shadow your job and company.
If you have not paid your July to December dues, please get that in. If you need another invoice, ask Steve Kent.
Current and past
DISTRICT DISPATCH
newsletters
MAY
be available on the District site shown in the LINKS section below. These are not always updated, but it's worth trying.
---
DATES TO REMEMBER
October 8, 2016 ZOMBIE Run
November 1, 2016 Vocational Day
June 10-14, 2017 Rotary International Convention - Atlanta, Georgia, USA
www.riconvention.org/en/atlanta
---
Upcoming Programs
(See the official schedule at RotaryBayCity.org )
Aug 23, 2016
RYLA Experience.
Another Rotary Youth Leadership Award winner will speak to the club about the experience. We will also have a Rotary International President video presentation.
Aug 30, 2016
Stylecomm
a community focused fashion show for the people of the Great Lakes Bay Region. Laura Horwath & Tosha Lijewski will about efforts to support our community in a unique way.
Sept 6, 2016> Central Michigan University Research Corporation President & CEO Erin Strang
will talk about the impact of CMURC in the Great Lakes Bay Region.
Sept 13, 2016> Growth in Downtown Bay City - Candace Bales
talks about the new businesses that are opening in Downtown Bay City and also the future development.
Sept 20, 2016> Tara Welch, Studio 23/The Arts Center Executive Director
, will talk about the 57 year old organization's new programs, exhibits and community efforts.
---
Current and past
DISTRICT DISPATCH
newsletters are available on the District site shown in the LINKS section below.


Rotary Bay City on Facebook!
Click on the Blue Facebook to visit us there.

Remember! Check attendance sheets at the front desk.
---
LINKS
---
---

Stephen Kent




Steve Kent and his family have lived in Bay City for 40 years. He is VP of Technical Services at MMCC which produces MyBayCity.Com. Kent is active in many Bay City civic organizations.

More from Stephen Kent
---
Send This Story to a Friend!
Letter to the editor
Link to this Story
Printer-Friendly Story View
---
--- Advertisments ---