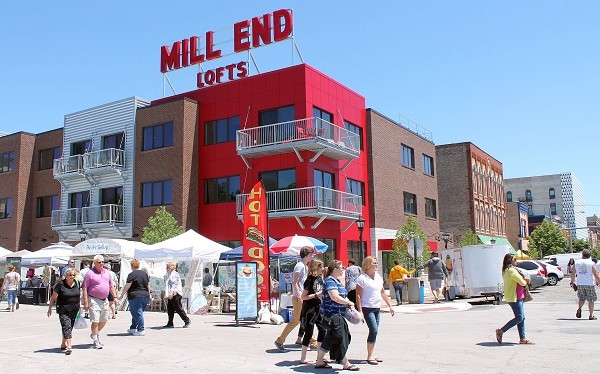 Mill End Lofts, at Center and Water, is noted in the housing report as an example of increased Bay City vitality. Photo by Diane Szczepanski
---
HOUSING PLAN: To Grow, Bay City Urged to Upgrade, Diversify Homes
Problem Solving Mapped for "Resilient Waterfront Community"
August 28, 2016 Leave a Comment
By: Dave Rogers
First, the good news for Bay City...
With nearly 1,000 classical architectural structures, Bay City has a powerful basis to market itself as a community of choice, states the "Report on Housing and Neighborhoods" just released by the Bay City Housing Commission.
In just over half a year since receiving a planning grant as "a resilient waterfront community," the city has a plan calculated to save it from facing the urban blight experienced by many Rust Belt communities.
There were heart-warming kudos...and encouragement, noting the "solvable nature of the city's current challenges."
"Between the late 1990s and today, the community has begun to rally, and impressively so. Revitalization of the downtown has begun, and the results show great promise. Such vigor owes much to the work of preservationists and visionaries in the community, and the decision to restore City Hall stands as a testament to the grit of Bay City and as a marker of the kind of stamina and vision needed in the coming years."
Then, of course, not unexpectedly, comes the bad news...
"Bay City's population peaked between 1955 and 1965 -- and has coasted ever since. Bay City now knows that it has more troubled, low age, low-skill households than it can support," concludes the report by Carlisle/Wortman Associates of Ann Arbor.
"The downside is that the more affordable a market is, the more bottom heavy the community becomes income and education-wise. In fact, only 16 percent of the population has a college education, severely imperiling the community's long-term economic prospects.
"There is a problem of too little confidence in the future, and addressing that requires a robust public sector role.
"No additional hemorrhaging of Bay City's middle class can occur if the city is to rebound."
And, the advice...
"Resolve that the problem to solve is not the problem of helping the needy with housing but stabilizing the city's failing housing market so that the city itself can recover.
"Stopping the downward slide of a population, curtailing disinvestment, stemming the decline of housing values, and strengthening the city's fiscal position should be the city's approach to housing."
But the process of thinning dilapidated homes and upgrading neighborhoods will be expensive and require patience, careful planning, and an intelligent community mindset.
"The real issue today is not how fast Bay City might reasonably claw back from its excess (housing) supply problem, but whether it is today the learning community it needs to be to reflect on earlier inaction and change course."
"How will the city respond to what is an existential challenge?" is a key question posed by the report writers, identified as czbLLC.
The plan recommends greater public investment to acquire and demolish key properties in designated neighborhoods and implement a pride-based residential leadership program. Those goals will require an estimated $7 million investment over five years from 2018 to 2023.
"Today's work is a matter of catching up on decades of deferred maintenance and lost equity -- of bringing into equilibrium a city of just over 30,000 that was built for 60,000 in an entirely different economy."
Faint praise was offered in the report:
"Bay City is not grappling today with overwhelming distress, disinvestment and abandonment as some other cities in Michigan are, but neither is it enjoying strong demand, rising quality of life and market strength."
The rubber may meet the road when residents are perhaps asked to approve a Housing Market Stabilization Levy (HMSL) to raise about $750,000 a year totaling $3,750,000 over the five years.
"Given the city's rising poverty rates and limited resources, it will be increasingly important for the city to focus its resources in a strategic manner," the report advises.
"Stimulating existing owner reinvestment of the owner's own resources is the best way to obtain the highest leverage ratio possible."
A little background...
On February 3, 2016, The Michigan Association of Planning (MAP) announced that Bay City was a recipient of a planning grant. MAP is providing direct financial assistance in the form of cost-share grants to governmental entities to prepare master plans, updates, plan elements or subarea plans that integrate best practices and policies for improving community resiliency. Financial assistance for this project is provided, in part, by the Michigan Coastal Zone Management Program, Office of the Great Lakes, Department of Environmental Quality, under the National Coastal Zone Management Program, through a grant from the National Oceanic and Atmospheric Administration, and the U.S. Department of Commerce.
City officials moved quickly to meet with the consultants, launch the planning process and to gather information and opinions from interested residents in a May 25 meeting.
In an especially insightful aspect, the study tracked Bay City's growth from the post-Civil War 1870s. Four phases were identified: 1880-1910 - city building; 1910 - 1960, institution building; 1960 - 2010, coasting; and 2010 on, reckoning.
It also did crucial comparisons with Saginaw and Midland. "Saginaw saw its population roughly double between 1910 and 1960, (from 50,510 to 98,265) and then shrink by half between 1960 and 2014. Midland, home to just 2,527 people in 1910 boomed to nearly 42,000 by 2014.
By 1960, Bay City reached a peak population of 53,604, making it home to approximately 20,000 households, mainly in single family homes or within apartment units within subdivided houses from an earlier era.
"Bay City has not adapted to the reality" of economic shifts since 1960 when a high school education was sufficient. "In fairness, neither have hundreds of other American cities, clinging as they have to a phantom hope that manufacturing-reliant on low levels of formal education and training -- the bulwark of America's pre-silicon economy -- will return."
New designations are given eight discrete neighborhoods: North End, West Park, Trinity-Veterans, Center Bay/Downtown, McKinley Manor, Carroll Park, Fremont and SODO (South End).
A public meeting will be held Monday, Aug. 29 at 6:30 p.m. at City Hall to review the housing report.
---
---

Dave Rogers




Dave Rogers is a former editorial writer for the Bay City Times and a widely read,
respected journalist/writer in and around Bay City.
(Contact Dave Via Email at carraroe@aol.com)

More from Dave Rogers
---
Send This Story to a Friend!
Letter to the editor
Link to this Story
Printer-Friendly Story View
---
--- Advertisments ---