Rotary International President Addresses Rotarians via Video
RYLA Student Kristi Falardeau Also Speaks To Club
August 23, 2016 Leave a Comment
By: Stephen Kent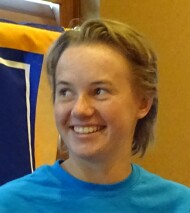 Kristi Falardeau
Two weeks ago the club heard from a group of
RYLA
campers. Today
Kristi Falardeau
, the remaining student spoke to the club. Kristi showed slides of her experience and talked about the benefits of the Rotary Youth Leadership Awards camping experience. As other RYLA students had said, camp gave Kristi a whole new view and a chance to meet other people and make lifelong friends.
Rotary also helped her with her work at Camp Invention, where she was a counselor. That week long camp teaches elementary students to invent. Kristi shows slides a little robot cricket that her campers invented and built.
When asked what RYLA camp did for her, Kristi said "I'm a very shy person", which was hard to imagine given the excellent talk that she gave. She went on to say that RYLA taught her that "I don't have to be shy, I can come out and be myself".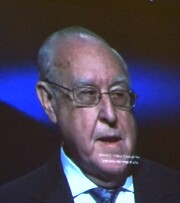 RI President John Germ
In a second half of the program Rotarians viewed a video of a speech given by
Rotary International President John Germ
. "Are you ready for today?" said Germ. "Well I'm not." He went on to say today was made to start learning and working together. "Great enterprises don't start with great opportunities, they begin with great opportunities. They just sometimes look small."
Germ talked about the potential of Rotary and how Rotarians can invite others to participate in the great opportunities presented by the organization. "We've been given an opportunity to motivate, to inspire, and direct out clubs to better, more effective and more ambitious service.
He reviewed the work of the Rotary Foundation. He spoke of the efforts to bring clean water to everyone, the work in literacy and education, and efforts to erricate polio world wide. In some countries parents worry about the risk of their children being erricate by polio. "Next year they won't have to worry about that because we will have vaccinated all of those children against polio."
Germ charged Rotarians to get the word out in clubs and communities about what Rotary is and what we do. "Nobody should ever ask What is Rotary?".
---
CLUB NEWS and ANNOUNCEMENTS
The club met in the Doubletree's restaurant today due to a scheduling error. The room was set up differently, however, and seem to work better.
President Andrea had some bad news in that two cases of polio showed up in Nigeria recently. That's a slight setback but one that will be overcome. Rotary is still on track to completely wipe out the disease soon.
Chris Girard
reported on the "
Running Dead
" fundraiser scheduled for October 8. The committee will meet next week before the regular meeting. If you can help, please come to that meeting.
Dee Dee Wacksman
spoke about the International Rotary Convention in Atlanta coming up next June.
Sargent at Arms
Eric Jylha's
did his usual Happy and Hard Luck Bucks. His question of the day was addressed to the entire back half of the room. Mentioning a number of "firsts" that occurred on August 23, Eric asked "what was the year of the very last stage coach robbery in Michigan." Saying the clues were in the crime, he said the criminal "killed a bank manager, and stole a $10 gold piece, a $5 bill, a pocketbook, and a gold pocket watch." You can figure it out.
The Community Grants cycle closes on August 30. There is still some time if you know anyone who should apply.
Vocation Day 2016
is been scheduled for November 1 and seven area schools will participate.
If you have not paid your July to December dues, please get that in. If you need another invoice, ask Steve Kent.
Current and past
DISTRICT DISPATCH
newsletters
MAY
be available on the District site shown in the LINKS section below. These are not always updated, but it's worth trying.
---
DATES TO REMEMBER
October 8, 2016 ZOMBIE Run
November 1, 2016 Vocational Day
June 10-14, 2017 Rotary International Convention - Atlanta, Georgia, USA
www.riconvention.org/en/atlanta
---
Upcoming Programs
(See the official schedule at RotaryBayCity.org )
Aug 30, 2016:
Stylecomm
a community focused fashion show for the people of the Great Lakes Bay Region. Laura Horwath & Tosha Lijewski will about efforts to support our community in a unique way.
Sept 6, 2016:
< b>Central Michigan University Research Corporation President & CEO Erin Strang will talk about the impact of CMURC in the Great Lakes Bay Region.
Sept 13, 2016:
Growth in Downtown Bay City - Candace Bales
talks about the new businesses that are opening in Downtown Bay City and also the future development.
Sept 20, 2016
Tara Welch, Studio 23/The Arts Center Executive Director
, will talk about the 57 year old organization's new programs, exhibits and community efforts.

Rotary
is an intimate affiliation of carefully selected business and professional people,
having as its objective the promotion of high ethical standards in private, commercial
and civic life, and dedicated to the ideal that the basis of all worthy endeavor is unselfish service.
---
Current and past
DISTRICT DISPATCH
newsletters are available on the District site shown in the LINKS section below.


Rotary Bay City on Facebook!
Click on the Blue Facebook to visit us there.

Remember! Check attendance sheets at the front desk.
---
LINKS
---
---

Stephen Kent




Steve Kent and his family have lived in Bay City for 40 years. He is VP of Technical Services at MMCC which produces MyBayCity.Com. Kent is active in many Bay City civic organizations.

More from Stephen Kent
---
Send This Story to a Friend!
Letter to the editor
Link to this Story
Printer-Friendly Story View
---
--- Advertisments ---