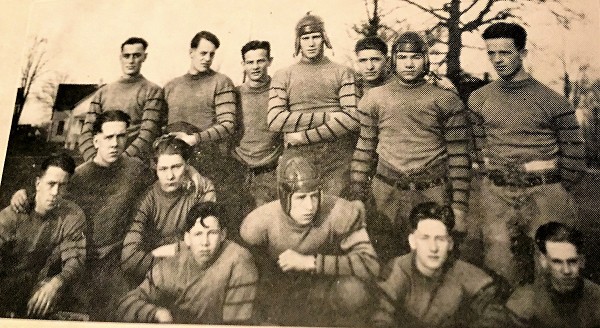 The first Central High grid team of Coach Garland Nevitt rode in taxicabs to its first game, a loss to Bad Axe in 1922, but then started a winning tradition.
---
WOLVES HOWL: Winning Bay City Gridiron Tradition Established Early
Central High Football Celebrates 500th Win, Fraser's 157th
September 1, 2016 Leave a Comment
By: Dave Rogers
Just how did Bay City Central football amass 500 victories over the 94 years of the school's storied existence?
It wasn't easy. And much of the history remains a mystery awaiting more research.
With last Friday's 13-12 win at Swartz Creek, Coach Morley Fraser's Central teams have recorded 157 victories, moving him close to the legendary Elmer Engel, who had 165 victories in 22 years at the helm.
The 500th win by Central teams puts it 12th on the list of Michigan high schools to reach that golden gridiron achievement level.
Going back to the earliest days of Bay City football, in 1908 East Bay City was massacred 160-0 by Detroit University School. That humiliating defeat must have stung the town's leaders into action, for just two years later, in 1910, Bay City Eastern showed that local lads really could play football, winning the state championship by outscoring opponents 306-0.
The following year, the Eastern Indians went 9-0 under Coach Gordon Carver, although there is no historical information about its standing in the state.
Eastern and Western had been charter members of the Saginaw Valley League in 1904, a relationship that has continued until today.
Central High, its Romanesque dome looming over Columbus Avenue, was established in 1922 and the town leaders seem to have searched for the best football coach available. They found in Mt. Pleasant one Garland Nevitt, a full-blooded 26-year-old Delaware Indian, a professional baseball catcher who had been coaching the Central Michigan Normal School in three sports, football, basketball, and baseball.
Nevitt actually coached Eastern in 1921. Combining talent from Eastern and the Western High Cowboys, he quickly earned the sportswriters' moniker "Chief," helped some of his "boys" overcome some academic shortcomings and headed, in taxicabs no less, for an afternoon road contest at Bad Axe.
Bad Axe was no slouch, having challenged Saginaw Eastern to a post-season game for the Saginaw Valley championship the previous year, a showdown the Saginaw's declined.
Losing that first game 12-6 to the Hatchets didn't deter Nevitt, who finished the season on a winning note with four wins, three losses, and a tie.
Mt. Pleasant was conquered 32-6 in the first home contest of 1922, followed by a 6-6 tie with Port Huron, a 6-0 loss to Detroit Eastern and a 69-6 walloping of Owosso. Saginaw took the Indians into camp 7-0, the Bay Citys beat Arthur Hill 12-6 and capped the season with a 12-7 victory over Detroit Central.
Known in the early days as the Nevittmen, Central later became the purple and gold, then the Purple Raiders for a few years. The nickname Wolves seems to have come on in 1940 while Elson Hood was coach and Walter Olson was athletic director.
Fast forward to modern times:
The come-from-behind 13-12 victory at Swartz Creek in the first game of the 2016 season put the Wolfpack over the top, making the school the 12th in Michigan to achieve the 500 game win mark while recording 320 losses and 31 ties.
Current Coach Morley Fraser, with 157 victories as the mentor of the Wolves for 31 years, is closing in on the legendary Elmer Engel, with 165 victories in 22 years. Together their coaching wins equal nearly 65 percent of the all-time school win record.
Fraser was inducted into the Michigan High School Football Coaches Hall of Fame in 2011 and the Bay County Sports Hall of Fame in 2013.
Teams of Garland Nevitt, the first football coach at Central beginning in 1922, won two state championships, in 1928 with an 11-0 record, tied with Muskegon which had an identical mark; and 1929 with a 6-0-3 record, tied with Benton Harbor.
Nevitt had come to Bay City in 1921 to coach the pro football Independents. Previously he had been disciplinarian at the Mt. Pleasant Indian School and coach of football, basketball, and baseball at Central Michigan Normal School.
A graduate of Haskell Institute, Lawrence, Kansas, Nevitt played baseball professionally for the Battle Creek Crickets and was to have been traded to the Kansas City Americans team until the deal fell through. He was noted in the press as the only vegetarian, non-coffee drinking ballplayer in the Southern Michigan League.
Nevitt actually had first come to Bay City in 1919 as head linesman on a refereeing crew for the Eastern - Western Thanksgiving game at Clarkson Field. The Western Cowboys school was located on Wenona and John on a site now occupied by the Allen Medical Clinic.
Nevitt stayed at Central for 13 years, long enough to see the iconic stadium now named for Elmer Engel built in 1925 under Bay City Chamber of Commerce leadership. The impetus for construction of the stadium came when crowds wishing to see the 1924 game against Flint Central overwhelmed the muddy field in back of the school.
Andy Karpus, later a pro quarterback for 15 teams, and Al Baker, who played for Michigan State, led Central to two undefeated seasons, 1930 and 1931. The last year was crowned by a Thanksgiving victory over Chicago's Bowen High.
Bill Hewitt was undoubtedly the best player under Nevitt's tenure. After graduating in 1927 after a somewhat mediocre one-year high school career, Hewitt stayed as an assistant to Nevitt in 1928, when the Wolves went 11-0 and shared the state title. Then he went on to build his skills at the University of Michigan, where he missed most of his junior year with a broken ankle, nonetheless being hired by the Chicago Bears where he played both ways at end and tackle.
The last pro gridder to play without a helmet, Hewitt was so fast off the line on the defense that he became known as "the Offside Kid" even though it was just his speed that made it appear he was offsides. Hewitt is the only Bay City native in the National Pro Football Hall of Fame.
Nevitt departed under mysterious circumstances, along with the school principal, both of whom were broomed by the school board at the same time. Only some vague rumors of "irregularities" were cited as the reason for the firings. However, the grid team's record in 1935 was a disappointing 1-6-1.
The online school history states: "In 1950, Elmer Engel took over the reins of a team that had lost 27 consecutive games and worked them to a 3-6 record. For the next 23 years, no Central varsity football team lost more than three games all year as Engel led BCC to five Class A state football championships. Three teams went undefeated and Engel's 165-34-8 record at Central guaranteed him a spot in the Michigan Coaches Hall of Fame."
Fraser, attracted to Central by the Engel legend, has persevered through enrollment losses but has kept his team viable nonetheless.
So now, under Morley Fraser, the Bay Citys, the Nevittmen, the Purple and Gold, the Purple Raiders and the Wolves are in elite company -- 500 wins and more to come on the horizon.
---
---

Dave Rogers




Dave Rogers is a former editorial writer for the Bay City Times and a widely read,
respected journalist/writer in and around Bay City.
(Contact Dave Via Email at carraroe@aol.com)

More from Dave Rogers
---
Send This Story to a Friend!
Letter to the editor
Link to this Story
Printer-Friendly Story View
---
--- Advertisments ---