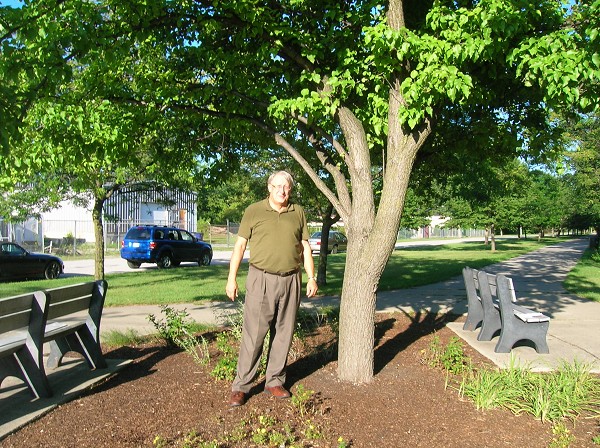 Vaughn Begick heads up a crew from the U of M Club of Bay City.
(MyBayCity Photo by Pati LaLonde)
---
Bay City in Bloom offers a pat on the back to its unsung heroes
September 9, 2016 Leave a Comment
By: Pati LaLonde
Since 2005 Bay City Bloom teaming up with civic organizations such as the Bay County Master Gardeners, the Bay City Garden Club, and the Northeast Rosarians have been giving one homeowner, one business, and one institution a Beautification Award for going above and beyond in the curb appeal department.
This year the group decided to honor what could be called the unsung heroes - those men and women who volunteer their time and energy keeping Bay City's pocket parks beautiful through the growing season - something they have been doing since 2004.
"We modeled it after Dr. David Burk's parks in the Arboretum," said Sita Compton, a member of the non-profit group. HHe teamed up with Dick Somalski (from Bay Landscaping). We fashioned our program after his and expand it into the city and townships."
When Compton, along with Gene Gillette, Terry Moultane, and Judy Wisniewski, threw out the idea of Adopt-A-Park to area businesses and civic groups, they jumped on board.
Between the City of Bay City and Bay City in Bloom parks along the Railtrail, in Downtown Bay City and on Midland Street - 33 in all - were landscaped with trees and bushes, and mulch. Some of the trails also have benches. After that, it was up to each group to add to what was there, along with keeping it weed free.
"It's amazing how the volunteers have kept them up," said Compton. "Most of the parks don't have water. It has to be hauled in." The next time you are riding a bike or walking around the county, stop and take a look at what can be done with a group of volunteers dedicated to keeping the city beautiful.
There are still more orphan parks out there. Anyone interested in adopting one may call Compton at 989-280-1530.
Wade Trim --
One of the first groups to jump on board, employees have taken care of three pocket parks along the Southend section of the Rail Trail off Michigan Ave.
When the Railtrail was put in place, Darwin Baranski and his parks crew brought in bushes, trees, and benches, then employees of took over, adding perennials that are pretty much self-sufficient, keeping the area clean and free of weeds.
The hardest part for the group is hauling the water it takes to keep the area lush throughout the growing season.
While employees stop in during the growing season, there are two big clean ups that bring the gang out, says Matt Dubs, who has headed up the crew for the past seven years.
"We are out here twice a year to trim, clean up trash," said Dubs. "We try to stay active in the community. We also pick up trash along two miles of I-75 as part of the Adopt a Highway program."
Find out about Wade Trim at http://www.wadetrim.com.
Alpha Delta Kappa --
For the past 11 years, members of this sorority of active and retired female teachers have been keeping the small park around the Midland Street Commercial District historical sign, lush and blooming.
Led by Diane Mindy-Briggs, the group had a tall order to fill. Their small plot also contains electrical boxes for the area.
"When we got it, it was overgrown," said Mindy-Briggs. "Our partners brought in the big rock, and members contributed hosta plants from their gardens."
With a hardscape and not much shade, water is also an issue here.
"We carry 15 to 20 gallons of water a couple times a week," Mindy-Briggs said. "We are out here every week from May through September."
This group is definitely in the unsung heroes department.
They also award scholarships through the Bay Area Community Foundation, donate to the Bay Area Women's Center, the Santa House, Food of Faith and Do-All.
Learn about the sorority at http://www.alphadeltakappa.org.
U of M Club of Bay City --
It was an orphan park, says Compton of the site along the Railtrail just off Johnson Street.
"There were lots of old shrubs, the trees were so overgrown you could hardly see the benches," she said.
In 2010 U of M alumni stepped up and took over the maintenance of the park.
With new dirt from the city, the group set about putting their mark on the place with what else, a blue and gold motif with Russian Sage, Ageratum, coreopsis, and Knock Out Roses, along with annuals such as marigolds.
"We have eight to 10 people in a work session," said Vaughn Begick, a member of the club. "We have a spring work day. We clean and fix up the park and plant at the end of May."
Like all the other parks, it was constantly watered through the summer heat that kept this garden growing.
Learn about the club at http://clubs.alumni.umich.edu/baycity.
About Bay City in Bloom -- Bay City in Bloom is a non-profit organization formed in 2002, with a vision of "Planting Pride in Our Community," through the adopt-a-park program, beautification awards to residents, businesses and a non-profit who go above and beyond in curb appeal, and a litter campaign to keep the city clean. Check them out at http://www.baycityinbloom.org.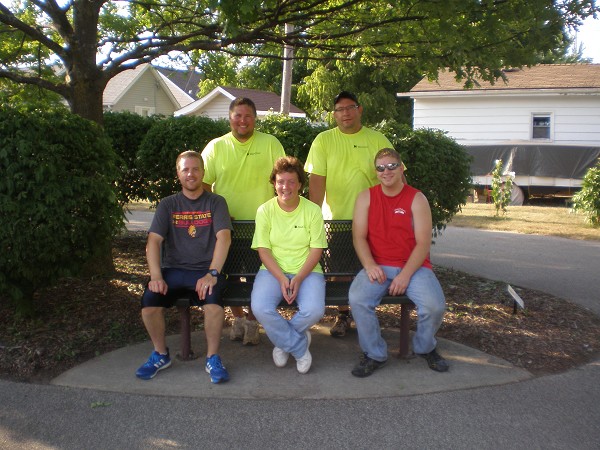 The Wade Trim gang of gardeners - back row Matt Dubs and Tim Ruggles, front row Brad Otten, Jennie Benford, and Tom Wheeler.
Photo by Pati LaLonde
© MyBayCity.com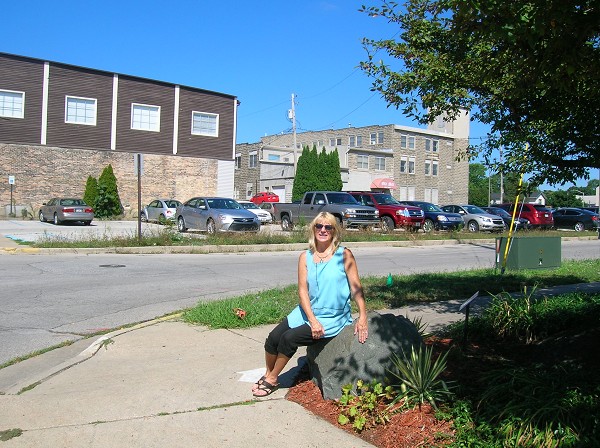 Diane Mindy-Briggs shows off Alpha Delta Kappa's pocket park on Midland Street
Photo by Pati LaLonde
© MyBayCity.com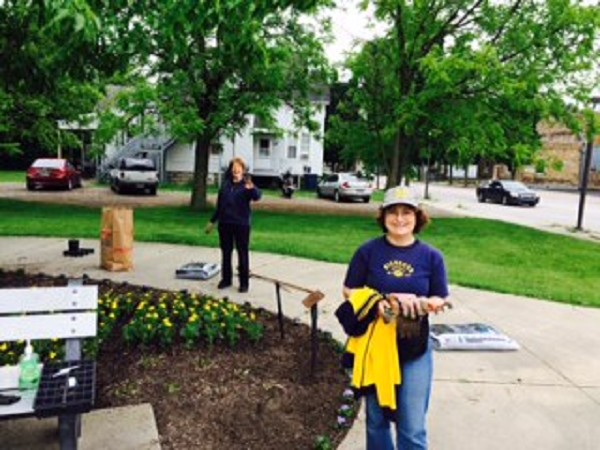 Diane Roy and Margie Begick do clean up on U of M Club of Bay City pocket park on Johnson Street
Photo by Pati LaLonde
© MyBayCity.com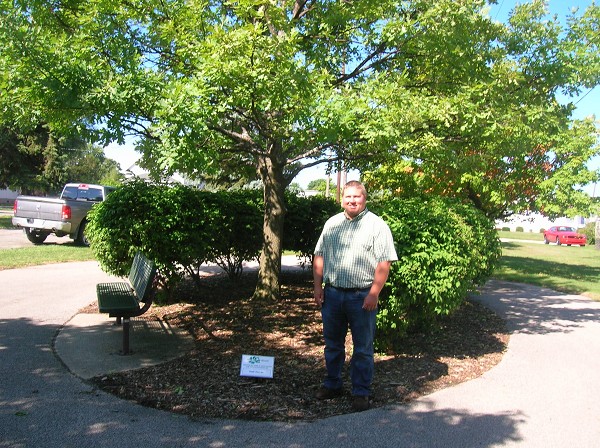 Matt Dubs coordinates efforts for Wade Trim's three pocket parks.
Photo by Pati LaLonde
© MyBayCity.com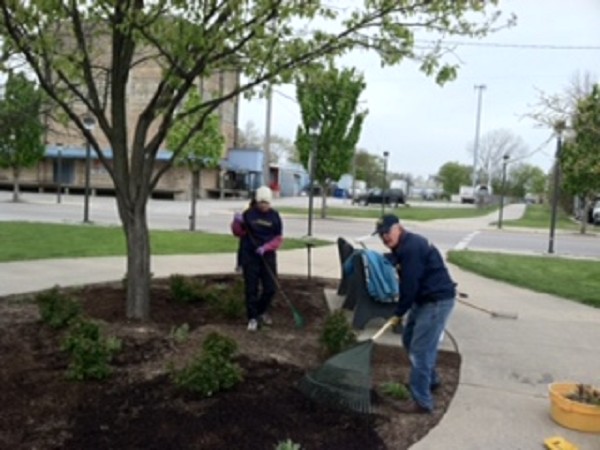 Harold Miller and Ethel Birchler from U of M Club of Bay City get the Johnson Street pocket park ready for summer.
Photo by Pati LaLonde
© MyBayCity.com
---
---

Pati LaLonde




Pati is a freelance writer with experience in all things pertaining to Bay County, Michigan.

More from Pati LaLonde
---
Send This Story to a Friend!
Letter to the editor
Link to this Story
Printer-Friendly Story View
---
--- Advertisments ---