CMUrc Presented to Rotary
September 6, 2016 Leave a Comment
By: Stephen Kent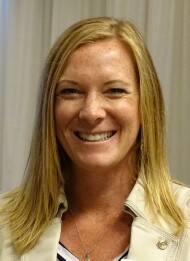 Erin Strang
Central Michigan University Research Corporation President & CEO Erin Strang
spoke to the Club about the impact of
CMURC
in the Great Lakes Bay Region.
"When I first got into this industry I had to explain to people we weren't working with chickens. We're talking about incubating businesses." CMURC works with people who have an idea or concept of a business but have no idea where to get started. "We are here to bring businesses together, to make connections."
CMURC is a 501c(3) organization. They are separate from the University but very closely connected. In the early 2000 time frame, the Michigan Economic Development Corporation began to connect universities with communities to move intellectual talent within the area. That led to the creation of prosperity zones throughout the state. CMURC covers area five.
Erin talked about the success of the program citing a number of statistics and point out some of the companies and products that have grown out of the program. She described the "High and Tight" project in some detail. Thought up by a local football coach, the product is a sensor equipped football that produces an audible tone when the quarterback hold and throws the ball properly. "I could tell a player how to do it, but I had no feedback that it was being done right." The tones give immediate and accurate feedback to both coach and player.
Several initiatives were described including the "Passport Program" which works in coordination with an area's local Chamber of Commerce. CMURC also has a 300-acre "smart zone" district on the south side of the CMU campus. Similar areas are coming with a 35-acre site at Uptown Bay City and the SCRC Marketplace in downtown Saginaw.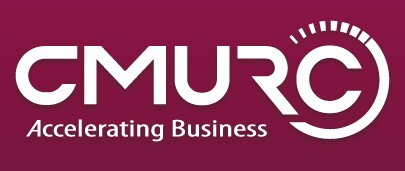 Erin showed three short YouTube promotional videos.
More information, and links to the videos can be found on the CMURC web site at
cmurc.com
---
CLUB NEWS and ANNOUNCEMENTS
The board meets this week
September 13 at 11:00 before the regular meeting.
Everyone is welcomed.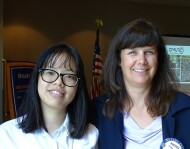 Soo Jung Kim and Andrea
Andrea Hales
introduced our new exchange student,
Soo Jung Kim
, who arrived from South Korea last week. Barb Behmlander and her husband are the host family for the first part of her stay.
Lee Newton
, chair of the club's World Polio Day activities, said that RI's World Polio Day is Monday, October 24. Mentioning some of the programs and activities our club has done in earlier years, Lee said that this year we will have a good natured competition with the morning club to see which club can raise the most money per member by October 24. Our club goal will be $1,000 total. On the evening of the 24th, Mike Bacigalupo has arranged for the State Theatre to present the live feed of the RI event on the big screen.
Chris Girard
updated the club on the "
Running Dead
" fundraiser scheduled for October 8. He asked for sponsors to contact him or the committee for participation.
Brenda Scramlin
is the volunteer coordinator for the event.
Trevor Keyes
noted that Vocation Day will be November 1. Volunteer companies are needed to host students as they "job shadow". A signup form is on the club website as a link under the YOUTH menu heading. An e-mail was recently sent to members with that link.
Deb Lutz
still needs a few members to collect lunch money and sell 50/50 tickets at the door for the first quarter of next year. See Deb if you'd like to volunteer.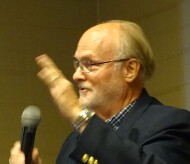 Jim Griffiths
Sargent at Arms
Jim Griffiths
opened his segment by noting that he had overheard a conversation about Toledo, Ohio while in the lunch line. He went on to say "many of you may not know that John Denver wrote a song about Toledo". To everyone delight, he then proceeded to "sing" a rendition of that song. When the audience calmed down, Jim went on with the normal "Happy and Hard Luck Bucks".
If you have not paid your
July to December dues
, please get that in. We'd like to close out this cycle before it's time to send out the next six month invoices. If you need another invoice, ask Steve Kent.
Current and past
DISTRICT DISPATCH
newsletters should be available on the District site shown in the LINKS section below.
---
DATES TO REMEMBER
October 8, 2016 ZOMBIE Run
October 24, 2016 World Polio Day.
Live feed of the RI program will be shown at the State Theatre.
November 1, 2016 Vocational Day.
Seven area schools will participate.
June 10-14, 2017 Rotary International Convention - Atlanta, Georgia, USA
www.RotaryConvention2017.org
OR
www.RIConvention.org
Dee Dee Wacksman, District Chair
---
Upcoming Programs
(See the official schedule at RotaryBayCity.org )
Sept 13, 2016:
Growth in Downtown Bay City - Candace Bales
talks about the new businesses that are opening in Downtown Bay City and also the future development.
Sept 20, 2016
Tara Welch, Studio 23/The Arts Center Executive Director
, will talk about the 57 year old organization's new programs, exhibits and community efforts.

Rotary
is an intimate affiliation of carefully selected business and professional people,
having as its objective the promotion of high ethical standards in private, commercial
and civic life, and dedicated to the ideal that the basis of all worthy endeavor is unselfish service.
---
Current and past
DISTRICT DISPATCH
newsletters are available on the District site shown in the LINKS section below.


Rotary Bay City on Facebook!
Click on the Blue Facebook to visit us there.

Remember! Check attendance sheets at the front desk.
---
LINKS
---
---

Stephen Kent




Steve Kent and his family have lived in Bay City for 40 years. He is VP of Technical Services at MMCC which produces MyBayCity.Com. Kent is active in many Bay City civic organizations.

More from Stephen Kent
---
Send This Story to a Friend!
Letter to the editor
Link to this Story
Printer-Friendly Story View
---
--- Advertisments ---