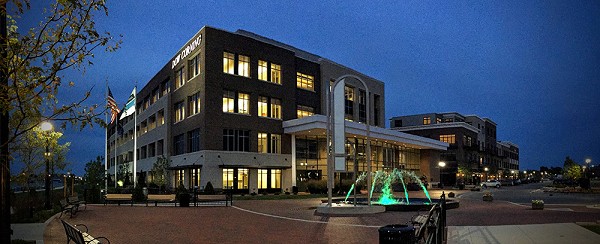 Uptown now is included in a program that aims to give entrepreneurs and businesses across the region better access to growth and job creation tools
---
SMART ZONES: Uptown Bay City, Saginaw Joining Business Incubator Program
September 11, 2016 Leave a Comment
By: Dave Rogers
Uptown Bay Bay City has joined the elite list of 15 Michigan business development hotspots linked to prosperity zones.
And a site in downtown Saginaw also will soon be added.
Uptown now is included in a program that aims to give entrepreneurs and businesses across the region better access to growth and job creation tools that have the power to boost local economies.
The new development was explained by Central Michigan University Research Corporation(CMURC) President & CEO Erin Strang who spoke to the Rotary Club of Bay City last week about the impact of CMURC in the Great Lakes Bay Region.
Rotary Secretary Steve Kent reported on her comments to the club.
"When I first got into this industry I had to explain to people we weren't working with chickens. We're talking about incubating businesses." CMURC works with people who have an idea or concept of a business but have no idea where to get started. "We are here to bring businesses together, to make connections."
CMURC is a 501c(3) organization. They are separate from the University but very closely connected. In the early 2000 time frame, the Michigan Economic Development Corporation began to connect universities with communities to move intellectual talent within the area. That led to the creation of prosperity zones throughout the state. CMURC covers area five.
Erin talked about the success of the program citing a number of statistics and point out some of the companies and products that have grown out of the program. She described the "High and Tight" project in some detail. Thought up by a local football coach, the product is a sensor equipped football that produces an audible tone when the quarterback hold and throws the ball properly. "I could tell a player how to do it, but I had no feedback that it was being done right." The tones give immediate and accurate feedback to both coach and player.
Several initiatives were described including the "Passport Program" which works in coordination with an area's local Chamber of Commerce. CMURC also has a 300-acre "smart zone" district on the south side of the CMU campus. Similar areas are coming with a 35-acre site at Uptown Bay City and the SCRC Marketplace in downtown Saginaw.
The Central Michigan University Research Corp. board of directors voted to fund an expansion that will establish new facilities in Bay City and another as yet unnamed location within the Great Lakes Bay Region. Details on the second city and buildings in both locations will be finalized in the coming months.
"Developing community partnerships that improve the quality of life and strengthen communities is one of our priorities at CMU," said George E. Ross, president of CMU and chair of the CMURC board of directors. "This facility will bring CMURC's expertise, resources, and pipelines, but also CMU, directly to Bay City and other communities."
CMURC is a business accelerator headquartered in the Mount Pleasant SmartZone adjacent to CMU. The accelerator is a nonprofit created as part of a Michigan Economic Development Corp. initiative is charged with bringing together experts from higher education and other sectors to help startups or existing businesses grow and create jobs. The MEDC has recognized CMURC as one of the top SmartZone business accelerators in the state.
Like the Mount Pleasant facility, CMURC's two new spaces will serve as hubs to connect entrepreneurs to each other and the tools they need. Staff work with local businesses, chambers of commerce, economic development organizations and Central Michigan University to harness and make available the intellectual, technological and material resources that help businesses thrive.
"We're excited about the opportunity to guide the development of businesses that will boost the local tax base, create jobs and, ultimately, make our communities more vibrant," said Ms. Strang.
More than 75 entrepreneurs and businesses are members of CMURC through its Right Choice, Exchange, and Passport programs. Members include CMU professors, college students and other community members from Isabella and surrounding counties looking to move their initial business ideas forward. Established companies also leverage the workspace as a remote office or seek CMURC's guidance to reach the next step in their growth.
Services range from assistance with business plan development, commercial assessments, connections to resources for prototype development, crowdfunding platform access and networking opportunities with fellow members. CMURC business development managers work with individuals and companies to tailor the experience to their needs.
"We have created scalable programs to serve the region, but this expansion will allow us to better serve entrepreneurs and make all that CMURC has to offer even more accessible," said Strang.
###
---
---

Dave Rogers




Dave Rogers is a former editorial writer for the Bay City Times and a widely read,
respected journalist/writer in and around Bay City.
(Contact Dave Via Email at carraroe@aol.com)

More from Dave Rogers
---
Send This Story to a Friend!
Letter to the editor
Link to this Story
Printer-Friendly Story View
---
--- Advertisments ---