DDA Executive Speaks to Rotary on Downtown Bay City
September 13, 2016 Leave a Comment
By: Stephen Kent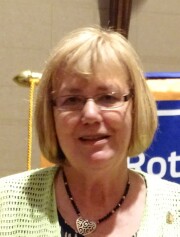 Candace Bales
Candace Bales
, Director of the Downtown Management Authority (DDA), spoke to Rotary about the recent growth in Downtown Bay City. She began by saying that a number of years ago "the Bay City Commission was pretty darn smart" when they approved the DDA. "That's not an automatic", she said, "that's an option that a community has because it has to do with tax money and special assessments".
Among the many projects, some of the most exciting include the restoration of the Crapo building downtown and another building across from Old City Hall. Fortunately, the original facade of both buildings have been preserved under false fronts. With those coming down the old beauty will shine through again.
Picture after picture showed the improvements downtown. Old building exteriors restored new shops and businesses, street celebrations, shows, and events. Rotary Park, Battery Park, the restored City Hall illustrated examples of civic improvements. Artist renderings of restored Bay City Times, Crapo, 811 Saginaw St. Buildings such as the old Mill End property showed what can be done when a building can't be saved. And the old Holiday Inn is taking on an entirely new life with a total makeover.
Any discussion of downtown will, of course, include the spectacular development of Uptown, which will include yet another hotel. With three modern hotels, plus the convention center downtown, new events are expected.
New, small business is one key to any economic plan. People can live, work and shop in downtown without commuting great distances. Young, college-educated, talented and creative people choose creative places to live. The presence of art, culture, theater, music, restaurants, cafes, libraries and green spaces all contribute to this feeling.
"Between history and the water, this really is our foundation", said Bales. Ten years ago the city started work on a master plan. With much of the riverfront work down, the city is currently looking at the master plan again. The next phase will continue the growth and improvements that are taking Bay City into the future.
---
CLUB NEWS and ANNOUNCEMENTS
The Rotary board met today. Among the usual business items was approval to continue the club's
Chamber of Commerce
membership.
In the event of weather
or other problems, the Executive Committee can cancel a meeting or event. Should that be done, an effort will be made to e-mail the membership. Also, the public website will include a notice of the cancellation on the front page. Members are advised to look there if circumstances indicate a possible cancellation.
Lee Newton
gave an update on Rotary's plans for World Polio Day. He reminded members of the live stream event at the Monday evening, October 24, at the State Theatre. Lee also added some "Polio 101" facts, as he will do each week. Remember, our club is in a good natured competition with the morning club to see which club can raise the most money per member by October 24. Our club goal is $1,000, which we are well on the way to.
Chuck Cusick
spoke briefly about another reported case of polio in northern Nigeria, which has been polio-free for a couple of years. This is an area where Boko Haram is active and making vaccine efforts difficult.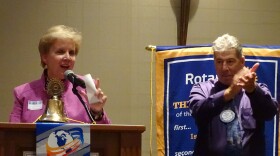 Janet Greif
Tim Holsworth
acknowledged and thanked all the Rotarians and organizations that have helped with the many projects and programs the club does to raise money. "We have an opportunity to feel really good about the work we've done." He then presented the third check to the Bay City Schools for technology. School Superintendent
Janet Greif
received a check for $9,000. She thanked the club and said a few words about the importance of this support.
Chris Girard
updated the club on the "
Running Dead
" fundraiser scheduled for October 8. He asked for sponsors to contact him or the committee for participation.
Brenda Scramlin
is the volunteer coordinator for the event.
Following Chris, Andrea said "take your cell phones out and hold it up. We're going to do an exercise today."
Tara Welch
then walked the members with
Facebook
accounts through the steps to find the clubs Zombie Run page, "like" it, and send the link to their friends.
Dee Dee Wacksman
spoke about the RI Convention next year in Atlanta. She added information she's received on yet more things to do in that area.
Connie Schweitzer
talked about nominations for Paul Harris awards to be granted to non-Rotarians at the upcoming District Gala. She passed around a sign-up sheet. A copy of that sheet can be found on the club's website.
Marybeth Laisure
spoke about the children's book collection that the club is participating in to help schools in the Philippines. Books should be targeted to kindergarten to 6th grade and will help kids learn English. This is another competition with the morning club.
The next Rotary Night Out is being planned. An announcement will be made shortly. (Any votes for a "pub crawl"?)
Happy 90th birthday to
Harry Farris
. It's difficult for Harry to get around much these days, but he hopes to visit the club again soon.
Sargent at Arms Tim Holsworth's question for the day was: "There are 13 schools in the Bay City district. Within a range 150, can you tell me of how many students there are." The selected table's answer was 7,850 to which Tim exclaimed "Are you fricking kidding me? The number is 7,850". We're not sure that has ever happened before.
Current and past
DISTRICT DISPATCH
newsletters are available on the District site shown in the LINKS section below.
---
DATES TO REMEMBER
October 8, 2016 ZOMBIE Run
October 24, 2016 World Polio Day.
Live feed of the RI program will be shown at the State Theatre.
November 1, 2016 Vocational Day.
Seven area schools will participate.
June 10-14, 2017 Rotary International Convention - Atlanta, Georgia, USA
www.RotaryConvention2017.org
OR
www.RIConvention.org
Dee Dee Wacksman, District Chair
---
Upcoming Programs
(See the official schedule at RotaryBayCity.org )
Sept 20, 2016
Tara Welch, Studio 23/The Arts Center Executive Director
, will talk about the 57 year old organization's new programs, exhibits and community efforts.
---
Current and past
DISTRICT DISPATCH
newsletters are available on the District site shown in the LINKS section below.


Rotary Bay City on Facebook!
Click on the Blue Facebook to visit us there.

Remember! Check attendance sheets at the front desk.
---
LINKS
---
---

Stephen Kent




Steve Kent and his family have lived in Bay City for 40 years. He is VP of Technical Services at MMCC which produces MyBayCity.Com. Kent is active in many Bay City civic organizations.

More from Stephen Kent
---
Send This Story to a Friend!
Letter to the editor
Link to this Story
Printer-Friendly Story View
---
--- Advertisments ---