1977 Hunter's Inn Squeaks By Fortress 79-72 in O.T.
Undefeated Hunter's Inn -
won their 12th game in a row
March 3, 2006 Leave a Comment
By: Julie McCallum, Entertainment Editor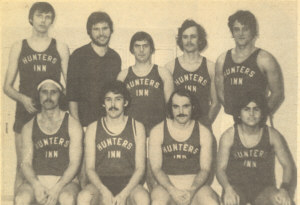 Hunter's Inn
(Front Row, left to right:)
Greg Vogel, Player-Manager Gary Johnson, Tim LeVasseur, Jimmy Velasquez. (Back Row:)
Jay Fuchs, Greg Heme, Dennis Gordon,
Al Laskowski and Keith Volk.
Fortress North put it all together at the Bay County Community Center in March 1977 and gave Hunter's Inn all they could handle before dropping a hard fought 79-72 overtime decision.
Tempers flared again for Fortress in the closing seconds and those problems continued to haunt Fortress as they chased after Hunter's Inn in
Rec AA-1 Basketball.
Hunter's Inn jumped off to an early 24-28 lead and looked like they might blow Fortress away after 10 minutes of play. But Mark and Mike Talaga started hitting from long range for Fortress and it was a 30-28 ball game when the clock ticked to the 3 minute mark.
Then Hunter's spurted and Al Laskowski chalked up a 3-point play right at the buzzer and Hunter's had a 35-28 half-time lead.
But Fortress was ready when the second half got under way. Kevin and Dennis Wirgowski took control of the rebounds and Phil Pawlicki along with the Talaga brothers provided the scoring punch as Fortress rallied back to take the lead 54-53 with 7:11 to go in the game.
From that point it was a real barn-burner. The lead changed hands 9 times and the score was tied on 6 other occasions as the teams battled down the stretch.
Mark Talaga hit 2 free-throws with only 1:38 remaining to tie the score at 68-68. Hunter's elected to play for the last shot and worked the clock down to 18 seconds before Jay Fuchs dropped in a 2 pointer to make it 70-68.
But with 3 seconds on the clock, Fortress' Phil Pawlicki got loose at the free-throw line and hit nothing but net to tie the score and send the game into O.T.
In the overtime it was all Greg Vogel as the sharp-shooting Hunter's guard scored the last 7 points of the game for Hunter's toprovide the final margin of victory.
But that final few minutes wasn't without incident. Fuchs hit a lay-up to make it 72-70 for Hunter's. Dennis Wirgowski tipped in a rebound for Fortress to knot the score again 72-72. After a turn-over, Vogel hit another basket. Fortress failed to score and when Hunter's went on the attack, Kevin Wirgowski fouled Vogel along the baseline with less then 30 seconds showing on the clock.
It was Wirgowski's 5th foul and his departing comments directed at referee Paul Sevilla caused a technical foul to be called by referee Roger Zacharko.
Vogel made the first of his 1-1 attempt. Then hit both shots of the technical foul and when Hunter's got the ball on the side, it was Vogel again who dropped in a 10 footer for the final points of the game.
Greg Vogel led all scorers with 26 points. Jay Fuchs had 16, Jim Velasquez 14, Al Laskowski 12 and Keith Volk 10 for the balanced Hunter's attack.
NOTE: This is one ofa continuing series of flashback article to be taken from the archives of the Bay County Sports Page & Bay City Enterprise newspapers published from 1976 through 1984 by O.J. Advertising, Inc. This Publisher hopes you enjoy the time travel as much as he does! If Sports Page and Enterprise are the grandparents of our newest arrival - mybaycity.com - then they are (as expected) very proud grandparents, indeed.
---
---
---
Send This Story to a Friend!
Letter to the editor
Link to this Story
Printer-Friendly Story View
---
--- Advertisments ---