Sage Library's American Doughboy Statue
September 27, 2016 Leave a Comment
By: Stephen Kent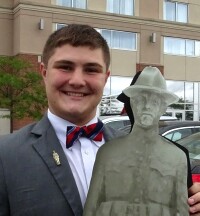 Madden Brady
Madden Brady
, high school freshman and president of the MSCAR (Michigan Society Children of the American Revolution), spoke to Rotary about his efforts to restore the "American Doughboy Status" that stands next to the Sage Library in Pershing Park.
The 92 year old statue was commissioned in 1923 by the Bay County Women's Improvement club and given to the city as a gift. It later came to be under the care of the Bay County Library system.
In the early 20's, just a few short years after the "Great War", Doughboy statues were very popular. Two sculptors made and sold the majority of these. E.M. Viquesney made the larger number of his "Spirit of the American Doughboy", but John Paulding's "Over the Top" was the first to be copyrighted.
There was quite a battle over the statue at the time. Viquesney was sued for copyright infringement in 1922. Among the claims was that Viquesney's statue was cheaper, made of stamped sheet copper while Paulding's statues were "genuine cast bronze".
It is estimated that Paulding sold around 400 copies of his statue. Visquesney may have sold 1,000. These were installed around the country. The Paulding statue in Bay City is one of the best examples of the piece. It has some minor damage and is oxidizing. They could be some internal damage that is not apparent. Many other Doughboys have fallen into disrepair, or have disappeared entirely.
Brady is well on his way to raising the approximately $12,000 needed to repair and refurbish the statue. Enough money has been raised that the statue will soon be removed and work will begin. When work is completed the statue will be in shape to last another hundred years as an honored memory to the Great War.
For more information visit
www.MichiganCAR.org
---
CLUB NEWS and ANNOUNCEMENTS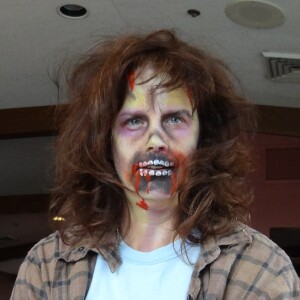 Get Your ZOMBIE On!
Can you believe it?

The "Running Dead" fundraiser is
NEXT SATURDAY, October 8
The event takes place at the
Middle Grounds
park. Volunteers are still needed. Contact
Brenda Scramlin
if you can help. "
Face The FX
" will be on hand to provide make up. There will be events for everyone.
Don't miss it or you might expect a nighttime visit from a Zombie!
Be there... dead OR alive!
Lee Newton
reminded members of the World Polio Day live stream event at the Monday evening, October 24, at the State Theatre. Lee also added some weekly "Polio 101" facts. Remember, our club is in a good natured competition with the morning club to see which club can raise the most money per member by October 24. Our club goal is $1,000, which we are well on the way to.
Vocational Day
is coming up November 1. We have 160 students signed up but only 20 volunteer hosts so far. "We have some work to do", said
Matt Felan
. He also noted that we seem to be getting more outside hosts than Rotary member hosts. If you can help be sure to contact Matt or Trevor Keyes right away.
Connie Schweitzer
is still taking nominations for Paul Harris awards to be granted to non-Rotarians at the upcoming District Gala. Members should have received an e-mail with a link to the nomination form on the club web site.
Download PDF
from the Club web site.
The club is still collecting gently used children's books to be shipped to the Philippines where schools and their libraries were devastated by a hurricane. If you don't have books, dollars will be accepted and used to purchase books.
The
Dictionary and Thesaurus
order is in, labeled and ready for delivery. A signup sheet will be available at meetings or you can contact
Ed Clements
or
Andrea
if you've already signed up or if you need to sign up.
Current and past
DISTRICT DISPATCH
newsletters are available on the District site shown in the LINKS section below.
---
DATES TO REMEMBER
October 8, 2016 ZOMBIE Run
October 24, 2016 World Polio Day.
Live feed of the RI program will be shown at the State Theatre.
November 1, 2016 Vocational Day.
Seven area schools will participate.
June 10-14, 2017 Rotary International Convention - Atlanta, Georgia, USA
www.RotaryConvention2017.org
OR
www.RIConvention.org
Dee Dee Wacksman, District Chair
---
Upcoming Programs
(See the official schedule at RotaryBayCity.org )
Oct 4, 2016
Dr. George Kikano
will provide a full update regarding the
Central Michigan University College of Medicine
.
Oct 11, 2016
Gerald Schloff
will talk about plans to build eight tennis courts at 325 Park Ave., site of the former Thomas Jefferson School.
Oct 18, 2016
Misty Janks
, Executive Director, will discuss the 125th birthday of the
YWCA
and the events surrounding the anniversary.
Oct 25, 2016
Mike Murray
will host the club at an
off-site program
at the
Delta College Planetarium
.

Rotary
is an intimate affiliation of carefully selected business and professional people,
having as its objective the promotion of high ethical standards in private, commercial
and civic life, and dedicated to the ideal that the basis of all worthy endeavor is unselfish service.
---
Current and past
DISTRICT DISPATCH
newsletters are available on the District site shown in the LINKS section below.


Rotary Bay City on Facebook!
Click on the Blue Facebook to visit us there.

Remember! Check attendance sheets at the front desk.
---
LINKS
---
---

Stephen Kent




Steve Kent and his family have lived in Bay City for 40 years. He is VP of Technical Services at MMCC which produces MyBayCity.Com. Kent is active in many Bay City civic organizations.

More from Stephen Kent
---
Send This Story to a Friend!
Letter to the editor
Link to this Story
Printer-Friendly Story View
---
--- Advertisments ---