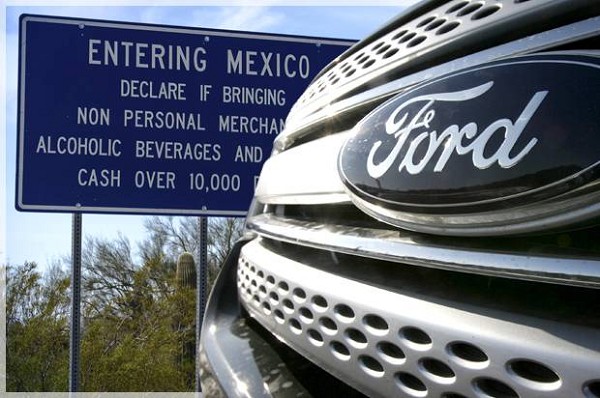 HEY AUTOWORKERS: Want a Job? Move to Mexico!
---
HEY AUTOWORKERS: Want a Job? Move to Mexico!
Shift of Ford Small Car Plants From U.S. Tiny Part of Global Trend
October 3, 2016 1 Comments
By: Dave Rogers
Political condemnations of Ford's move of small car production to Mexico may be somewhat misplaced.
Huge sections of the auto industry from Asian and European countries already are on the move south of the border, and U.S. firms are a small part of that shift, according to a new report from the Center for Automotive Research, Ann Arbor.
In fact, moving production to Mexico may become an imperative for U.S. automotive firms, the report indicates.
"Economic developers often see Mexico as a competitive threat, fearing the loss of potential new investments and worrying about their community's existing automotive endowment slowly shifting south of the border," the report states.
"While Mexico may indeed pose such a threat, it is also highly likely that the automotive firms in the United States and Canada are part of a supply chain that includes Mexico as either a source of inputs, a destination of their output, or both.
"Given Mexico's success in attracting new automotive investment, an increasing focus on retention of investments is a priority for these economic developers."
What's going on here? Something has changed the traditional view that Mexico was a Third World country whose industry couldn't possibly compete with the U.S.
Well, it turns out, according to the report, that the Mexican government is smarter than many people thought, and it props up its auto firms with subsidized training and other support structures. The efforts include strengthening the educational system, improving the legal system, investing in public infrastructure, and combating crime and violence.
Those moves sound like things the U.S. should be doing, don't they?
"Perhaps, more importantly, the low value of the U.S. dollar vis-à-vis other currencies (e.g. Yen, Euro) has made Mexico the most advantageous auto manufacturing location in the NAFTA region," the report continued. "Low production costs and low tariffs due to the broad reach of Mexico's free trade agreements (FTAs) made it possible for the country to emerge as a prime export base -- not only within NAFTA but globally as well."
Ford is building a $1.6 billion factory in Mexico and shifting all of its small car production there, but company officials have insisted that lost production of cars at places such as Michigan Assembly in Wayne will be replaced by new products, David Muller, of M-Live.com, reported.
Ford heir Bill Ford's comments in response to political criticism leveled against the firm were, in essence, that the company still has its focus on the U.S.
"We are everything that should be celebrated about this country," Ford told reporters after speaking at the World Mobility Leadership Forum at the Detroit airport.
---
"The BUZZ" - Read Feedback From Readers!
ebmspang Says: On October 03, 2016 at 07:36 PM

I have an Idea...Lets move all of our corporations down to Mexico, invite the rest of the Mexican people to cross our border in this country, then as soon as the last one leaves Mexico and arrives here, then every true American should make a made dash to cross the border into Mexico and take their country over! I mean think about it, we would now be living in an area with lots of new shiny plants, lots of jobs and a warmer climate to boot! Sounds like paradise to me.
---

Dave Rogers




Dave Rogers is a former editorial writer for the Bay City Times and a widely read,
respected journalist/writer in and around Bay City.
(Contact Dave Via Email at carraroe@aol.com)

More from Dave Rogers
---
Send This Story to a Friend!
Letter to the editor
Link to this Story
Printer-Friendly Story View
---
--- Advertisments ---