Dr. Kikano Presents Update Regarding CMU Medical School
Rotary Holds Annual RUNNING DEAD Zombie Run On Middle Grounds
October 4, 2016 Leave a Comment
By: Stephen Kent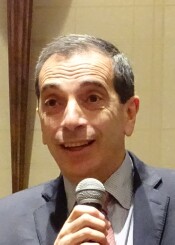 Dr. George Kikano
Dr. George Kikano
, President of the
Central Michigan University (CMU) Medical School
spoke to Rotary about the state of the school, its growth, programs, and objectives.
Citing the expected shortage of physicians in the next decade, Kikano said that CMU is focusing on Michigan students with the hope that graduates of the program will make their home and build their practices in the state. Many schools brag about the number of out-state students they attract. CMU focuses on and brags about its in-state students.
There are 141 medical schools in the United States, and many of those are clustered in certain areas. In his introduction,
Matt Felan
noted how significant it is that one of those schools is located in Mid-Michigan. For fifty years there were three medical schools in the state. Now there are three more in the state.
Educating a doctor takes eleven to twelve years and cost anywhere from $45,000 to $95,000. Even with those challenges, the CMU school has 4,000 applications for about 104 positions.
Kikano also noted that the US spends 18% of GDP on health care. But compared to other countries, our public health does a terrible job.
When the CMU school was in the planning stage the decision was made to do it without public funds. Dr. Kikano said he was not sure that model will work. It's certainly not the plan you find with the majority of schools. He noted that it's the right vision, but might be the wrong business plan. Time will tell if this works.
For more information visit
https://www.cmich.edu/colleges/cmed
---
CLUB NEWS and ANNOUNCEMENTS
The board meets this week
October 11 at 11:00 before the regular meeting.
Everyone is welcomed.