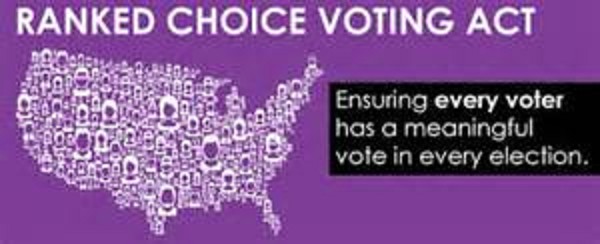 To a large percentage of voters, neither Hillary Clinton nor Donald Trump are acceptable choices for President.
---
INSTANT RUNOFF VOTING: Many Benefits of Irish Election System Deserve Look
Maine Deciding Nov. 8 on Ranked Choice Voting (RCV) Initiative
October 14, 2016 Leave a Comment
By: Dave Rogers
"There's got to be a better way," I hear many people say, expressing dissatisfaction in the American electoral college and the political primary system of picking a President.
To a large percentage of voters, neither Hillary Clinton nor Donald Trump is acceptable choices for President.
Wouldn't we get a better candidate if voters were given a better selection, something like the 14 Republicans in the primaries? There is growing opinion that almost any one of the 14 would have been better that the current nominee, Donald Trump.
So, what to do? Change the system, starting now!
Actually, Ranked Choice Voting (RCV) is already established, with many of our largest cities adopting the system that has been found so successful in Ireland.
Memphis, Oakland, and Minneapolis have adopted the RCV plan, and 55 colleges and universities with more than 700,000 enrollment are also using it.
Currently, all states allow voters to choose one candidate, and the candidate with the most votes in a single round of voting is elected.
However, Maine is voting Nov. 8 whether to adopt RCV. Ranked-choice voting (RCV) is also known as instant-runoff voting. If voters approve, ranked-choice voting would be used to elect U.S. senators, U.S. representatives, the governor, state senators, and state representatives in Maine.
The Maine ballot language states: "This citizen-initiated legislation would establish a new method of voting and counting votes in elections for the offices of United States Senator, Representative to Congress, Governor, State Senator and State Representative, and in primary elections to determine the nominees for those offices.
"Rather than choosing one candidate for each of these offices, voters would be allowed to rank all the candidates listed for each office, including up to one write-in candidate, in order of the voter's preference. Thus in a three-way race, instead of marking one vote on the ballot for candidate A, B or C, the voter could express preferences among all three candidates by ranking them as a choice(s) #1, 2 or 3 on the same ballot."
Fairvote.org opines: "Once again, our political leaders are rolling the dice with the American people. Rather than pursue statutory solutions to potential electoral landmines, they've left intact a set of electoral rules that aren't designed for elections where voters have more than two choices -- featuring an Electoral College that could throw the choice of President into Congress.
The website notes ours is "a plurality voting system that turns third parties into 'spoilers' and can allow a polarizing candidate to win only due to split votes in the majority."
In 2011 Ireland showcased a better way in its election of poet and Labor Party leader Michael Higgins as president in a field with seven candidates. As with all other well-established democracies with presidential elections, Ireland elects its president based on a national popular vote. Like nearly all such democracies, it also has a runoff system if no candidate receives more than 50% of the first round vote. "
Ireland uses the instant runoff form of ranked choice voting, upholding majority rule in one election without the need of a separate runoff.
Voters rank candidates in order of choice: the first choice, and if they so choose, second choice, third choice and so on. Ballots are counted to simulate a series of runoff elections, with the last-place candidate eliminated after each round of counting. In the next round ballots cast for that candidate are added to the totals of the candidate ranked next on each ballot until a candidate wins with a majority of the vote in the final round.
The popularity of Ireland's most recent presidents, Mary Robinson and Mary McAleese, increased the office's importance. Although with largely ceremonial powers, the president is elected for a seven-year term, drawing strong interest. Turnout was 56%, higher than in many American presidential elections.
Seven candidates ran, with a mix of major party nominees and independents and shifting patterns in polls showing a wide-open field. Higgins ultimately stood out in debates and earned a landslide win despite being a member of the third largest party in Ireland.
Acting on a FairVote proposal, Alabama, Arkansas, Mississippi and South Carolina used RCV for overseas voters in congressional primary elections in 2014. Overseas voters in Louisiana cast RCV ballots in all of their November elections for U.S. Senate and U.S. House that had more than two candidates.
Perhaps FairVote's most significant proposal is one to reform the much-maligned Electoral College. FairVote staff coauthored Every Vote Equal, the book detailing the National Popular Vote plan to reform the Electoral College. The FairVote plan aims to make every vote equal in the election of the President of the United States.
The National Popular Vote bill would guarantee the Presidency to the candidate who receives the most popular votes in all 50 states and the District of Columbia. The bill has been enacted by 11 jurisdictions possessing 165 electoral votes -- 61% of the 270 electoral votes necessary to activate it, including four small jurisdictions (RI, VT, HI, DC), three medium- size states (MD, MA, WA), and four big states (NJ, IL, NY, CA). The bill has passed a total of 33 legislative chambers in 22 states - most recently by a bipartisan 40?16 vote in the Arizona House, a 28 - 18 vote in the Oklahoma Senate, a 57-4 vote in New York Senate, and a 37-21 vote in Oregon House.
The shortcomings of the current system of electing the President stem from state winner-take-all statutes (i.e., state laws that award all of a state's electoral votes to the candidate receiving the most popular votes in each separate state).
Because of state winner-take-all statutes, presidential candidates have no reason to pay attention to the issues of concern to voters in states where the outcome is a foregone conclusion. Two-thirds of the 2012 general-election campaign events (176 of 253) were in just 4 states (Ohio, Florida, Virginia, and Iowa). Thirty-eight states were ignored by the campaigns.
The National Popular Vote plan has been enacted by 11 jurisdictions possessing 165 electoral votes - 61% of the 270 needed for the legislation to take effect. The legislation has passed 32 legislative chambers in 22 jurisdictions. More than 2,110 state legislators have voted for or sponsored NPV legislation.
So, if there is a way to gain a better consensus, shouldn't we in the U.S. adopt it? Let's see what happens Nov. 8 in Maine and move on from there. Somehow we must do better that the present system that is tearing us apart when what is needed is more unanimity among the voting populace.
---
---

Dave Rogers




Dave Rogers is a former editorial writer for the Bay City Times and a widely read,
respected journalist/writer in and around Bay City.
(Contact Dave Via Email at carraroe@aol.com)

More from Dave Rogers
---
Send This Story to a Friend!
Letter to the editor
Link to this Story
Printer-Friendly Story View
---
--- Advertisments ---